3rd Annual 100 Innings of Baseball Spectacular
April 22-23, 2006
Score: Team Stamina 69, Team Endurance 66
Length: 100 Innings (31 hours)
Location: Fitton Field @ Holy Cross in Worcester, MA
Amount Raised: $87,461 (cumulative raised: $308,283)
Beginning Saturday, April 22 and concluding Sunday, April 23, the 3rd Annual 100 Innings of Baseball was played at at Fitton Field in Worcester, MA – home of the Worcester Tornadoes & Holy Cross. The game lasted 100 innings, about 31 straight hours. More than 100 players suited up to play, and 22 players participated the entire game, including umpire Walt Bentson. The past two years, this marathon baseball game has raised close to $225,000 for Curt's Pitch for ALS (Curt Schilling's charity). The Boston Men's Baseball League and ALS Association is still counting funds raised from this year's contest.
Down 65-66 in the 97th inning, Matt Dumas delivered a 2-RBI single to give Team Stamina a 67-66 lead, one they would not relinquish. Team Stamina went on to defeat Team Endurance, 69-66. Dumas also had the first hit of the game, 96 innings earlier in the top of the 1st. John Silk was the winning pitcher of record. Of note, Shonda Schilling (Curt's wife) pitched the 94th inning for Team Endurance, allowing 1 earned run off a hit batsman and a double.
About $99,035 was donated in cash, check and credit card at the field, with $111,949 raised overall. More than 1,615 different sponsors provided pledges to these ballplayers. Ballplayers were primarily from the BMBL, but also came from New Hampshire, Rhode Island, Maine and even Canada to play.
By raising donations, players earned contributions toward their league fees, as well as prizes, such as signed Red Sox jerseys, invitations to a private party held by Curt Schilling, Reebok cleats, Donruss baseball cards, Red Sox Green Monster seats, and much more. Corporate sponsors donated food and drink, and included Stop & Shop, Red Bull and cafenation. Hundreds of other corporate and personal sponsors have made financial contributions.
Iron Men Going the Distance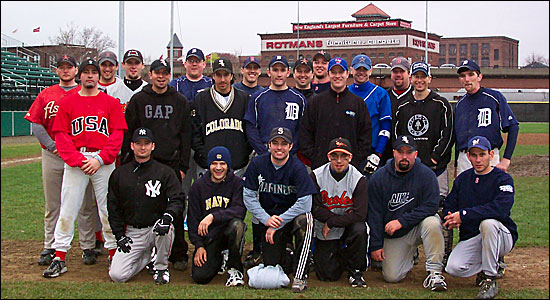 TWENTY-TWO players played in all 100 innings of the 100 Innings of Baseball Spectacular. By the time this game was completed, these players had played more innings than the Boston Red Sox had played at home their entire season.
3-Year Consecutive Iron Men (300 innings)
Matt Giblin, Tigers
Mike Lembo, White Sox – Co-creator
Jeff Roy, Astros
Brett Rudy, Middlesex Brewers – Co-creator
Tyler Walsh, Astros
2-Year Consecutive Iron Men (200 innings)
Mike Byrne, Astros
Matt Dumas, Tigers
Dan Field, Tigers
Jon Mattaroccia, free agent
Neil Sisson, Medford Angels (non-consecutive: '04 & '06)
1-Year Iron Men (100 innings)
Matt Bertels, free agent
Ryan Bere, Orioles
Jake Coffin, free agent
Matt Englander, Mariners
Aaron Fialkow, Orioles
Kevin Krueger, Rangers
Dana Levensaler, Waltham Red Sox
Patrick Long, Tigers
Matt LoPresti, White Sox
Matt Schreiner, free agent
Jay Thomas, Orioles
Ron Viola, Astros
Special Mention (just a tad short of 100 innings)
Walter Bentson, umpire (in attendance all 100 innings, took a short nap)
Nate Pane, Tigers (arrived 1 inning late and took a nap in his car)
John Silk, Tigers (went home to change clothes for a few hours)
This year, 123 players signed up to participate in the 100 Innings of Baseball. The majority of them played, and those who didn't helped raise funds for the ALS Association MA Chapter and Curt's Pitch for ALS.
Thank you for your contributions!
Adams, Peter
Anderson, Paul (Medford Angels)
Austin, Robert (Stockyard)
Avery, Larry
Beals, Forrest (Randolph Blues)
Belcastro, Jim (Boston Tigers)
Beliveau, Kevin (Dodgers)
Bell, Kevin (Orioles)
Bere, Ryan (Boston Orioles)
Berolini, Joe (Brockton A'S)
Bertels, Matthew
Bondola, Nick (Indians)
Branche, Paul (Quincy Grays)
Brennan, Kevin (Boston Marlins)
Brinkmeyer, Justin (Mariners)
Brophy, Michael (Braintree Rockies)
Bucciarelli, Anthony (Boston Spinners)
Busby, Steven
Byrne, Mike (Boston Astros)
Campos, Ivan (Orioles)
Caprio, Christopher (Rangers)
Chasse, Matthew (Spinners)
Chlan, Emily
Coffin, Jake
Conner, Chad (Spinners)
Copson, Paul (Boston Tigers)
Cram, Dennis
Day, Michael (Medford Angels)
Delossantos, Wilson (Padres)
Devine, Owen (Astros)
Dicker, Steven (Clinton 76'Ers)
DiPaola, Thom (Rismbl-Braves Over 45 Division)
Dumas, Matthew (Quincy Grays)
Edgar, Cory (Astros)
Englander, Matt (Mariners)
Fialkow, Aaron (Orioles)
Field, Dan (Boston Tigers)
Frattura, Sandro (Boston Braves)
Gallivan, Gregory (Worcester Tornadoes)
Giblin, Matt (Boston Tigers)
Gil, Pedro (Athletics)
Griffiths, Chad (Boston Tigers)
Guerin, Gary (Boston Townies)
Haferman, Daniel (Quincy Sons of Italy)
Hall, Brad (Boston Orioles)
Hanley, Tom (Milford FPA)
Hare, Stephen (Braves)
Healey, Bryan (Boston Orioles)
Helms, Mike
Hill, Darian
Holmes, Eric (Franklin Athletics)
Houlding, Brian (Boston Tigers)
Kieffer, Luke (Boston Orioles)
Krueger, Kevin (Rangers)
Kulbako, Glenn (Medford Angels)
Lembo, Michael (Boston White Sox)
Levensaler, Dana (Waltham Red Sox)
Lewton, Brian
Logan, James
Long, Patrick (Boston Tigers)
LoPresti, Matthew (Boston White Sox)
Lynch, Mark
Maccarone, Dave
Magee, Sean (Reds)
Magsam, Steven (Orioles)
Martin, David (White Sox)
Mattarocchia, Jonathan
Maycock, Stephen (Grays)
Mehlman, Ross
Mejia, Carlos (Reds)
Mesa, Darwin (Padres)
Milton, Glenn
Moloney, Mike (Spinners)
Murachver, Andy (Boston Orioles)
Murphy, Earl (Boston Tigers)
Najera, Matthias (Braves)
Nakamura, Akihiko (South End Astros)
Neil, Michael (Cambridge Spinners)
Nolan, Brian (Boston Braves)
Nowlin, Brett (Boston Reds)
Padovano, Peter (Mccabb Club)
Palumbo, John (Lexington Astros)
Paquette, Conrad (Middlesex Brewers)
Peckham, Christopher
Perez, Eduardo (Athletics)
Peterson, Brian (Boston Braves)
Petraglia, Mike
Pina, Daryl (Indians)
Pollak, Michael (Dodgers)
Powell, Bill (Billerica Indians)
Powers, Eric
Renda, Jason
Riordan, Eric (Tigers)
Rolls, Will (Vipers)
Rosoff, Larry (Marlborough Indians)
Rothwell, Justin (Boston Indians)
Roy, Jeff (Boston Astros)
Rudy, Brett (Middlesex Brewers)
Schreiner, Matthew
Silk, John (Boston Tigers)
Sisson, Neil (Medford Angels)
Staino, Dan
Stevens, Bernie (Boston Rangers)
Stevens, Scott (Tigers)
Stewart, Brandon
Strassman, Franz (South Boston Saints)
Thaxter, Kenneth (Quincy Grays)
Thomas, Jay (Boston Orioles)
Timmons, Dave (Boston Senators)
Tremblay, Mark (North Reading Vipers)
Valdini, Robert (Port Washington Knights)
Vernon, Joshua (Astros)
Viola, Ronald (Astros)
Walsh, Joe (Boston Marlins)
Walsh, Tyler (Astros)
Ward, Russ (Somerville Senators)
Washer, Jonathan
Webster, David (Grays)
West, Justin (Tigers)
Winant, Richard (Billerica Storm)
Wisner, Jay (Rangers)
Wolf, Steve (Wayland White Sox)
Woods, David (Mariners)
Game Performance
This 100 inning contest saw 9 lead changes before Team Stamina broke away in the 97th inning on a game-winning RBI by Matt Dumas. Ironically, Dumas also had the game's first hit, 96 innings earlier in the 1st inning. John Silk was the winning pitcher of record.