International Baseball Postage Stamps
While baseball may be America's pastime, four countries released postage stamps featuring baseball prior to the United States. The Philippines released the first-ever baseball stamp in 1934 to celebrate their Far Eastern Championship Games. Colombia, Nicaragua and Panama each followed with releases to celebrate other "Games" events. It wasn't until 1939 that the USA honored the Centennial of Baseball on its first postage stamp.
Beginning in the 1960's, there was an explosion of baseball appearing on foreign stamps, including more than 6,500 today from 170 countries through 2023. The charts below are from the History of Baseball as Depicted in Postage Stamps, by David Schulz.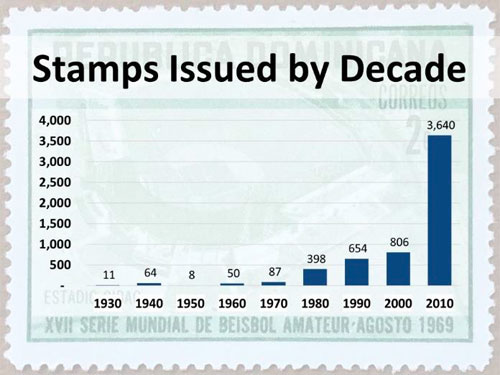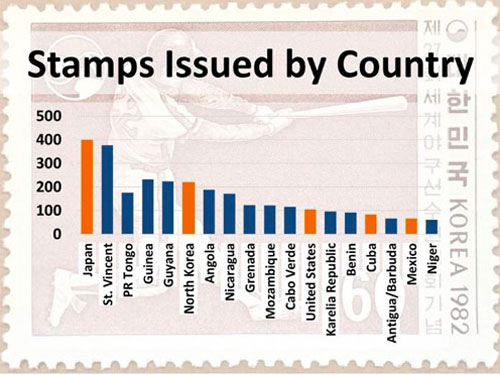 Following are the first 29 international postage stamps featuring baseball – all prior to 1960.
1934 Philippine Islands – 10th Far Eastern Championship Games
This is the first postage stamp from anywhere in the world ever to feature baseball, issued on April 14, 1934.
The 1934 Far Eastern Championship Games was the tenth edition of the regional multi-sport event, contested between China, Japan and the Philippines, and was held from 16–20 May in Manila, the Philippines. A total of eight sports were contested during the four-day competition, with baseball, basketball and tennis commemorated on postage stamps. Appropriately, the Philippines won the baseball event at the games, winning Gold over Japan.
There is debate over which country really owns the rights to claiming the first baseball stamp – the Philippines or the United States – because the Philippines were under American rule following the Treaty of Paris in which Spain ceded its colony to the U.S. following the Spanish-American War of 1898. The Philippines were not granted full independence from the U.S. until 1946.
All three stamps in the set were designed by Fernando Amorsolo and printed in panes of 50 by Philippine Bureau of Printing with 971,414 pieces printed.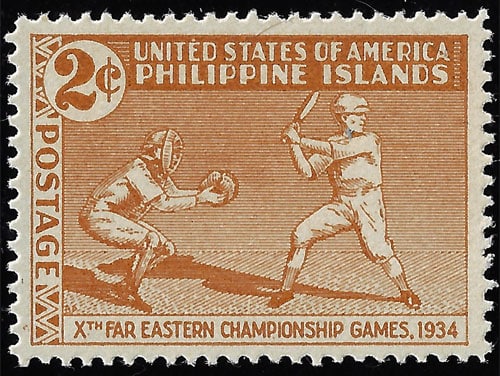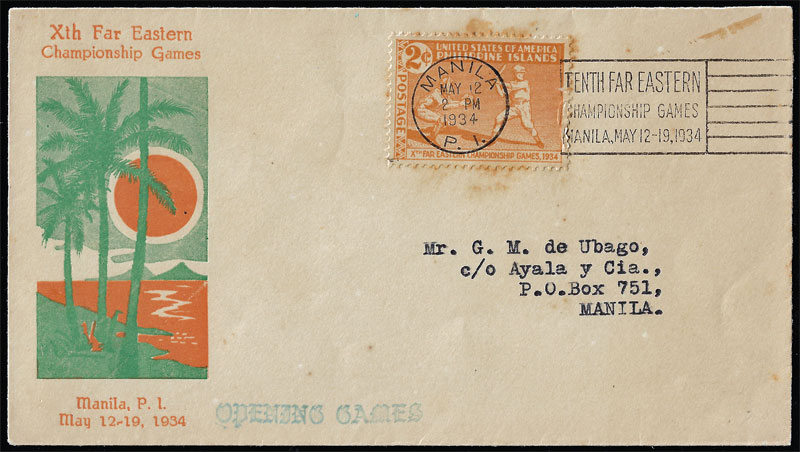 This sheet below contains 35 stamps, and is not the complete 50-stamp pane. The full pane is even more rare, and no photos are available.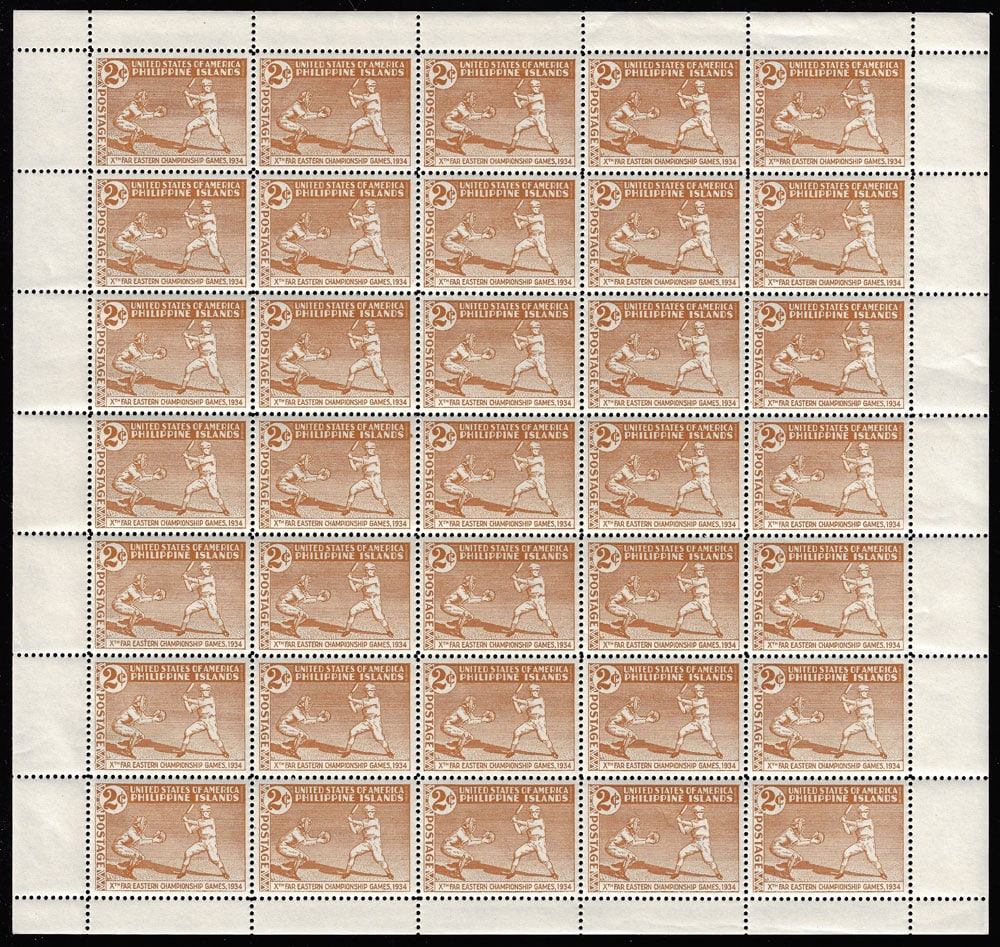 1935 Colombia Olympics
These stamps were printed for the Colombia Olympics in 1935. While other international stamp sets for competitive games included baseball and are relatively inexpensive, this is a rare stamp set, often selling for well over $1,000.
The 16-stamp set features a variety of sports but the biggest one here to most American collectors is the baseball stamp. The baseball stamp features a baserunner reaching for a base with a fielder attempting to tag him. Another is a greeting by an Olympian to the III Olimpiada, showcasing the baseball field in the background. Other sports stamps in the set include discus throwing, soccer, swimming, tennis, and track & field hurdles and running. Several other non-sports stamps are in the set, including an eagle, a seal, scenery, a beach, a bridge, a statue, and a post-office building.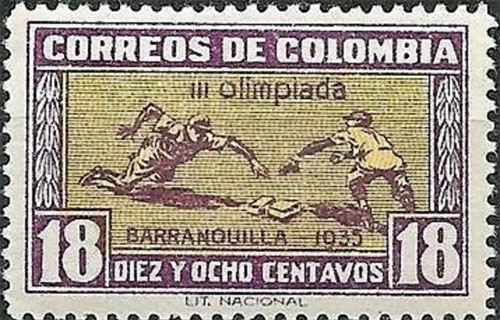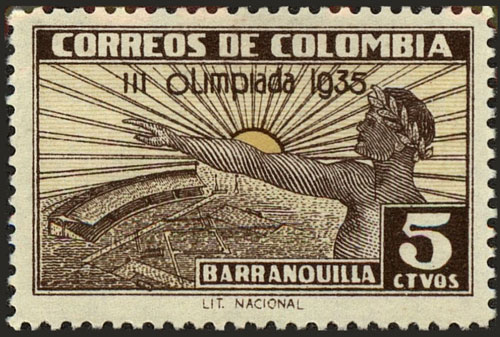 1937 Colombia – Barranquilla Stadium
Issued in April of 1937, this stamp is part of the National Industrial Exposition in Barranquilla – the capital of Colombia's Atlántico Department. This stamp set features several buildings, including Estadio de Barranquilla.
Romelio Martínez Stadium was conceived in 1932, the year the 2nd Annual National Games of Colombia were played in Barranquilla. The stadium was finished on 1934 as "Estadio Municipal" (Municipal Stadium) with capacity of 10,000 spectators. It had a wooden structure that supported the grandstand deck. The architectural stadium's style is Art Deco.
1937 Nicaragua – Central American Caribbean Games
Issued in May of 1937, these stamps were printed for the Central American and Caribbean Games held in February of 1938. The set included only one subject, a baseball player. A batter is shown on four different stamps of the same pose, but with four different colors – blue, green, red, and orange.
These 4th Central American and Caribbean Games were held in Panama City, Panama, at Estadio Juan Demóstenes Arosemena. These Games were played three years after the last Games to get them back to the year they should have been after a 5-year break. The Games included athletes from ten nations, competing in sixteen different sports. In baseball, Cuba took the Gold medal, defeating Panama. Nicaragua captured the Bronze.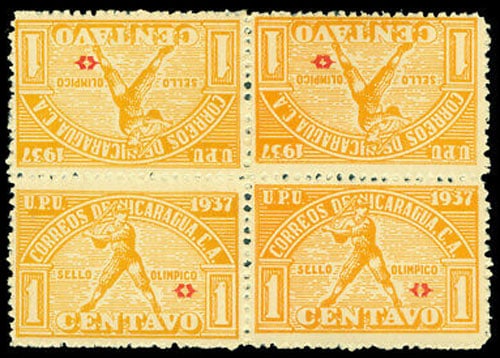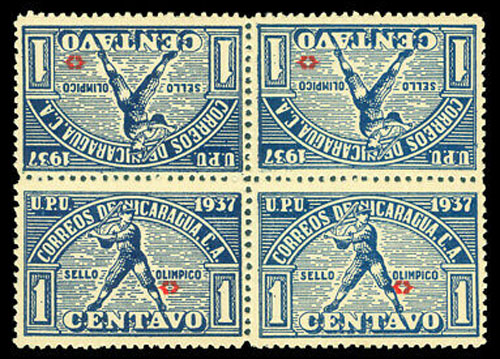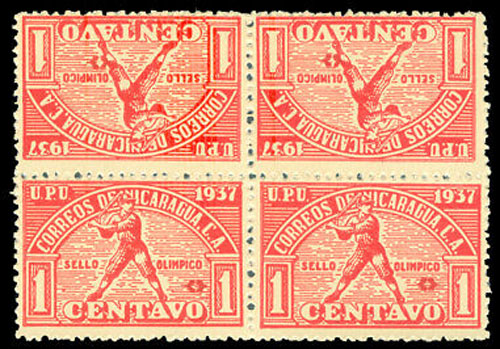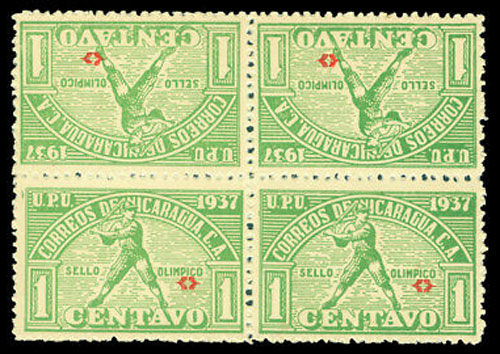 1938 Panama – Central American and Caribbean Games
The fourth Central American and Caribbean Games were held in 1938 and this was a commemorative stamps set showcasing five of the 21 different sports: baseball, basketball, boxing, soccer and swimming.
The stamps are in color but each one includes only a single color of ink with various shades. That doesn't detract from the high-quality images, however. The five stamps all have different denominations, with baseball valued at 2¢.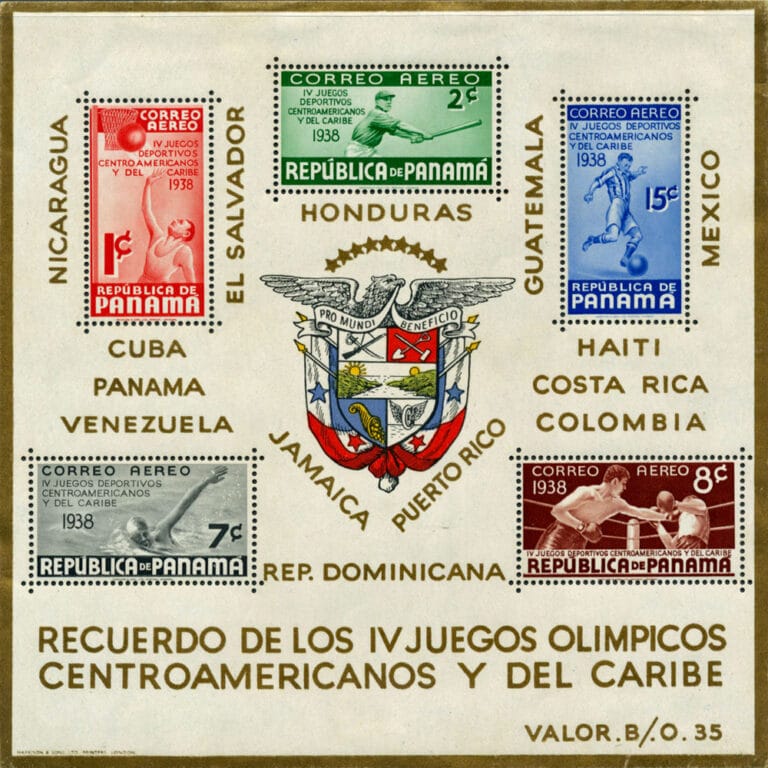 1944 Venezuela – Venezuelan Amateur Baseball World Series
These stamps were printed to celebrate the 7th Annual Venezuelan Amateur Baseball World Series, or the "Serie Mundial de Base Ball Amateur" in Spanish. These are sometimes referred to as the Venezuela Baseball Stamps.
Each stamp picture is the same, featuring a batter and a catcher. A total of nine different stamps were printed in an assortment of colors: black, blue, brown, gold/yellow, green (light), green (dark), orange, purple and red – with the denomination being different for each. Only 10,000 sets of these airmail issues were printed.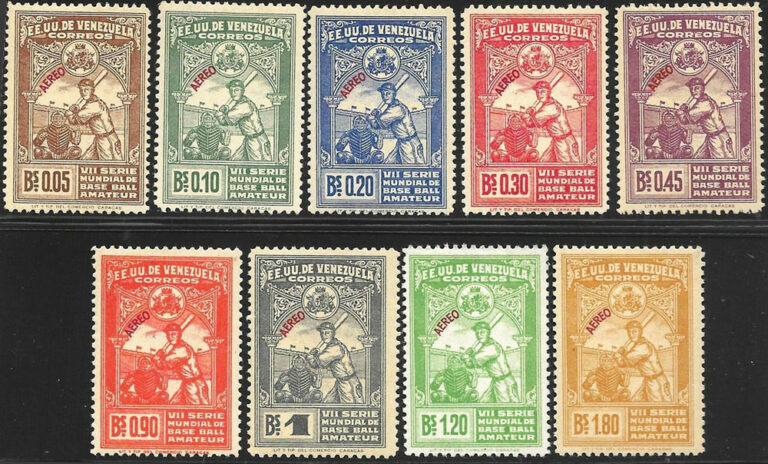 1948 Japan – 3rd National Athletic Meet Between Yawata & Fukuoka
Issued on October 29, 1948, this Japanese postage stamp series honors the 3rd National Athletic Meet between Yawata and Fukuoka in Japan. The four sports stamps featured include baseball, track, high jump and cycling. Each stamp is valued at 5¥ (Japanese yen), and two million of each were printed.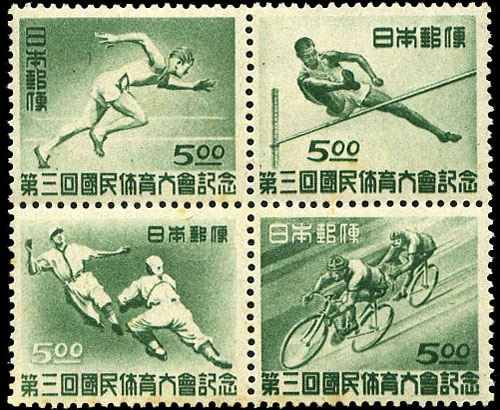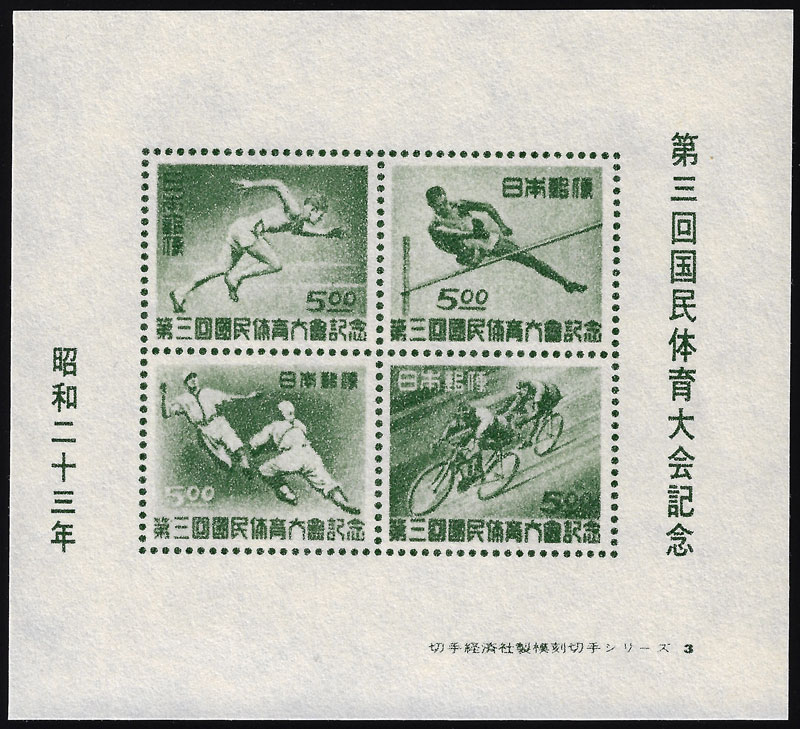 1949 Nicaragua – 10th World Series of Amateur Baseball
Issued on July 15, 1949, these stamps honor the 10th World Series of Amateur Baseball held in Managua, Nicaragua from November 20 through December 12, 1948. The usually-powerful Cubans did not field a squad, as many top Cuban amateurs had been signed by MLB teams that had previously refused to sign the darker-skinned athletes.
The Dominican Republic won its only Amateur World Series title, going 8-1. Ramon del Monte goes 4-0 with a 0.34 ERA and takes home MVP honors. Manuel Caceres tied for the best average (.522) and most hits (12) while B. Arias tied for the most triples (2). Elias Farias led with 9 runs.
Included in the 26-stamp series are 12 sports, including baseball, basketball, boxing, cycling, diving, football, pole vault, sailing, softball, swimming, table tennis and tennis. Additionally, scouting was featured, plus two stadiums: Modern National Stadium and the new National Stadium in Managua. An additional 27th sheet was issued showcasing National Stadium while under construction.
Most sports were issued in multiple denominations, including baseball, which came in 15¢ and 30¢ stamps, and softball which came in 1¢ and 5 cardobas stamps, with an issuance of 40,000 each. Only 2,500 of each souvenir sheet was issued.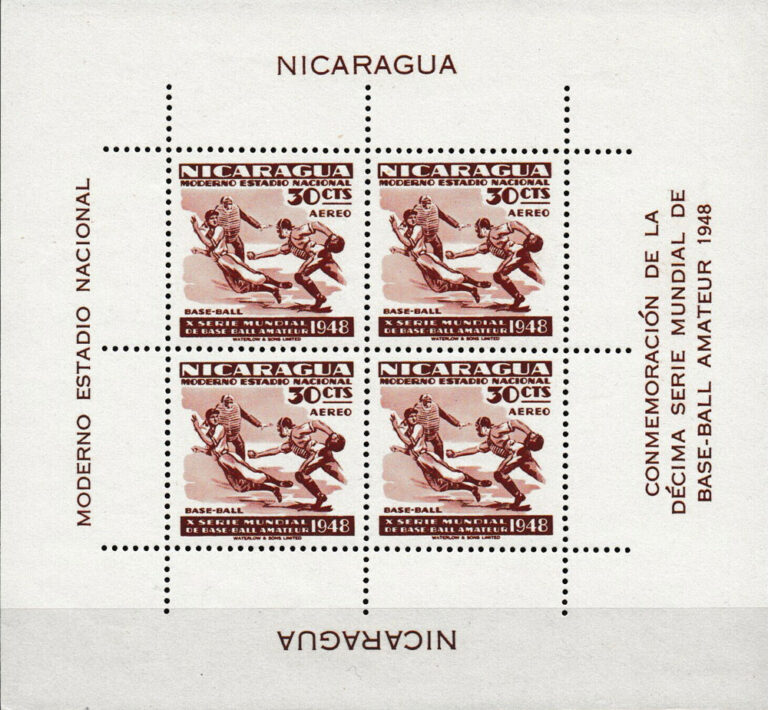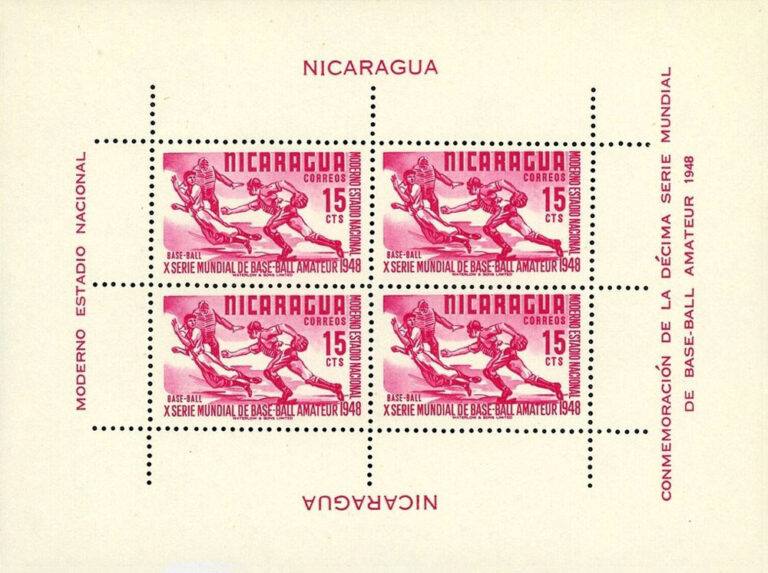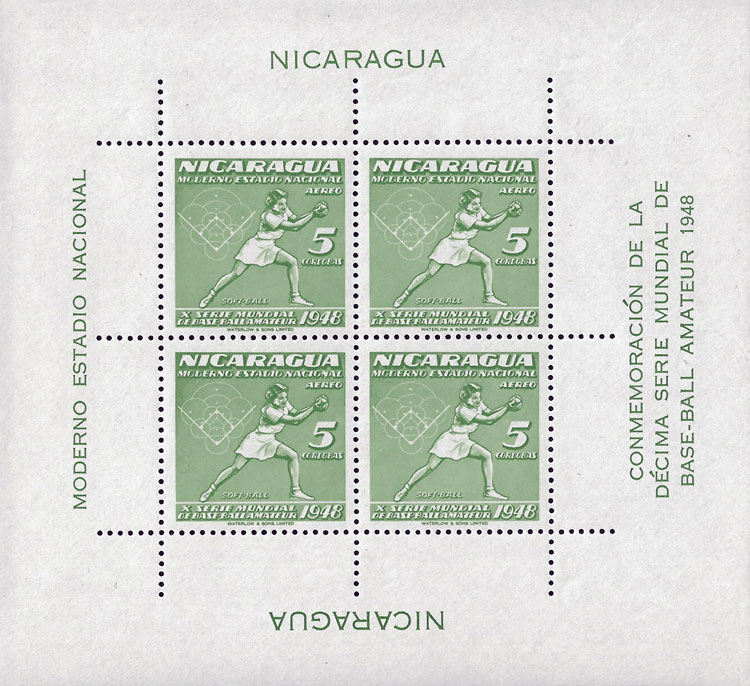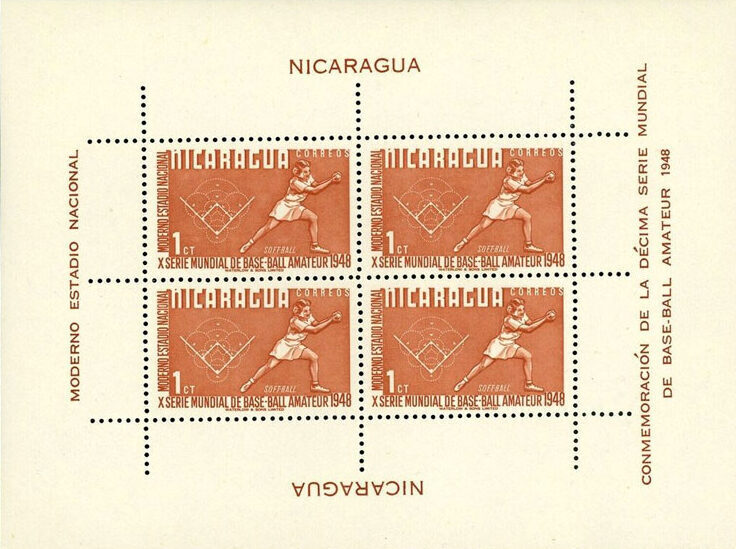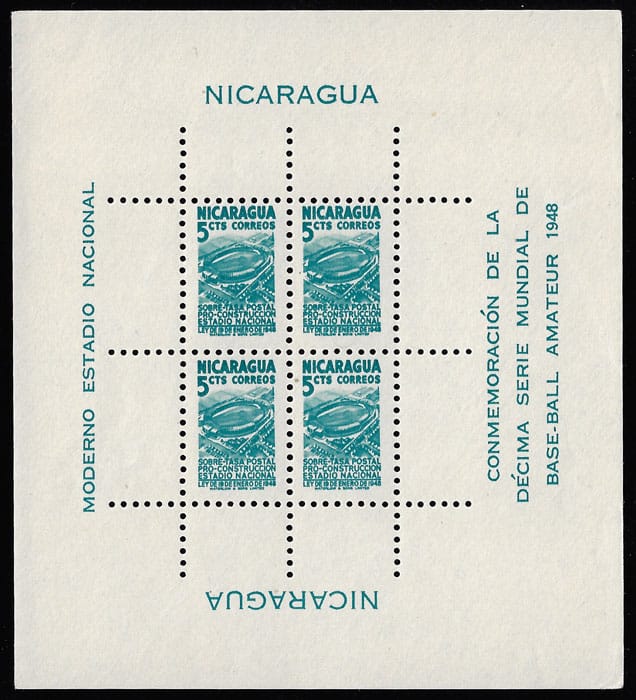 All 26 stamps in the edition mention "X Serie De Base-Ball Amateur, 1948," translated to "Amateur Baseball World Series," somewhere on the stamp. Thus, even the non-baseball sports are considered baseball stamps. Of the edition, 13 of the values were issued as a rectangle, and 13 were issued in small squares.
1955 Liberia – Sports
Issued on January 26, 1955, the "Sports" issue from Liberia included six different stamps. Tennis, soccer and boxing were all regular postage stamps, while baseball, swimming and track were all designated for airmail.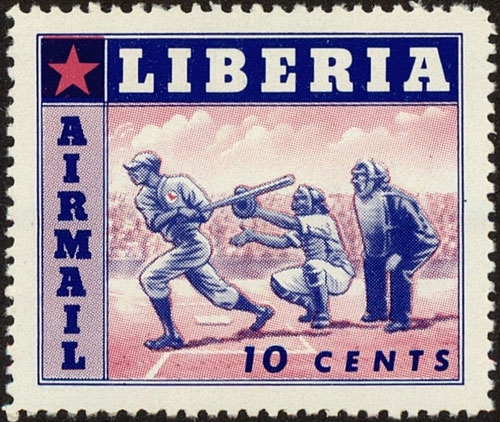 1956 Taiwan – Year of the Child
Issued on April 4, 1956, the Year of the Child (also translated as "Day of Children") was issued in China in green, blue and red. Each stamp features four young children playing, one in each corner: a ballerina (top-left), soccer player (top-right), baseball fielder (bottom-left) and jump roper (bottom-right).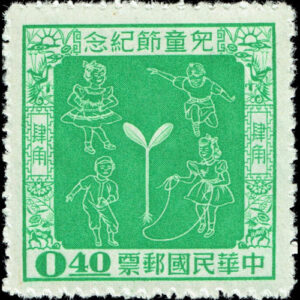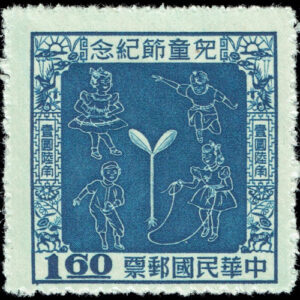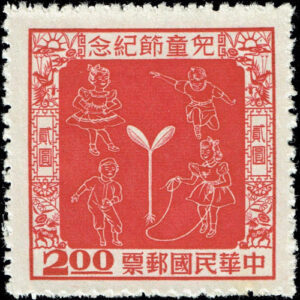 1957 Cuba – Youth Recreation
Issued on May 17, 1957, the Youth Recreation series, also referred to as "Young Athletes," include four stamps in the series: baseball, ballerina, diving and boxing. Each is a different color, and issued from 8¢ to 30¢.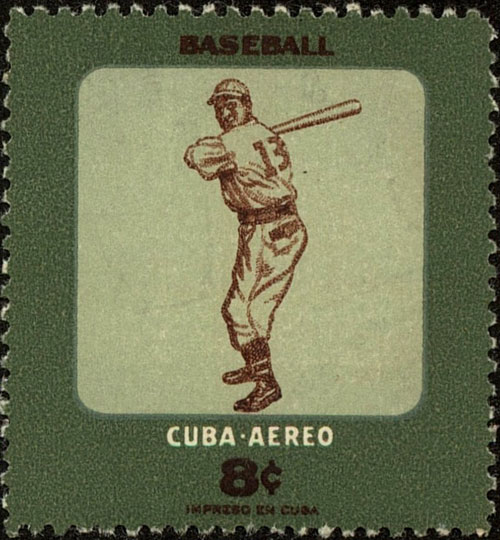 1959 Dominican Republic – 3rd Pan American Games
Issued on August 27, 1959, this stamp memorializes Trujillo Stadium which was built in 1955 during the Rafael Leonidas Trujillo Molina dictatorship. While the stamp honors the Pan Am Games of 1959, all baseball contests were held in the United States at Comiskey Park and Wrigley Field in Chicago from August 27 through September 7. Venezuela won the baseball tourney, while the Dominican Republic finished in 8th place.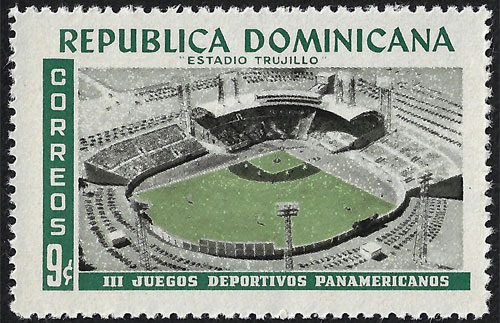 1959 Panama – 3rd Pan American Games
Issued on October 26, 1959 in Panama, this stamp honors the Pan Am Games. While the country of Panama did not have a baseball team in the tournament, the stamps honors the games playing in Chicago, Illinois, U.S.A.