Non-Postage Baseball Stamps
Often, baseball collectables are designed with perforated edges to look like a postage stamp. You can't mail them, but they were created to emulate stamps. Many of them were developed as promotional material. A range of odds and ends are shared here.
Also, I have included some "Local Post" stamps. A local post is a mail service that operates only within a limited geographical area, typically a city or a single transportation route. Many stamp collectors operate local posts as a hobby, issuing their own postal stamps for other collectors. Such stamps rarely carrying any mail, and hold no monetary value.
For now, I have excluded baseball stamps from food manufacturers and trading card manufacturers that are really just baseball cards in stamp disguise. Eureka, Fleer, Golden Press, MLBA, Post/Jello, Sporting News, Today's 1971, Topps, and Wheaties are just some of the brands that have produced stamp sets of this type.
We know today that Abner Doubleday may not have invented baseball in Cooperstown in 1839. Still, the centennial celebration in 1939 had ever MLB team wearing the Baseball Centennial logo on their uniform sleeve. A contest was held to create the official logo, and New York artist Miss Marjori Bennett was declared the winner. The player shown bears a likeness to Joe Dimaggio. The logo was alto turned into a commemorative stamp.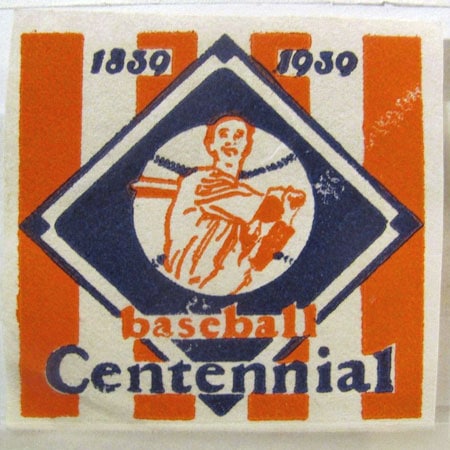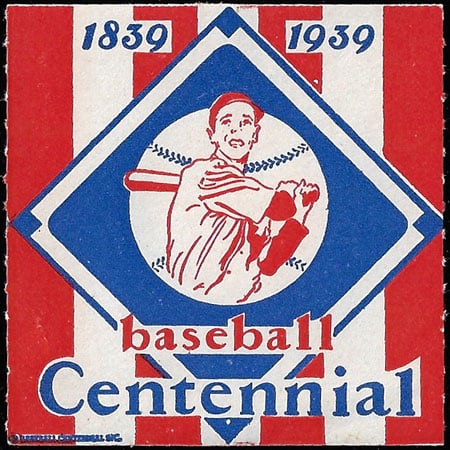 Boys Town provides life-changing youth care and health care services that meet each child and family exactly where they are. Boys Town kids started collecting and trading stamps in the 1930s, and the hobby grew. That led to the creation of their own collectable stamp sheets, given out as "thank you gifts" in return for charitable donations. Then came the Leon Myers Stamp Center – a museum located in the Boys Town Visitors Center.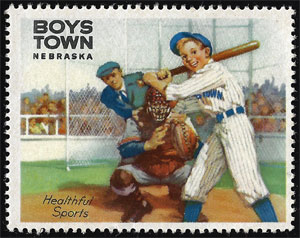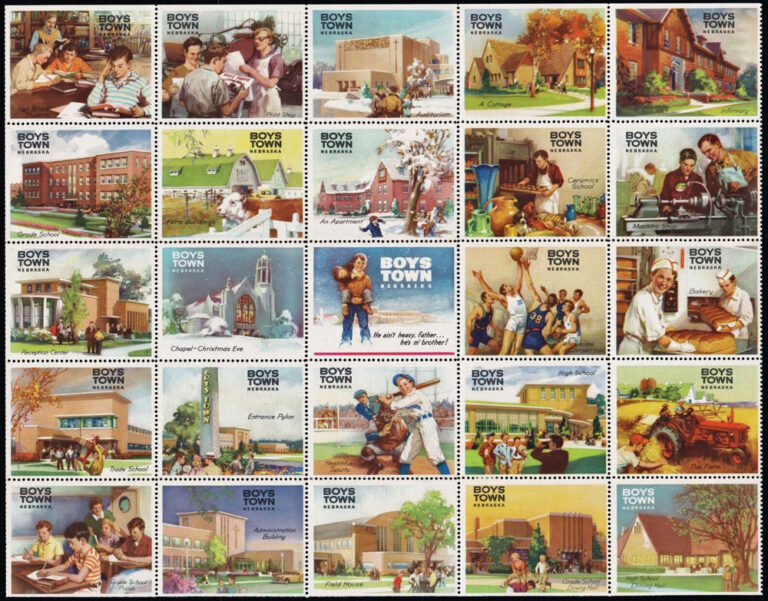 In 1953, a Ball of Stamps was started by D.O. Barrett, the first curator of the Boys Town Stamp Center, and the Boys Town Stamp Collecting Club. Kids began the ball with a core, and began licking and sticking non-valuable stamps around it. Ripley's Believe It or Not featured the ball at 32 inches in diameter, weighing 600 pounds, and consisting of 4,655,000 postage stamps.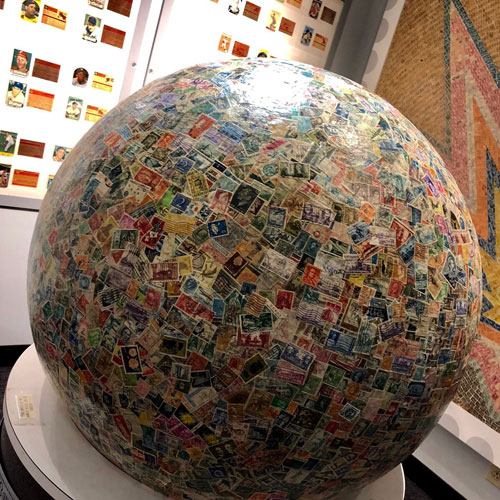 Chinese Professional Baseball League
The Chinese Professional Baseball League (CPBL) played their first season in 1990. In 1995, commemorative stamps were issued for 9 players on the five teams in the league: Uni-President Lions, China Times Eagles, CTBC Brother Elephants, La New Bears, and Mercuries Tigers.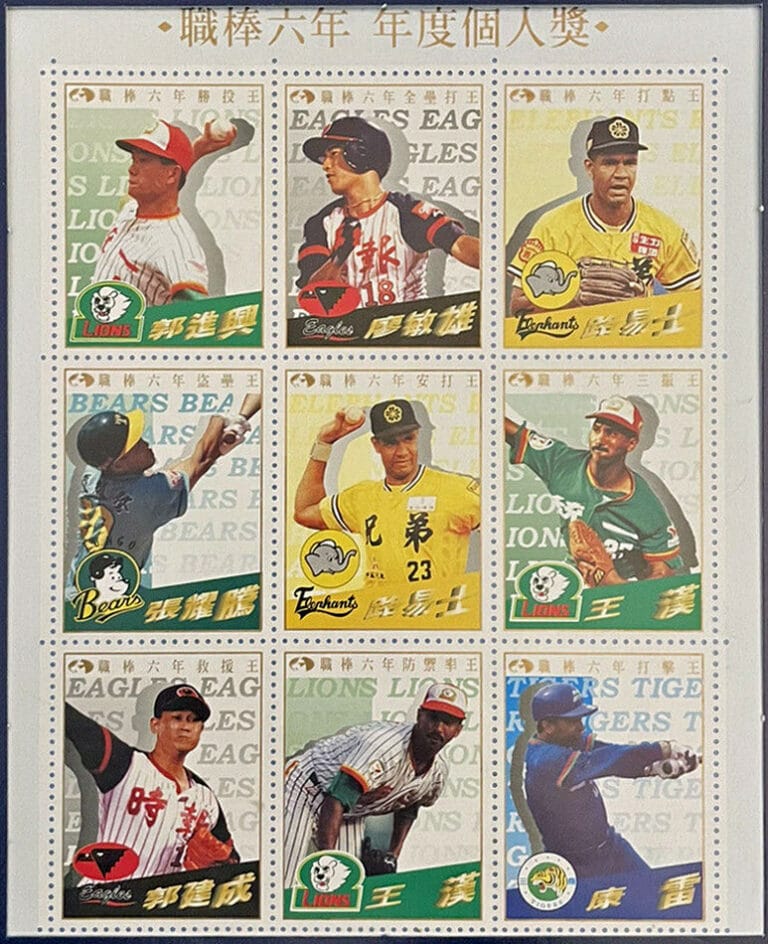 The country of Dominica issued several stamps to honor the 1992 Olympics in Barcelona, but this wasn't one of them. This proof was never completed and put into circulation. This souvenir stamp is imperforate and shows the $5 denomination intended in preparation for becoming a postage stamp.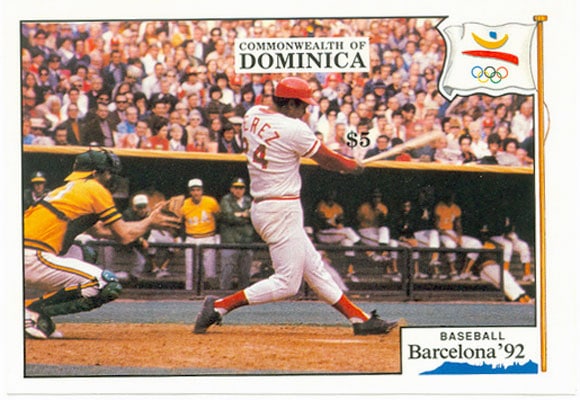 FAO Schwarz claims to be the oldest toy store in the United States, first opening in 1862 in Baltimore before moving to New York City in 1870. FAO filed for bankruptcy in 2003 before temporarily shutting the Fifth Avenue store in 2004. In May 2009, Toys "R" Us acquired FAO Schwarz, but in 2015, it permanently closed the Fifth Avenue store – exactly 100 years after this 1915 stamp was released to promote sport goods.
FAO Schwarz was acquired by ThreeSixty Group, who opened a new FAO Schwarz store in 2018 in New York City at 30 Rockefeller Plaza.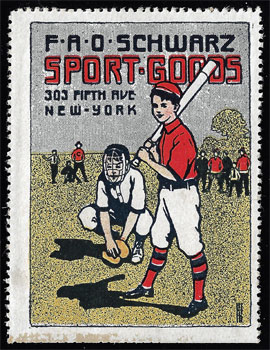 The Great Allentown Fair is an annual fair and agricultural show held at the Allentown Fairgrounds in Allentown, Pennsylvania and operated by the Lehigh County Agricultural Society. It is one of the oldest fairs in the United States, first held in 1852 to showcase agricultural advancements and to entertain patrons. This stamp promotes the 1919 fair.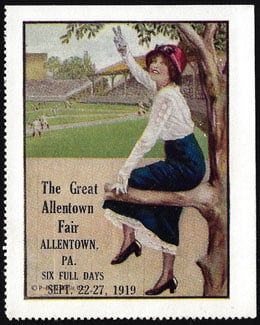 Hinds Honey & Almond Cream
In the early 1900s, A. S. Hinds Co. produced a series of twenty-four colorful lithographed poster stamps to market Hinds Honey and Almond Cream for sunburn. Hinds supplied one hundred sets of these stamps, with six stamps per set, to druggists throughout the United States for free, which the druggists could then sell to consumers for two cents a set or five cents for four sets.
In return, A. S. Hinds Co. required that the druggists allow them to use their mailing lists so that the company could dispense Hinds Honey and Almond Cream to customers. This baseball stamp is believed to have been released in 1915.
This stamp as used to advertise the Lord & Taylor department store in New York for their boys' clothing on the fourth floor. While the date in unknown, it is estimated to have been from the early 1900's.
MAD was an humor magazine from 1952 to 2018. It was highly influential and affected the future of satirical media. Issues were often augmented with novelty stickers and stamps, and those occasionally placed baseball at the butt of the joke.
As reference: The song Mrs. Robinson was written for the movie, The Graduate, by Simon & Garfunkel. The film is about a middle-aged woman who seduces a much younger Dustin Hoffman. The famous song line, "Where have you gone Joe DiMaggio?" was used to represent heroes of the past – not about Joe hooking up with an older Mrs. Robinson. It should be noted that Marilyn Monroe was 12 years younger than Joltin' Joe.
Humbug was a humor magazine published from 1957 to 1958, edited by Harvey Kurtzman, the former editor at MAD, so I'm throwing this in the same category.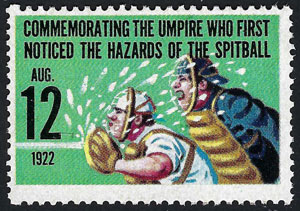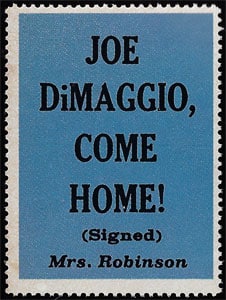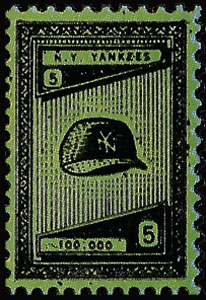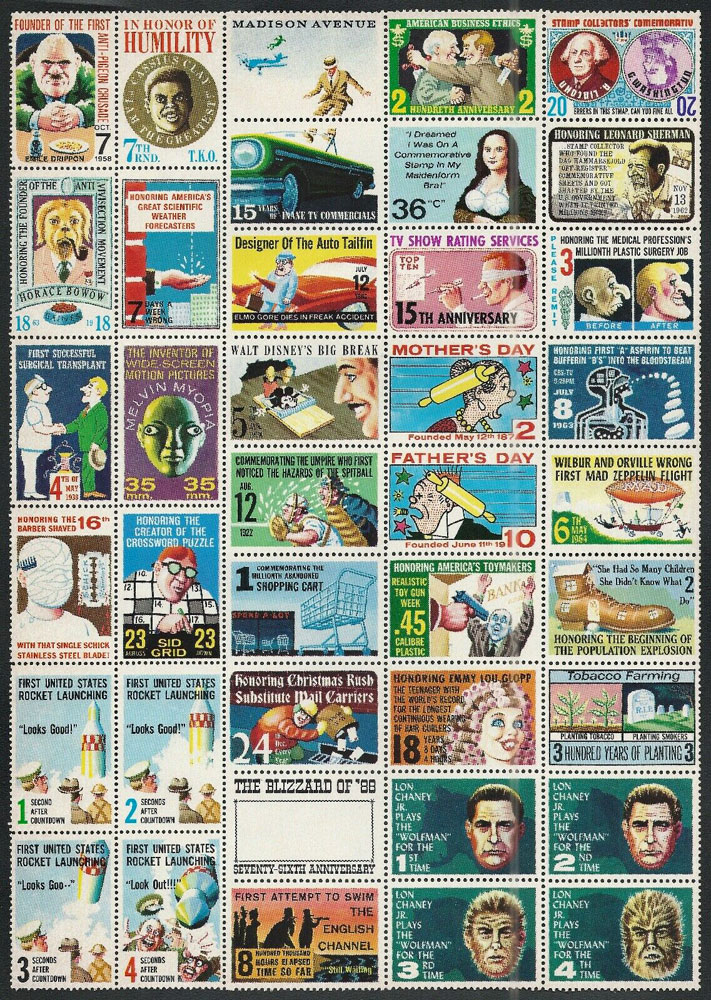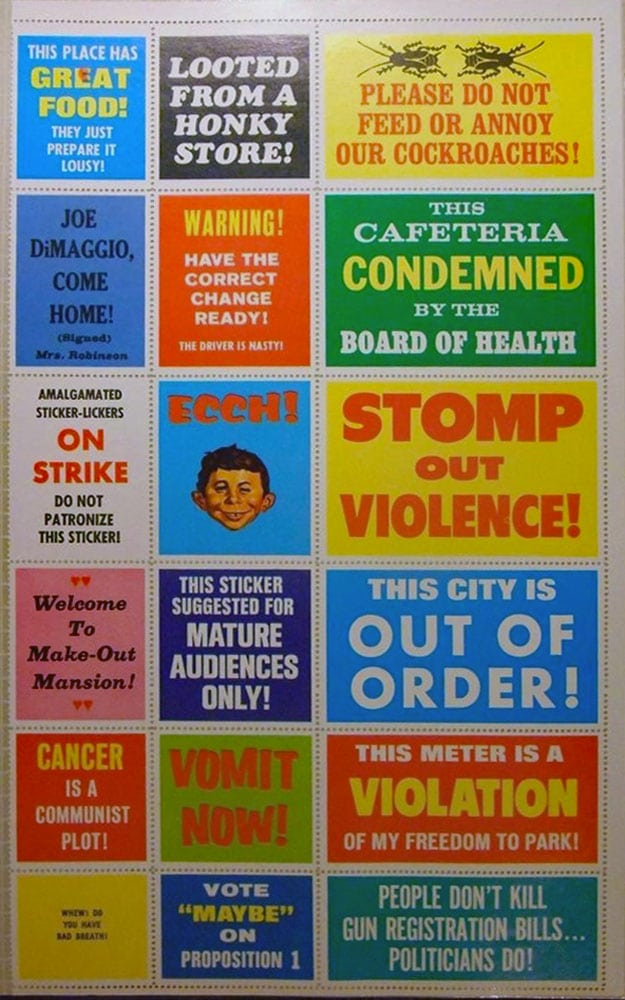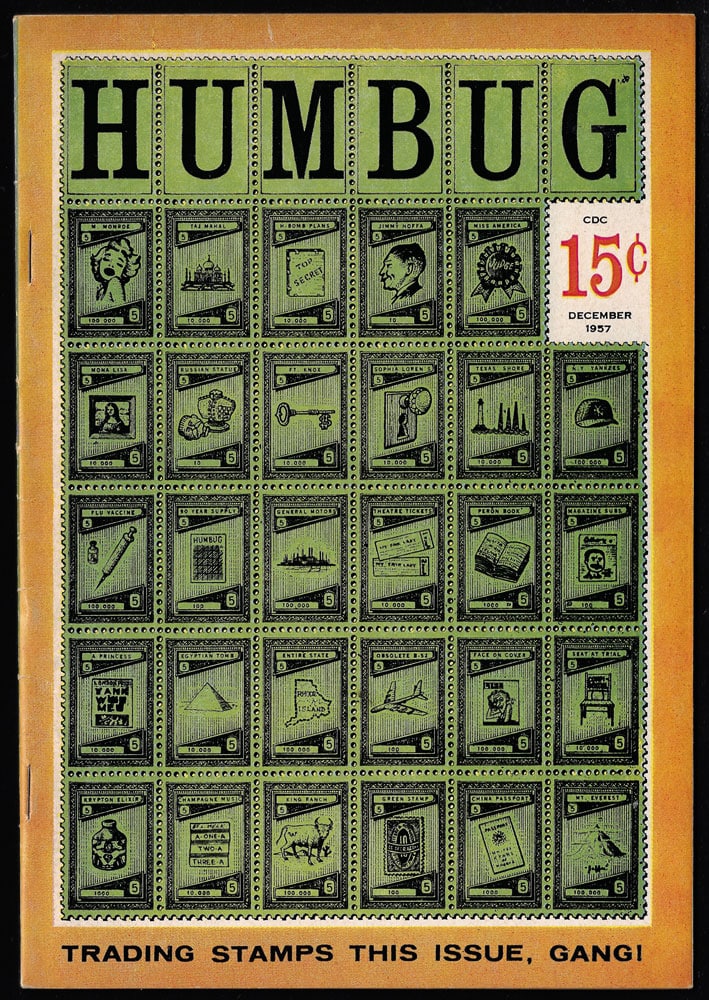 The Philatelic Society of Pittsburgh
The Philatelic Society of Pittsburgh dates back to 1888, with their current name coming into use in 1914. These commemorative stamps, issued a decade apart, honor the Pittsburgh Pirates and Pittsburgh Steelers, both of whom played at Three Rivers Stadium at the time.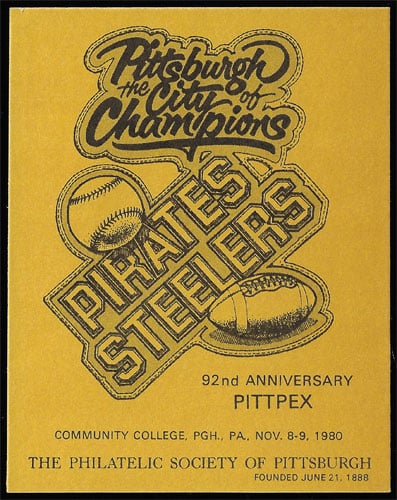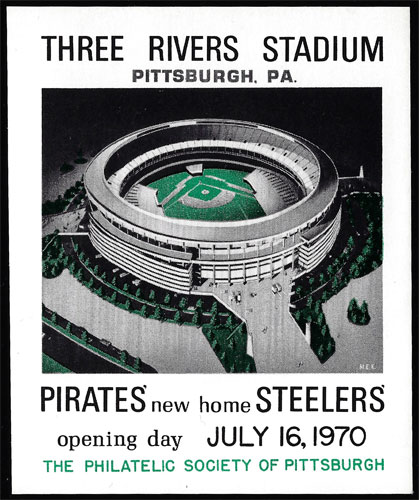 Sports Magazine Subscription Coupons
Many sports publications include stamps within the publication as subscription offers. For instance, it shows the newsstand price and subscription price. To get readers' attention, athletes from prior covers are often shown. While this tactic has been taken by many magazines, it is most notable in baseball circles with Baseball Digest (the longest-running baseball magazine in the nation), Children's Digest, and Sport.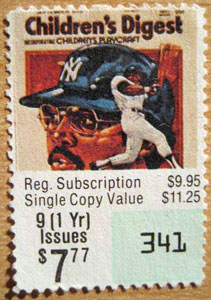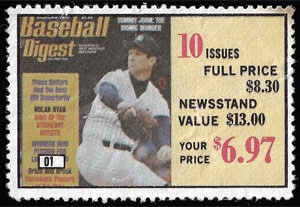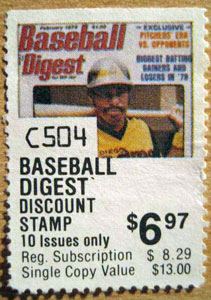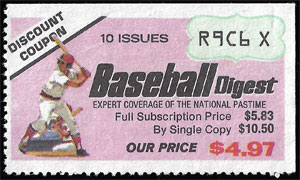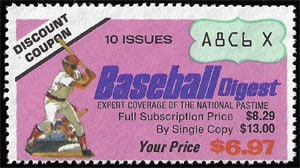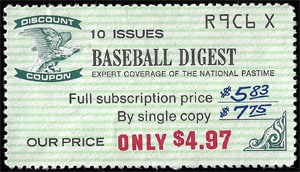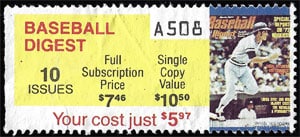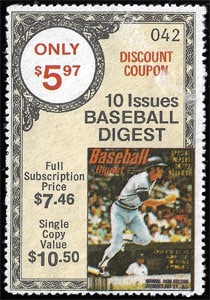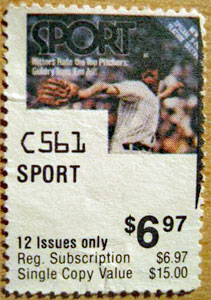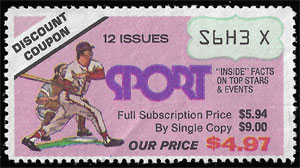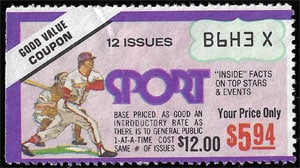 These were issued in 1938 to promote safety in driving. The stamps were designed as decorative add-ons to seal the backs of envelopes or packages. The set contained 30 mostly non-sports issue, and featured people and situations with slogans related to safety. This one reads, "The baseball player tries to get home safe, do you?" Learn more about the Texas League of Safety stamps.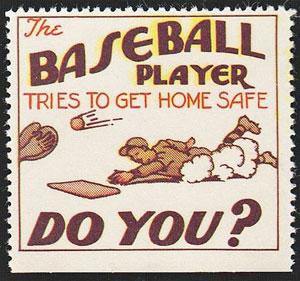 The Toledo Mud Hens were the Triple A affiliate of the Detroit Tigers in 1996 while celebrating their centennial season. They created a local post stamp issue to celebrate the occasion. Tony Clark, the Executive Director of the Major League Baseball Players Association played for Toledo that season, batting .299 with 14 home runs before being called up to the Tigers to finish his rookie season.
This local post stamp sheet was released at the Toledo Stamp Expo in 1996 by the Stamp Collector's Club of Toledo to by tribute to the home town club.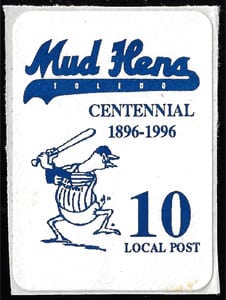 Toronto Blue Jays Victory Seals
Issued by Canada Post in 1993, these commemorative stamps celebrate the first World Series championship by the Toronto Blue Jays in 1993. A cover souvenir sheet features Paul Molitor, Joe Carter, Cito Gaston, and the Blue Jays logo. Plus, there are 3 individual victory seal stamps of the same players. The set sold for $4 at the time.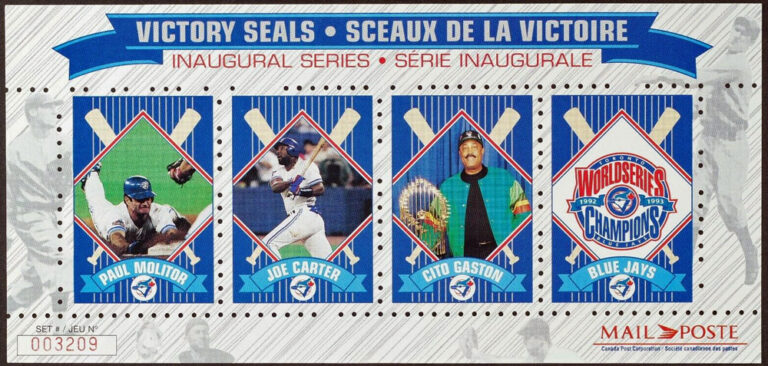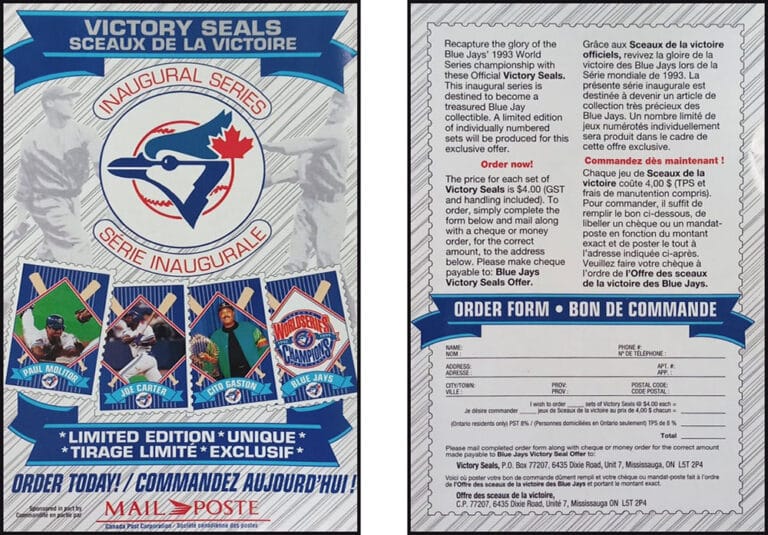 The origin and issue date of this commemorative stamp is unknown, though the Washington Senators most recently played from 1956 to 1960.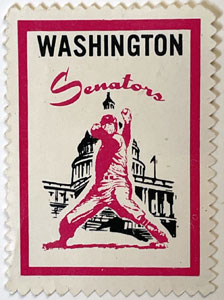 This satirical souvenir sheet was issued by the Wilkinson Stamp Club in 1970. This stamp sheet was intended to commemorate Apollo 8 (from 1968) with a baseball motif. WSC placed "Wrigley Field" on one of the stamps. As a parody to the Wrigley's Gum logo, they designed "Peppermint" and "Spearmint" arrows in the stamp design. This infringed on the Wrigley Company trademark, and special permission was required for WSC to sell the stamps through the end of the year – at which time, all remainders had to be destroyed.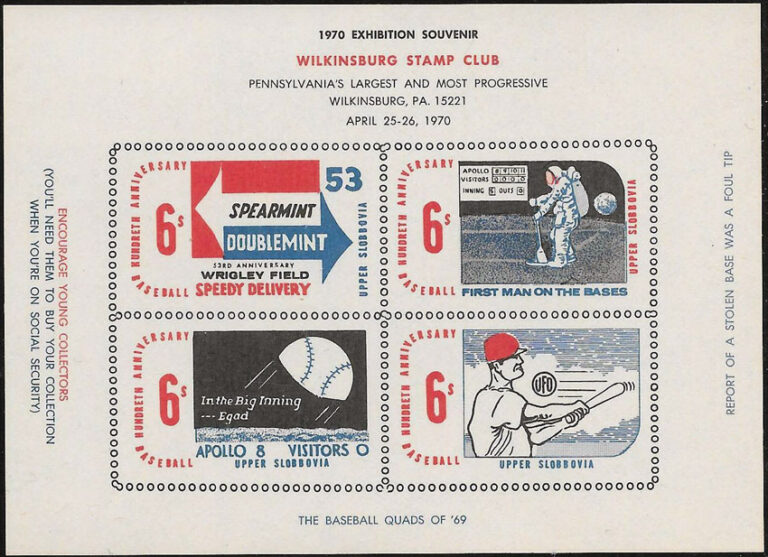 As early as the 1920's, Wrigley Company began using baseball concepts in their advertising. So perhaps they enjoyed the free publicity stamps gave them. Even stamps have a gummy flavor!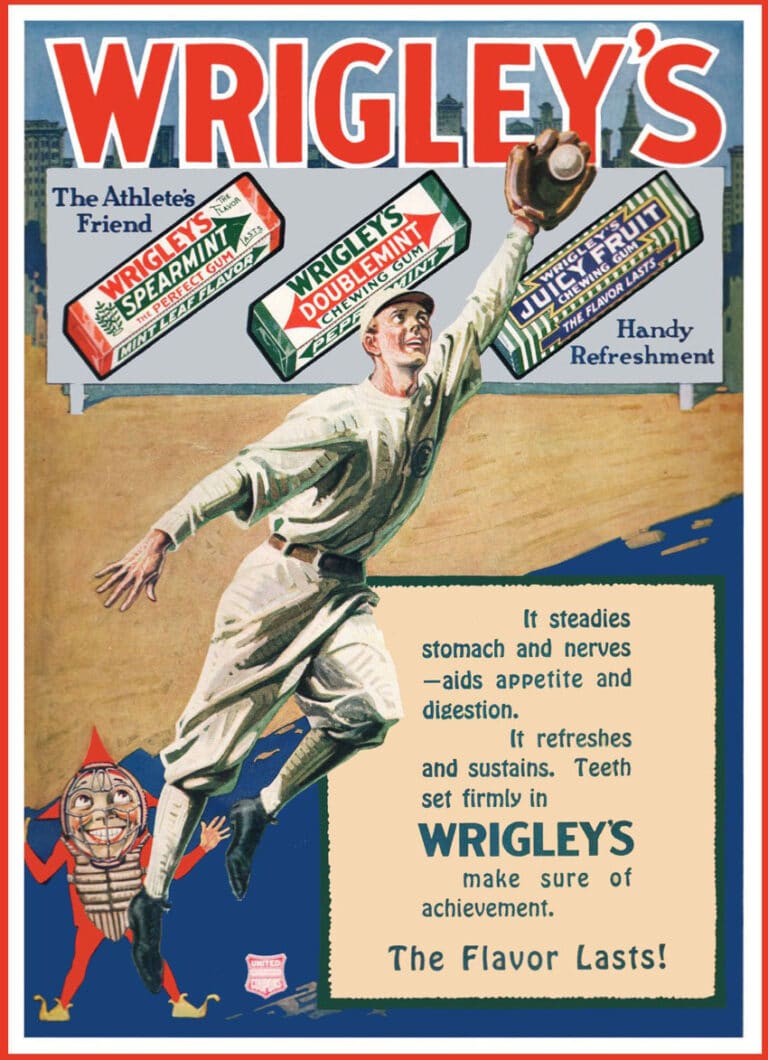 The Youth's Companion was an children's magazine that was printed from 1827 to 1929, until it became The American Boy in 1929. The Companion was published in Boston, Massachusetts by Perry Mason & Co. This stamp was printed in 1917 to promote outdoor and indoor sports for boys.