Baseball Stamps have arrived straight from the U.S. Post Office to your mailbox for you to collect. Beginning with the first U.S. postage stamp highlighting the centennial of baseball was released in 1939, there have been 64 different U.S. postage stamps featuring famous players, stadiums and important moments in baseball and softball issued.
Since the first stamp was issued, a total of almost 2.3 billion (2,321,660,365 to be exact) baseball and softball stamps have been minted with a postal value of just about $726 million dollars.
The first MLB players to be honored with their own postage stamp are amongst the most notable to ever stepped onto a baseball diamond: Jackie Robinson and Babe Ruth. These are also the only athletes to have appeared on three different postage stamps apiece.
If you are interested in collecting baseball stamps, below is every baseball postage stamp ever issued by the USPS, featuring players, ballparks, and moments. Plus, be sure to check out the International Baseball Stamp collection.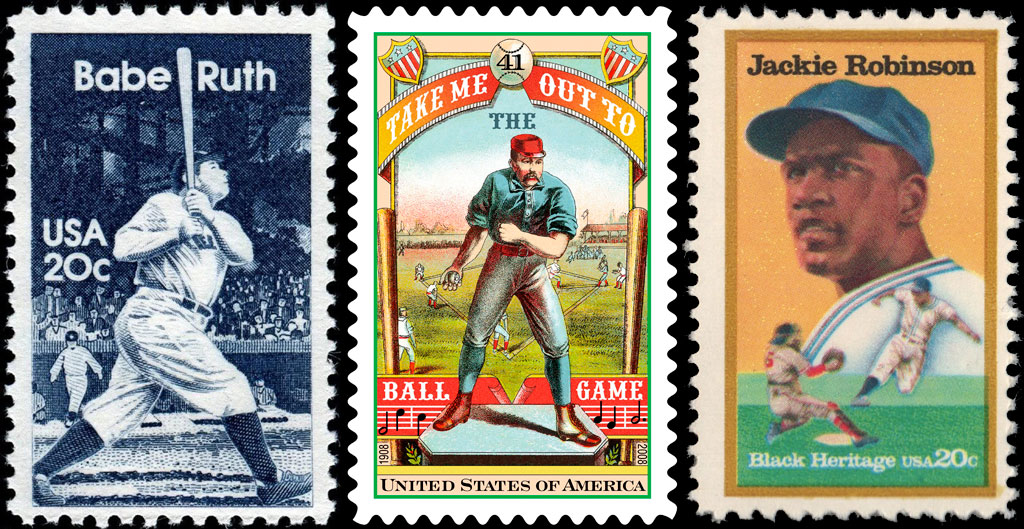 Select a baseball postage stamp to learn more about it, see full sheets, first day covers, and stamp albums – before they get cancelled:
Stamp Scrapbooks and Stamp Albums
Are you a collector? View the listing of every postage stamp United States or internationally issued depicting baseball, baseball players, stadiums, activities, or design elements from 1934 to 2000 in the Baseball Stamp Checklist.
See all Baseball Postage Stamps:

Now that you've browsed U.S. baseball postage stamps, view a year from the international stamp collection below.