The Cooperstown Classic Baseball Tournament has been played each year since 2004 in Cooperstown, New York at the National Baseball Hall of Fame. It is a wood bat, 9-team, amateur adult tourney. Teams hail primarily from New England and across New York, as well as from as far south at Charlotte, North Carolina and Puerto Rico.
Inquire to add a team to the Cooperstown Classic.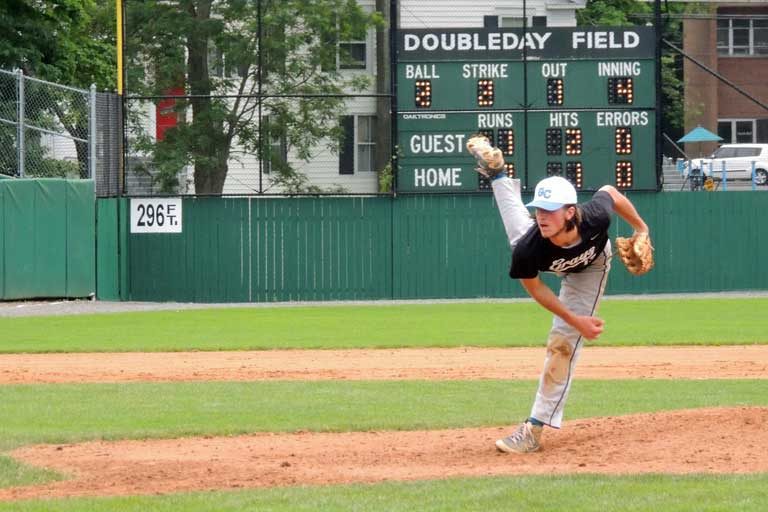 Each team plays 2 games on Saturday, and then enjoys playoff games on Sunday with at least one game at historic Doubleday Field. Games are played at Doubleday and Beaver Valley in Cooperstown, Winsor Field in Milford, and Damaschke Field in Oneonta.
Join competitive adult teams in this wood bat tourney. Teams from Boston, New York City, Niagara Falls, Charlotte, and Puerto Rico are already reserved for the summer of 2019.
Video below shows the 716 Highlanders walking off with the championship in the bottom of the 9th inning to win 5-4 versus the Niagara Devils in 2018.
Championship Titles Leaderboard:
Brockton Reds 🥇

🥇

🥇

🥇

🥇

Ben's Dream White Sox

🥇

🥇

🥈🥈🥈
Boston Orioles 

🥇

🥈

🥈

🥈

🥈

Charlotte All-Stars

🥇

716 Highlanders 

🥇

Boston Athletics 

🥇

Boston Marlins 

🥇

Boston Tides 

🥇

Garden City Grays 

🥇

JM Force 

🥇

Buffalo Hitmen 

🥈

Middlesex Brewers 

🥈

Niagara Devils 

🥈

North Andover Thunder 

🥈

Rhode Island Giants 

🥈
Explore the baseball teams that have attended the Cooperstown Classic, and the squads that have won championship trophies and runners-up finishes. Search below for your team.
Cooperstown Classic Participating Teams
Cooperstown Classic Champions:
| Year | Teams | City | League | Outcome |
| --- | --- | --- | --- | --- |
| 2004 | South Coast Bluefish | Boston, MA | Boston Men's Baseball League | |
| 2004 | Boston Athletics | Boston, MA | Boston Men's Baseball League | |
| 2004 | Boston Marlins | Boston, MA | Boston Men's Baseball League | Champions |
| 2004 | Boston Reds | Boston, MA | Boston Men's Baseball League | |
| 2004 | Boston White Sox | Boston, MA | Boston Men's Baseball League | Runner-Up |
| 2004 | Boston Royals | Boston, MA | Boston Men's Baseball League | |
| 2005 | Brockton Reds | Boston, MA | Men's Independent Baseball League | Champions |
| 2005 | North Andover Thunder | Boston, MA | Boston Men's Baseball League | Runner-Up |
| 2005 | Medford Angels | Boston, MA | Boston Men's Baseball League | |
| 2005 | Boston Senators | Boston, MA | Boston Men's Baseball League | |
| 2005 | Boston Marlins | Boston, MA | Boston Men's Baseball League | |
| 2005 | Boston Mariners | Boston, MA | Boston Men's Baseball League | |
| 2005 | Quincy Grays | Boston, MA | Boston Men's Baseball League | |
| 2005 | Wellesley Orioles | Boston, MA | Boston Men's Baseball League | |
| 2005 | Dorchester Dodgers | Boston, MA | Men's Independent Baseball League | |
| 2006 | Quincy Grays | Boston, MA | Boston Men's Baseball League | |
| 2006 | Brockton Reds | Boston, MA | Men's Independent Baseball League | Champions |
| 2006 | Middlesex Brewers | Boston, MA | Boston Men's Baseball League | |
| 2006 | Boston Mariners | Boston, MA | Boston Men's Baseball League | |
| 2006 | Boston Senators | Boston, MA | Boston Men's Baseball League | |
| 2006 | Boston Marlins | Boston, MA | Boston Men's Baseball League | |
| 2006 | Boston Tigers | Boston, MA | Boston Men's Baseball League | |
| 2006 | Boston White Sox | Boston, MA | Boston Men's Baseball League | |
| 2006 | Boston Orioles | Boston, MA | Boston Men's Baseball League | Runner-Up |
| 2007 | Quincy Grays | Boston, MA | Boston Men's Baseball League | |
| 2007 | Brockton Reds | Boston, MA | Men's Independent Baseball League | Champions |
| 2007 | Brockton Dodgers | Boston, MA | Men's Independent Baseball League | |
| 2007 | Boston Mariners | Boston, MA | Boston Men's Baseball League | |
| 2007 | Boston Senators | Boston, MA | Boston Men's Baseball League | |
| 2007 | Boston Rangers | Boston, MA | Boston Men's Baseball League | |
| 2007 | Boston Tigers | Boston, MA | Boston Men's Baseball League | |
| 2007 | Boston White Sox | Boston, MA | Boston Men's Baseball League | Runner-Up |
| 2007 | Boston Orioles | Boston, MA | Boston Men's Baseball League | |
| 2008 | Brockton Reds | Boston, MA | Men's Independent Baseball League | Champions |
| 2008 | Boston Mariners | Boston, MA | Boston Men's Baseball League | |
| 2008 | North Andover Thunder | Boston, MA | Boston Men's Baseball League | |
| 2008 | Boston Tigers | Boston, MA | Boston Men's Baseball League | |
| 2008 | Boston Orioles | Boston, MA | Boston Men's Baseball League | Runner-Up |
| 2008 | Quincy Grays | Boston, MA | Boston Men's Baseball League | |
| 2009 | Brockton Reds | Boston, MA | Men's Independent Baseball League | |
| 2009 | Boston Mariners | Boston, MA | Boston Men's Baseball League | |
| 2009 | Boston Athletics | Boston, MA | Boston Men's Baseball League | Champions |
| 2009 | Boston Tigers | Boston, MA | Boston Men's Baseball League | |
| 2009 | Boston Orioles | Boston, MA | Boston Men's Baseball League | |
| 2009 | Quincy Grays | Boston, MA | Boston Men's Baseball League | |
| 2009 | Boston Brewers | Boston, MA | Boston Men's Baseball League | |
| 2010 | Brockton Reds | Boston, MA | Diamond Baseball League | |
| 2010 | Boston Tigers | Boston, MA | Boston Men's Baseball League | |
| 2010 | Boston Orioles | Boston, MA | Boston Men's Baseball League | Champions |
| 2010 | Boston Blue Jays | Boston, MA | Boston Men's Baseball League | |
| 2010 | Diamondbacks | Boston, MA | Diamond Baseball League | |
| 2010 | Ben's Dream White Sox | Boston, MA | Boston Men's Baseball League | Runner-Up |
| 2011 | Brockton Reds | Boston, MA | Diamond Baseball League | Champions |
| 2011 | South Shore Cardinals | Boston, MA | Diamond Baseball League | |
| 2011 | Boston Tigers | Boston, MA | Boston Men's Baseball League | |
| 2011 | Boston Orioles | Boston, MA | Boston Men's Baseball League | |
| 2011 | Rhode Island Rangers | Providence, RI | Rhode Island MSBL | |
| 2011 | Diamondbacks | Boston, MA | Diamond Baseball League | |
| 2011 | Ben's Dream White Sox | Boston, MA | Boston Men's Baseball League | |
| 2011 | Middlesex Brewers | Boston, MA | Boston Men's Baseball League | Runner-Up |
| 2012 | Newburyport Nationals | Boston, MA | North Shore Baseball League | |
| 2012 | Boston Orioles | Boston, MA | Boston Men's Baseball League | Runner-Up |
| 2012 | Rhode Island Giants | Boston, MA | Rhode Island MSBL | |
| 2012 | Ben's Dream White Sox | New York, NY | Pancho Coimbre League | Champions |
| 2012 | South Shore Cardinals | Boston, MA | Diamond Baseball League | |
| 2012 | Boston Tigers | Boston, MA | Boston Men's Baseball League | |
| 2013 | Boston Mariners | Boston, MA | Boston Men's Baseball League | |
| 2013 | Rhode Island Giants | Providence, RI | Rhode Island MSBL | Runner-Up |
| 2013 | Niagara Devils | Buffalo, NY | MUNY - Buffalo MSBL | |
| 2013 | South Shore Cardinals | Boston, MA | Diamond Baseball League | |
| 2013 | Brockton Reds | Boston, MA | Diamond Baseball League | |
| 2013 | Ben's Dream White Sox | New York, NY | Pancho Coimbre League | Champions |
| 2014 | Hyde Park Rangers | Boston, MA | Boston Men's Baseball League | |
| 2014 | JM Force | Boston, MA | Boston Men's Baseball League | Champions |
| 2014 | Buffalo New Era | Buffalo, NY | MUNY - Buffalo MSBL | |
| 2014 | Niagara Devils | Buffalo, NY | MUNY - Buffalo MSBL | |
| 2014 | Charlotte All-Stars | Charlotte, NC | Charlotte Adult Baseball League | Runner-Up |
| 2014 | Ben's Dream White Sox | New York, NY | Pancho Coimbre League | |
| 2014 | Boston Mariners | Boston, MA | Boston Men's Baseball League | |
| 2015 | Ben's Dream White Sox | New York, NY | Pancho Coimbre League | |
| 2015 | Boston Orioles | Boston, MA | Boston Men's Baseball League | Runner-Up |
| 2015 | Charlotte All-Stars | Charlotte, NC | Charlotte Adult Baseball League | |
| 2015 | Ithaca Pirates | Ithaca, NY | Elmira Corning ABL | |
| 2015 | Niagara Devils | Buffalo, NY | MUNY - Buffalo MSBL | |
| 2015 | Big Flats Braves | Ithaca, NY | Elmira Corning ABL | |
| 2015 | Oneonta Easties | Oneonta, NY | Greater Oneonta Baseball | |
| 2015 | Garden City Grays | Long Island, NY | LI Boys of Summer League | Champions |
| 2016 | Boston Orioles | Boston, MA | Boston Men's Baseball League | |
| 2016 | Charlotte All-Stars | Charlotte, NC | Charlotte Adult Baseball League | Runner-Up |
| 2016 | Ithaca Pirates | Ithaca, NY | Elmira Corning ABL | |
| 2016 | Niagara Devils | Buffalo, NY | MUNY - Buffalo MSBL | |
| 2016 | Big Flats Braves | Ithaca, NY | Elmira Corning ABL | |
| 2016 | Garden City Grays | Long Island, NY | LI Boys of Summer League | |
| 2016 | Los Mets | New York, NY | Pancho Coimbre League | |
| 2016 | Pembroke Niners | Pembroke, MA | Ted Williams League | |
| 2016 | Boston Tides | Boston, MA | Boston Park League | Champions |
| 2017 | Singing Surgeons | Boston, MA | Boston Men's Baseball League | |
| 2017 | Charlotte All-Stars | Charlotte, NC | Charlotte Adult Baseball League | Champions |
| 2017 | Ben's Dream White Sox | New York, NY | Pancho Coimbre League | |
| 2017 | Niagara Devils | Buffalo, NY | MUNY - Buffalo MSBL | |
| 2017 | Watertown Nationals | Boston, MA | Boston Men's Baseball League | |
| 2017 | Boston Tides | Boston, MA | Boston Park League | |
| 2017 | West Seneca Kandefers | Buffalo, NY | WNY Suburban League | |
| 2017 | Buffalo Hitmen | Buffalo, NY | MUNY - Buffalo MSBL | Runner-Up |
| 2017 | Rhode Island | Providence, RI | Rhode Island MSBL | |
| 2018 | 716 Highlanders | Buffalo, NY | MUNY - Buffalo MSBL | Champions |
| 2018 | Ben's Dream White Sox | New York, NY | Pancho Coimbre League | |
| 2018 | Palmer Club | Boston, MA | Boston Park League | |
| 2018 | Buffalo Hitmen | Buffalo, NY | MUNY - Buffalo MSBL | |
| 2018 | Charlotte All-Stars | Charlotte, NC | Charlotte Adult Baseball League | |
| 2018 | East Providence Marlins | Providence, RI | RI Independent Amateur League | |
| 2018 | Niagara Devils | Buffalo, NY | MUNY - Buffalo MSBL | Runner-Up |
| 2018 | Providence Sultans | Providence, RI | Rhode Island MSBL | |
| 2018 | Singing Surgeons | Boston, MA | Boston Men's Baseball League | |
| 2019 | Puerto Rico 45 | Vega Baja, PR | Liga Boricua Béisbol Adulto | |
| 2019 | Ben's Dream White Sox | New York, NY | Pancho Coimbre League | |
| 2019 | Singing Surgeons | Boston, MA | Boston Men's Baseball League | |
| 2019 | Charlotte All-Stars | Charlotte, NC | Charlotte Adult Baseball League | |
| 2019 | Niagara Devils | Buffalo, NY | MUNY - Buffalo MSBL | |
| 2019 | Valley Thunder | Burlington, VT | Green Mountain Baseball League | |
| 2019 | Stinger Baseball | Buffalo, NY | MUNY - Buffalo MSBL | |
| 2019 | Palmer Club | Boston, MA | Boston Park League | |
| 2019 | Rhode Island | Providence, RI | Rhode Island MSBL | |
| Year | Team / League |
| --- | --- |
| 2004 | Boston Marlins – Boston Men's Baseball League |
| 2005 | Brockton Reds – Boston Men's Independent Baseball League |
| 2006 | Brockton Reds – Boston Men's Independent Baseball League |
| 2007 | Brockton Reds – Boston Men's Independent Baseball League |
| 2008 | Brockton Reds – Boston Men's Independent Baseball League |
| 2009 | Boston Athletics – Boston Men's Baseball League |
| 2010 | Boston Orioles – Boston Men's Baseball League |
| 2011 | Brockton Reds – Diamond Baseball League in Boston, MA |
| 2012 | Ben's Dream White Sox – Pancho Coimbre League in New York, NY |
| 2013 | Ben's Dream White Sox – Pancho Coimbre League in New York, NY |
| 2014 | JM Force – Boston Men's Baseball League |
| 2015 | Garden City Grays – LI Boys of Summer League in Long Island, NY |
| 2016 | Boston Tides – Boston Park League |
| 2017 | Charlotte All-Stars – Charlotte ABL in Charlotte, NC |
| 2018 | 716 Highlanders – MUNY - Buffalo MSBL in Buffalo, NY |