5th Annual 100 Innings of Baseball Spectacular
August 30-31, 2008
Score: Knights 91, Daze 78
Length: 100 Innings (30 hours)
Location: Adams Field, Quincy, MA
Amount Raised: $60,000 (cumulative raised: $433,435)
This Labor Day weekend, players from the Boston Men's Baseball League, Park, Yawkey, Cranberry, MIBL, BABL and several other local leagues successfully completed the 5th Annual 100 Innings of Baseball Spectacular to raise funds for Curt's Pitch for ALS, the charity of legend Curt Schilling of the Boston Red Sox.
Curt and Shonda Schilling were on hand Saturday afternoon to thank the participants for their support and to offer some words. After watching Mike Pollak of the MABL White Sox get hit by a pitch, Curt heckled: "Don't worry. That should feel better by the 70th inning."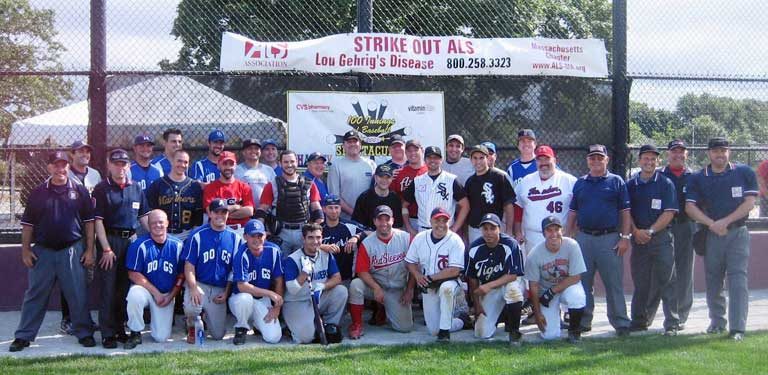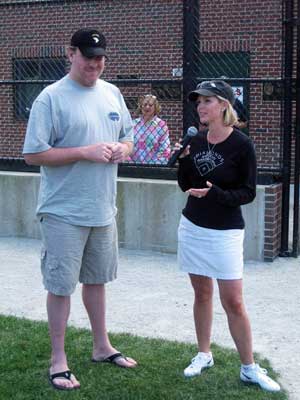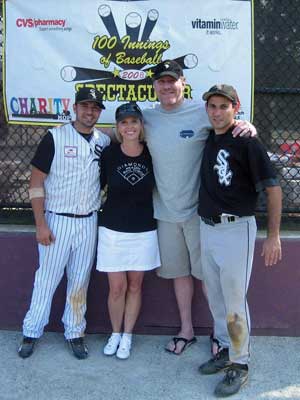 When Curt addressed the players in attendance he also joked about the physical condition of some of the athletes saying: "Being here makes me want to work harder in the off season. I'm seeing some bodies around here that I don't want to resemble."
The big hitter appears to be Neil Sisson of the Medford Angels, one of 11 athletes to play all 100 innings. Sisson led all 100 Inning batters by going 18 for 34 at a .529 clip. Dave Joseph of the Brockton A's was the hero on the mound, tossing more than 35 of the 100 innings!