It's tough to hit .400. Just ask Mike Ganley, founder of 400Hitter, a baseball statistics application used by amateur baseball leagues across the country.
If a tree falls in the woods and nobody hears it, does it make a sound? The same is true with baseball statistics. Without a historical record, it may as well not have happened.
Of course, .400hitter does so much more than stats, including standings, league leaders, umpire assignments, player registrations, and so much more. And Mike Ganley started the statistics revolution for amateur baseball. To this day, his software is touted as the best on the market.
In 15 years of playing amateur baseball in the Boston area for the Boston Yankees and Wayland White Sox, Ganley is batting .396 (233-for-588), a mere two hits shy of his own product's milestone. It's not as if Ganley can't hit .400. He's done it five times, including a whopping .534 in 1999 — a year after he won the Boston MABL's Most Valuable Player award.
A resident of Norwood, Mass, Ganley spent his days as a software engineer at Aclara, developing software that analyzes bill and meter data for electric, gas and water utilities. As exciting as that sounds, baseball is Ganley's true passion, and he runs 400Hitter for the love of the game. In Boston, 400Hitter is used by many of the area's most established leagues, including the Boston Men's Baseball League, Yawkey League, Intercity League, Cranberry League and Park League.
(In 2016, Ganley would land his dream job as Director of Baseball Systems for the Boston Red Sox.)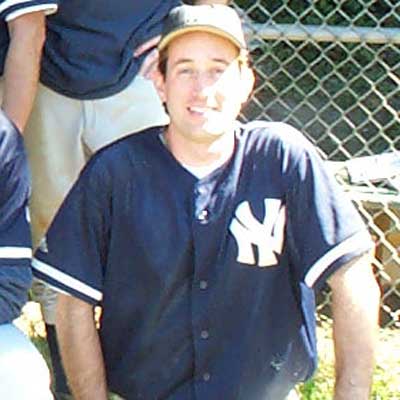 Every line of code in 400Hitter was developed and programmed by Ganley. It has all the features you'd expect from a professional ball club but typically can't get at the college, high school or amateur levels. It includes the typical player and team statistics that managers enter at the conclusion of each game, and also summarizes league leaders, standings and schedules. But there are a ton of other features that competitors such as Scorebook, eteamz or League Lineup just don't have.
On 400Hitter, a player's statistics follow him across his career, wherever he plays. So if a player jumps teams, or even leagues, his statistics remain linked so he can see his full career statistics. Keeping career stats for players and teams also allows for some other neat functionality that can't be found elsewhere, such as career leaders by league, career leaders by team, day vs. night splits for a player, and much more.
Linescores, boxscores and game summaries for each game allow for photo uploading and easily can be shared on Facebook at the completion of each game. I've never seen that kind of social integration for a baseball statistics program.
Some of the most unique features are designed for the league and managers. For instance, 400Hitter can support new player registrations, keeping a complete database of all players who have signed up to play. Managers can maintain team contact lists, and even have custom web pages automatically generated for their team. Umpire assignments can be added alongside each game on the schedule, so teams are not at risk of having an unassigned game.
I asked Ganley where he got the idea to build a statistics program in the first place.
"When I really started using the new 'web thing' back in the 90's, I thought it would be great to see league leaders and player stats if I could get the data. I created some macros in an Excel spreadsheet, and emailed this to each team. If they emailed it back, I would auto-generate totals and FTP them up to a website."
It's amazing to think that stat consolidation used to be such a manual process, and wasn't widely accepted at the amateur level. Ganley changed that and built his first baseball database and website for 400Hitter around 1994 — long before anybody else was doing it. Creating a database was his key, enabling him to store results across leagues, teams, players, as well as query them quickly and easily.
As a statistics junkie who played Strat-O-Matic Baseball, studied the backs of baseball cards, and happened to know Ganley from the ballfields pretty well, I was excited when I learned what he was building and offered to give suggestions – several of which ended up in the final product. I always felt that keeping statistics would allow you to study opposing players, be better prepared, and more excited for upcoming game. I was thrilled that as a hack amateur, I was at this time able to study my opponent's numbers the same way I had always studied those of the big league stars.
"I think up-to-date stats and schedules make a league run better," Ganley said. "It keeps the interest of more of the players and fans. I know when I played more, I was always interested in who I was playing, and how they were doing."
Ganley hasn't played on a roster regularly himself since 2008. Coaching Little League and soccer has drained most his time. Still, he hopes to make a comeback in 2012, swearing he may play a little bit for the Hyde Park Rangers of the MSBL.
I asked him what it feels like to be the developer of what many believe to be the most elite baseball statistics application on Earth.
"There hasn't been any celebrity factor," Ganley said. "I've seen local access TV using printed stat sheets at a couple games, so that was neat. But I do get emails directly from former players a few times a year, telling me they love the career stats. They hadn't played for a few years, and they just started again and want me to link their new over-40 stats to their old stats from years ago. I always think that is cool."
I asked Ganley what's next for 400Hitter.
"New features and upgrades," he said. "A much improved homepage to entice visitors to try 400Hitter. Mobile pages for faster game entry. I have a stat entry iPhone/iPad app I had worked on for a while too, that integrated directly with 400Hitter. I hope to find some more time for that this year."
As somebody who plays Age 30+ amateur baseball myself, I can't imagine a life without 400Hitter. I know that sounds far-fetched, but it's true. Every baseball game I've played for the past 15 years is stored on his system — including games where I have won championships, collected four hits or just had countless hours of memorable games.
Baseball is relived through its stats, and here in Boston, that often means 400Hitter. Ganley's software allows baseball's fondest memories to be eternal, and I can't imagine how amateur ballplayers continuing to live the dream ever survived without it.
Brett Rudy lives in Boston, Massachusetts where he created Baseball Is My Life, and is co-founder of Charity Hop Sports Marketing, helping athletes raise money for their philanthropic initiatives. Brett helped launch Charity Wines with more than 30 professional athletes, selling more than one million bottles of wine. Brett is also the creator of the Corked Bat Collection, 100 Innings of Baseball for ALS, the Cooperstown Classic at the Baseball Hall of Fame, and Winterball for Toys for Tots. In his spare time, Brett plays outfield in the Boston Men's Baseball League.