It wasn't a curveball. It began with a simple question posted on social media while my teammates were quarantined at home – not playing baseball. "Add one word to a non-baseball movie to make it about baseball." The first answer was Lord of the Sacrifice Flies. The remaining responses were equally as ready for Hollywood.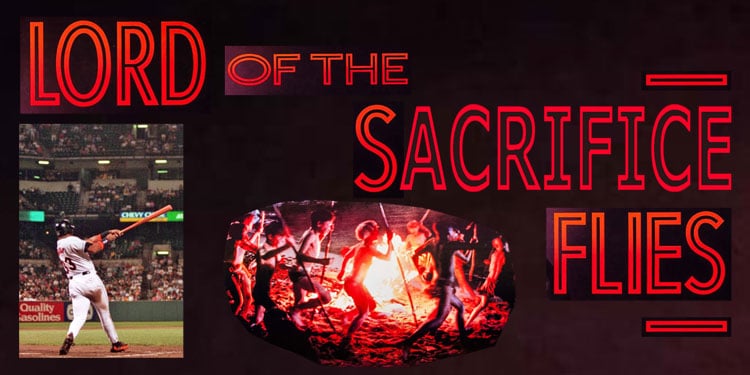 The Starting Line-Up
Dozens of baseball movie names auditioned, but most only made it to the cutting room floor. Here are the Top 9 flicks that made it into the starting line-up. Be sure to catch them in a ballpark near you!
1. All-Star Wars
Two superstars must save the galaxy from the Evil Empire's world-destroying battle station. Aaron Judge may not be your father, but he is your Daddy!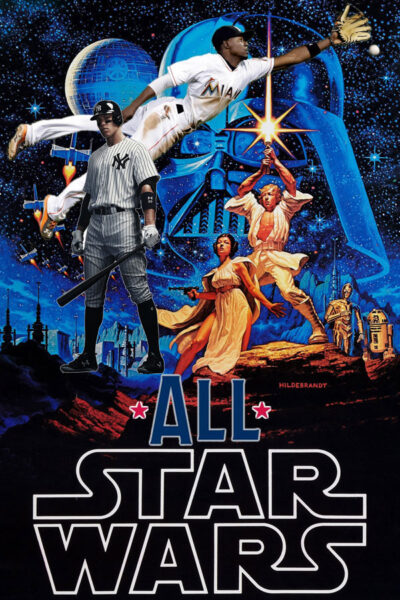 2. Charlotte's Web Gem
Wilbur the pig is scared of the end of the season, because he knows that when the time comes, he will end up on the dinner table. Instead, we intend to end up on the highlight reel.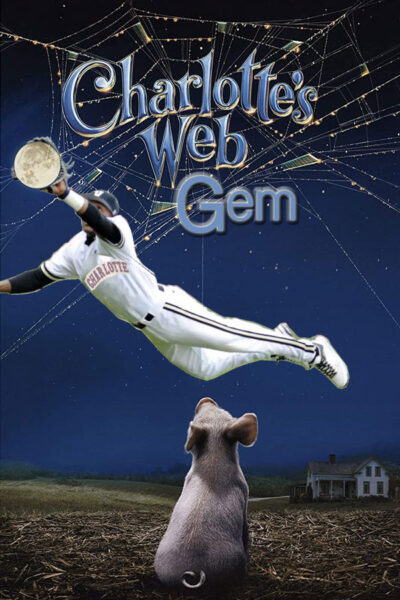 3. Reservoir Hot Dogs
When a concession stand heist goes horribly wrong, the surviving criminals begin to suspect that one of them has gotten away. Will they ketchup?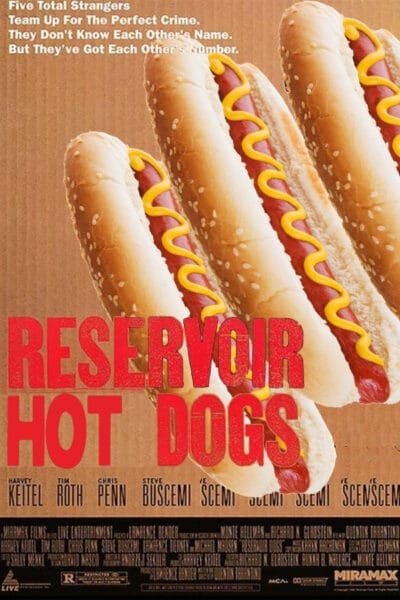 4. The Legend of Pine Tarzan
After having acclimated to life in Kansas City, George Brett is called back to his former home in the jungle to investigate the activities of pine wood in anoxic conditions that cause baseballs to travel for home runs illegally.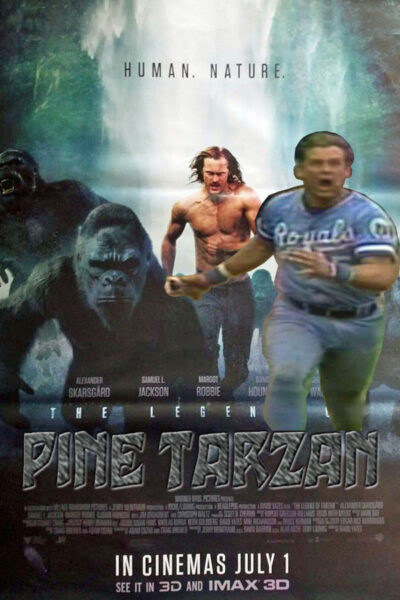 5. Texas Rangers Chain Saw Massacre
Two ballplayers end up falling victim to a series of beanballs and must survive the terror of the third inning as the Rangers' Nolan Ryan saws down Robin Ventura and the rest of the Chicago White Sox in a bloody battle.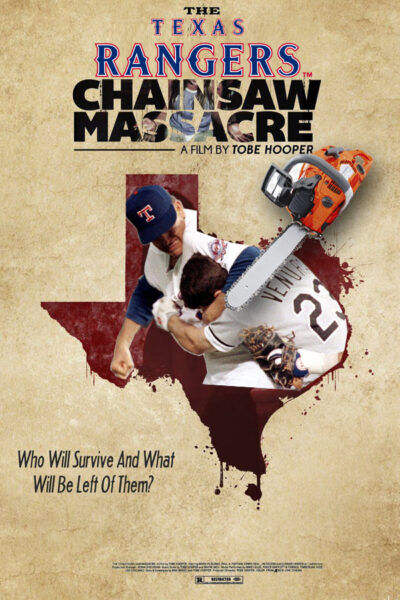 6. Close Encounters of the Third Base Kind
First kind, single. Second kind, double. Third kind, look out! An electric base runner watches how his quiet and ordinary daily life turns upside down after a close encounter at third base.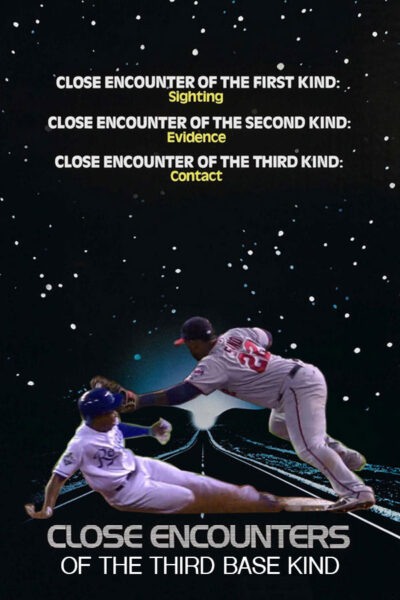 7. GoldSplitfinger
While investigating a new pitch, James Bond uncovers a play to contaminate the Fort Knox gold reserve. Will 007 find his grip? Will his ability to find that last second drop from his fastball cause the plot to strike out?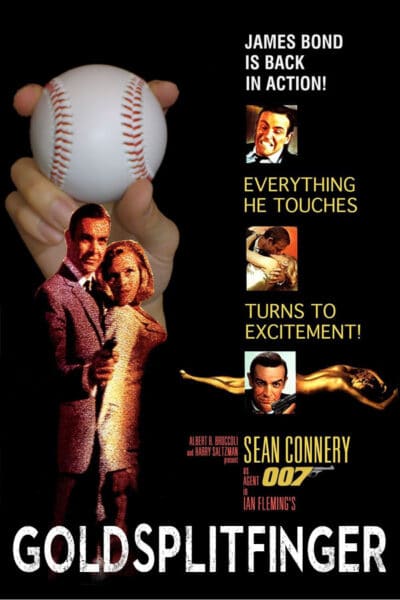 8 Bobble Heads in a Duffel Bag
A mob bagman finds that his luggage, containing the proof of his gang's latest hit, has been switched with a memorabilia store order. Will there be room on his shelf at home to display all his findings?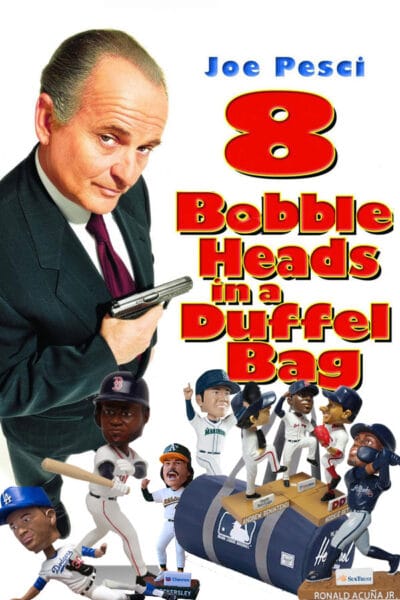 9. Rain Delay Man
Charlie Babbitt's father passed away and left season tickets to his savant brother Raymond. They travel cross-country to watch every baseball game, but every single one is canceled due to inclement weather.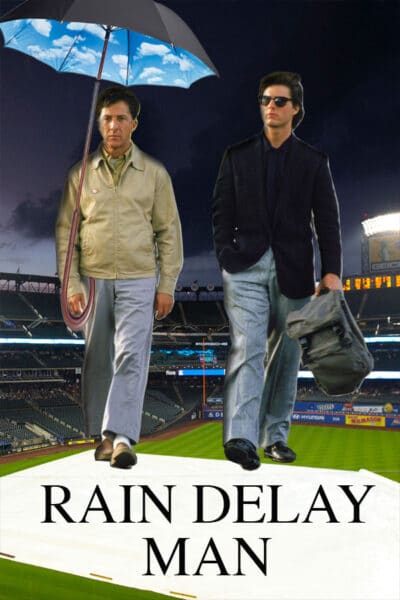 Coming Off the Bench
These film submissions were not bad. But they were not as strong as the starters. Hey, at least the made it to the show!
Baseball Diamonds Are Forever
Blade Runner Goes
The Curse of the Fly Ball
Double Play Jeopardy
Fast Ball Times at Ridgemont High
Ferris Buehler's Day Walk Off
Jurassic Candlestick Park
Line Driving Miss Daisy
Logan's Home Run
Ocean's 11 Innings
One Flew Over Throw the Cuckoo's Nest
Raging Bull Durham
Raising Arizona Diamondbacks
Rambo: First Base Blood
The Sisterhood of the Traveling Baseball Pants
The Sixth Inning Sense
Sophie's Fielder's Choice
Space Bean Balls
Spiderman: Far from Home Plate
Suicide Squeeze Squad
The Thin Red Sox Line
Way Back to the Future
Athletes (alphabetical by last name)
In these selections, not only did we discover some new feature films, but the leading man for each baseball movie has been identified!
Memphis Albert Belle
The Bridges of Madison Bumgarner County
Good Will Clark Hunting
David Coneheads
Jacob Degrom's Ladder
Action Bo Jackson

Shoeless Joe's Apartment (starring Joe Jackson)
The Hunt For Red Mr. October (starring Reggie Jackson)
Donnie Baseball Darko (starring Don Mattingly)
Free Willie Mays
War of the Pete Roses
Saving Private Nolan Ryan
The Tao of Steve Sax
About Mike Schmidt
Bobby Valentine's Day
Monty Python's Life of Brian Wilson
Swing and a Miss
Some people just didn't follow the rules. They were supposed to ADD one word to make an existing film a baseball movie. They were not supposed to change words or add two words, and television shows did not count! Still, some of these entries are worth the mention.
Apollo 13th Inning – Close, but just a bit outside. The extra "th" makes this a two word addition. Time to call off this moon landing.


The B in Apartment 123 You're Out – Such a mishandled entry. A number was added, as well as two words, and it's not even a movie!


The Battle of Midway Through the 4th Inning – No, no, no. Follow the rules!!


Children of the Can of Corn – Two words with "Can of" but this is solid!


Con Error – Word changed from "Con Air" to invalidate this defensive shift.


Designated Hitter Survivor – Presidents Dwight Eisenhower and Lyndon Johnson played baseball in high school. George H.W. Bush played college ball at Yale. No idea if President Tom Kirkland (played by Kiefer Sutherland), but he's spotted at a Blue Jays Game!

Die Hard Ball – It was with a vengeance to add the word "Ball" to the Bruce Willis classic, but Hardball is already baseball movie featuring Keanu Reeves who portrays an aimless young man who is scalping tickets, gambling and drinking, and agrees to coach a Little League team from the Cabrini Green housing project to get a loan.


50 Shades of Eye Black – It's gray!! But I like it. I want some eye gray!


MLB: The ShowGirls – I couldn't figure out whether they were adding "Girls: to the video game, "MLB: The Show" or were adding "MLB: The" to the movie "Showgirls." Either way, that is TWO words. Doesn't count. But the double entendre earns points.


Naked Radar Gun: 33 1/3 – The original Naked Gun is often considered a baseball movie, so I call foul. Leslie Nielsen's character, Lt. Frank Drebin, poses as an umpire to catch an assassin who turns out to be Reggie Jackson. However, the third film in the movie trilogy actually had nothing to do with baseball. This one is fair, even if it's on the fence.


The Sound of Walk-Up Music – Not sure who the pitching match-up is, but the hills are alive.


Stealing Home Alone – This is a valid entry, adding "Stealing" to the Macaulay Culkin holiday classic. The problem is, Stealing Home is already a tear-jerker baseball movie about Billy Wyatt, a washed-up baseball player who is called back home to deal with his childhood sweetheart who had committed suicide.


The Wedding Dinger – C'mon, this one's outta here!


The Wizard of Oz(zie) Smith – With one word changed and another added, this is an error. Plus, Ozzie Smith was given the nickname "The Wizard of Oz" for his defensive brilliance. Smith set major league records for career assists (8,375) and double plays (1,590) by a shortstop.id
Pinch Hitters Delivering in the Clutch
These new releases would not have been possible without the submissions of all the amateur baseball players, fans, and movie buffs who made contributions. There were enough contributors to fill a roster including:

Paul Anderson, Steve Buckley, Chris Currie, Teddy Dziuba, Josue Feliciano, Patrick Gillam, Brad Goodman, Rob Goodwin, Ari Hest, Scott Isaacs, David Koplik, Steve Lambert, Zach Mayer, John McGlynn, Phil Meador, Richard Minasian, Kein O'Leary, Steve Pinner, Jay Pinsonnault, Mike Pollak, Brad Presler, Reed Richard, Carl Rodriguez, Phil Rosenfield, Anthony Tomaro, Fred Weil and Dave Zalzal.

Thank you. These were all big hits!
Brett Rudy lives in Boston, Massachusetts where he created Baseball Is My Life, and is co-founder of Charity Hop Sports Marketing, helping athletes raise money for their philanthropic initiatives. Brett helped launch Charity Wines with more than 30 professional athletes, selling more than one million bottles of wine. Brett is also the creator of the Corked Bat Collection, 100 Innings of Baseball for ALS, the Cooperstown Classic at the Baseball Hall of Fame, and Winterball for Toys for Tots. In his spare time, Brett plays outfield in the Boston Men's Baseball League.