If you can't find a place to park at Fenway, then you haven't met Paul Anderson. This guy parks the cars at Boston Red Sox home games, right in the Player Lot. He knows all the Red Sox players, and can parallel park better than anybody. That's why he is the self-proclaimed Sox Cah Pahka.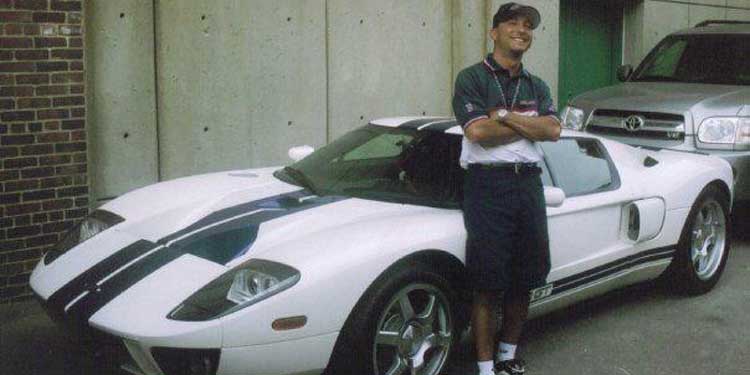 During my interview with Paul today, he's sitting in the Red Sox dugout. He just took batting practice with the Red Sox' Day of Game staffers, e.g., security, ushers, ticket takers, grounds crew, etc. He claims he threw about 1,000 pitches. I don't doubt it. I've seen his work ethic. Tomorrow, Brad Pitt is coming to Fenway to film scenes for the upcoming movie, Moneyball. I'm sure Paul will greet him on the way in with his customary "Howzit goin'?"
Anderson doesn't just spend his time hanging with pros and movie stars. Since 1995, he's been playing amateur baseball in the Wakefield Twi-League for the Highlife. With the Highlife, he met Mike Day, a member of the Medford Angels in the age 30+ Men's Senior Baseball League. Day insisted that Anderson join the Medford squad the day he turned 30, and he did. Anderson joined the Angels in 2004 and played for them until 2009.
In 2010, he migrated over to the Middlesex Brewers. Actually, I recruited him. I saw Paul parking cars at Fenway Park, remembered that I played with him at the annual 100 Innings of Baseball fundraiser, and urged him to pitch for the Brewers in 2010. And he did. This season, Anderson led the team with 14 games pitched, and compiled a record of 2-0 in 32 2/3 innings with an ERA of 4.07. The Brewers also made the MSBL Finals for the first year in team history, ultimately losing 2 game to none to the Newton Red Sox – the team Manny Delcarmen's father, Cookie, plays for.
Anyhow, by day, Paul parks cars for the Sox. He landed the job during the 1999 season when the Red Sox hosted the MLB All-Star Game. His friend was an attorney who worked with a physical therapist who was also a Sox security official by night. His friend had called him prior to A.S. Game and stated: "Hey, you're going to the All-Star Game!"
Paul had no choice to accept, and before long, connections were made, and he was a Red Sox staffer working security. The following year, he began working the parking lot. He's been with the Team ever since, and he sports two World Series rings to prove it.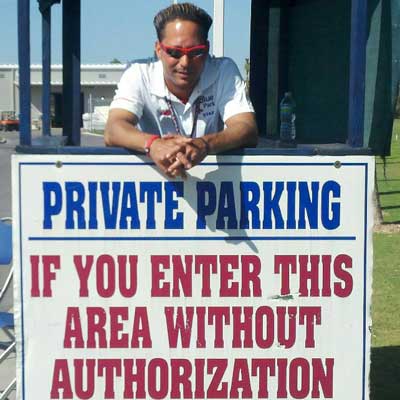 Anderson's primarily responsibility is to park and safely secure the player's cars at the ballpark when they arrive, and help them to their cars and escort them out of the ballpark after the game. This gives Anderson a chance to mingle with the players on a daily basis.
"Seeing the side of the players that nobody really gets to see on a daily basis, and interacting with them, just like a couple of regular guys. It's nice to see them every day in their street clothes. It's a real different look."
Indeed it is. The guys on the Sox drive the hottest cars on the planet.
According to Paul, David Ortiz would win the "Pimp My Ride" contest if there ever was one for Sox players. This season, Big Papi rolled in sporting a white Cadillac Escalade with his #34 printed on the dash and televisions mounted in the back. In prior years, he has arrived driving a Lamborghini or Rolls Royce, with his #34 etched on the wheels.
Jon Lester's truck can barely be seen by the naked eye. His Chevy Silverado truck is completely customized with Mossy Oak Camouflaged accessories, from floor mats to seat covers to steering wheel covers.
Dice-K Matsuzaka changes up his vehicles regularly. Sometime he arrives at Fenway in a Bentley, sometimes a Maserati, and to mix it up, a Porsche Cayenne.
Mike Cameron drives a Mercedes-Benz S 63 AMG, Bill Hall has a customized Bentley, and Kevin Youkilis just got himself a new Audi A8. The list goes on. Paul parks them all.
Beyond the standard car parking, Anderson regularly partakes in high-class excursions. Earlier this season when Dustin Pedroia broke his foot, Paul had the honor of driving him home in the Red Sox golf cart. Paul has had windshield wipers replaced for Victor Martinez, car tires filled for Mike Cameron, and even high-tailed it to Jonathan Papelbon's house to fetch a forgotten iPod.
During the 2007 playoffs, Anderson drove Julian Tavarez' Hummer all the way back to his house in Cleveland and then flew back to Boston with the Team. At the end of the 2005 season, Paul drove Matt Clement's truck back to Pennsylvania and had dinner with his family.
Paul also goes to Spring Training every year in Fort Myers, Florida. The team puts him up in Red Sox housing in the same hotel where all the Red Sox minor leaguers stay. And for this, he gets paid, too.
Anderson was even part of the on-field celebration after the Boston Red Sox 2007 American League Championship Series victory. One of his favorite moments was David Ortiz dousing him in Champaign.
Anderson is thankful: "I feel like I've won a once-in-a-lifetime contest, but I win every day."
As I'm watching the ESPN film Four Days In October tonight about the Boston Red Sox unprecedented 2004 ALCS comeback victory versus their arch- rivals, the New York Yankees, who do I see on television? Paul Anderson. Yup, he's in the scene with Manny Ramirez in the Red Sox Player Lot. Paul's parking Manny's car.
Brett Rudy is a trailblazer in the world of baseball. As the founder of Baseball Is My Life and co-founder of Charity Hop Sports Marketing, he's dedicated to elevating the sport and supporting the athletes who play it. With a passion for making a difference, Brett has created successful philanthropic initiatives like Charity Wines and 100 Innings of Baseball for ALS. He's also the mastermind behind the Corked Bat Collection, Cooperstown Classic at the Baseball Hall of Fame, and Winterball for Toys for Tots. When he's not working to improve the game, Brett can be found playing outfield in the Boston Metro Baseball League, living and breathing the sport he loves.