6th Annual Winterball Baseball Game
December 2, 2006
Temperature – 47°
MABL 5, MSBL 1 (Game 1)
MABL 4, MSBL 4 (Game 2)
Boston English HS, Jamaica Plain, MA
The doubleheader was played in 45 degree cold. All 57 participants had to donate a toy to Toys for Toys in order to participate.
Game 1 began at 10:30 AM and was won 5-1 by the MABL (the young guys), led by the pitching staff of Chris Allen (Reds), Bryan Healey (Orioles), Steve Maycock (Grays), Rich Wlodarczyk (Tigers) and Jay Thomas (Orioles) who combined for 17 strikeouts. Game 2 began immediately afterward. With the MABL leading 4-3 in the bottom of the 7th inning, the final out of the inning was made at the plate to preserve the score. In the bottom of the 8th inning, the MSBL plated a run to tie the score 4-4. With the bases loaded and 1 out, a seemingly game-ending line drive was hit down the thirdbase line. Pedro Gil (A's) dove and double-up the runner at third to end the inning. The game ended in a 4-4 tie due to darkness.
Two members of the United States Marine Corps stationed out of Ft. Devens came down to collect all the toys. Thanks to John "Smokey" Moore (Winthrop Black Sox) for securing the Toys for Tots angle and for Charity Hop (a baseball fundraising firm) for coordinating all the details. Additionally, Boston Police Captain Kelley McCormick (Somerville Senators) was on hand to assure everything went smoothly.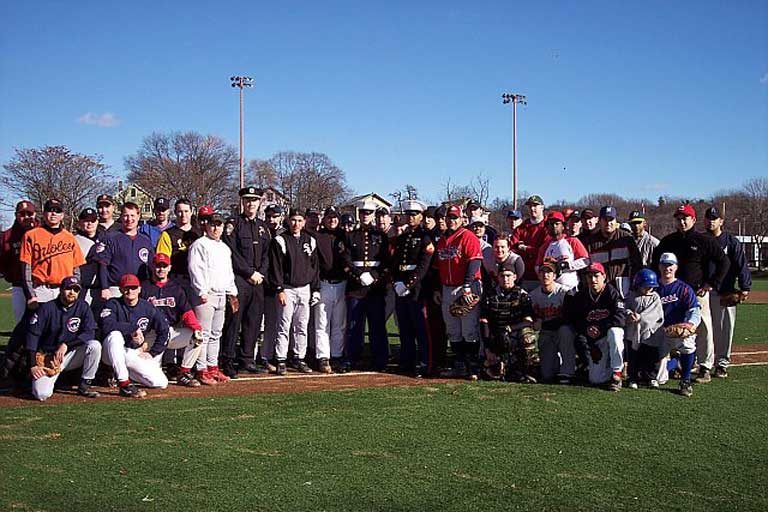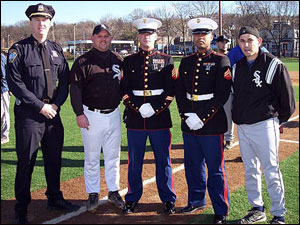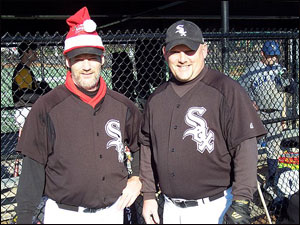 Red Sox Stories aired the Boston Men's Baseball League event Winterball, a Toys for Tots fundraiser, on UPN on Sunday December 17, 2006.