10th Annual Winterball Baseball Game
December 4, 2010
Temperature – 41°
Snowmen 10, Snowflakes 8
Maplewood Park, Malden, MA
On a day when Red Sox Nation was involved in hot stove talks, amateur athletes from across Greater Boston were actually playing 9 innings of baseball – all to benefit Toys for Tots. U.S. Marine Sergeant Jonathan Chan was on hand to thank the athletes for their contribution, and root them on during chilling 41 degree conditions, that even saw a few flurries in the game's early innings.
This year's game featured players from many local leagues, such as the Boston Men's Baseball League, Yawkey League, Park League, BABL, CNEBL and several others ranging as far south as Rhode Island and as far north as New Hampshire. Younger players came from high school and AAU teams, led by players on the New England Stampede.
The contest was quite a thriller. With the score tied 8-8 in the bottom of the 8th inning, the Snowmen broke out with 2 runs to take a 10-8 lead. In the top of the 9th inning, event co-organizer Smokey Moore, age 43, came out of retirement to go for the save. He proceeded to pitch to his son on the opposing team, Zach, age 13, to get the inning's first out. The event came to a close when Snowmen manager, Ryan Bere, tried to stretch a double into a triple and was thrown out at 3rd base – leaving the tying run at the plate!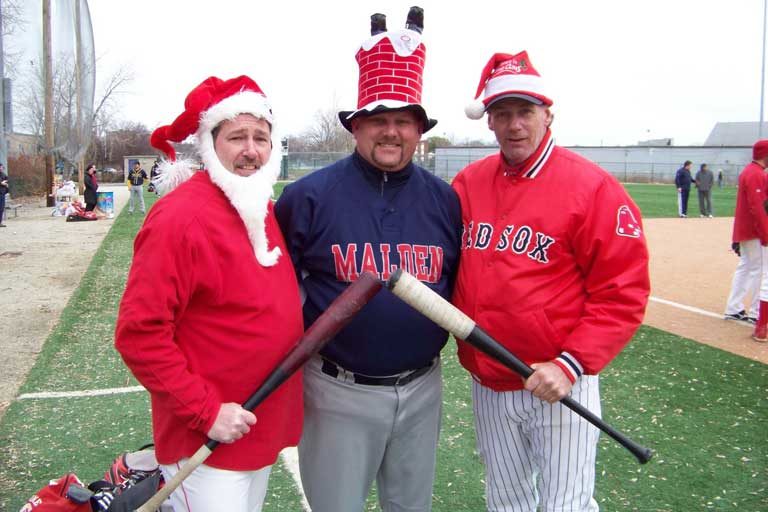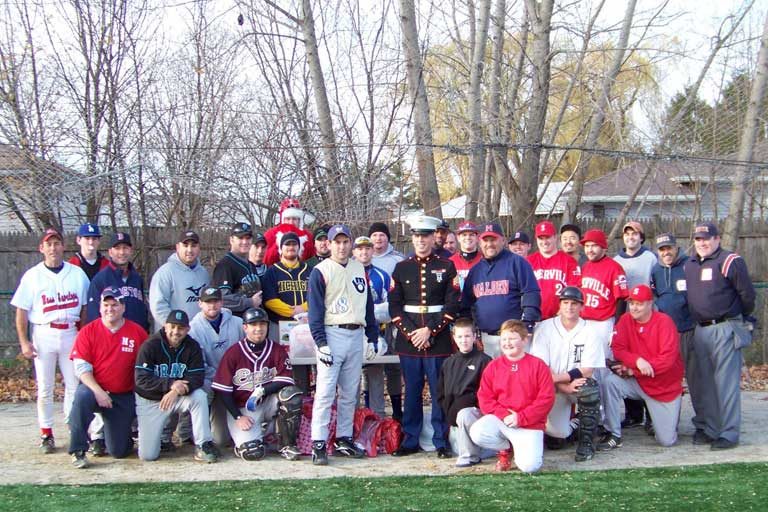 Youngster Zach Moore bats against his dad, Smokey Moore in the 2010 Winterball game for Toys for Tots.