In a pandemic season without real baseball fans in attendance, these die-hards found a way to get into the stadium with the best seats in the house – as cardboard clones.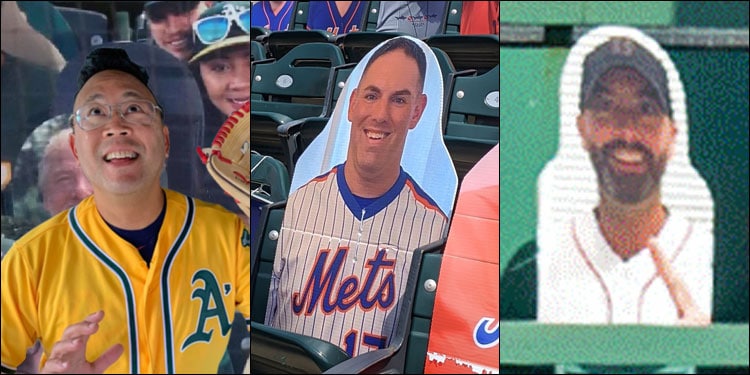 Fake fans. Fake crowd noise. Is the game even real? Scott Isaacs, Hayami Arakawa and Jono Gallagher are all members of the Boston Men's Baseball League. Outside of their local league, they all root for different MLB teams nationally. And since COVID kept them from going to the games in person, they sent cardboard personas instead.
Their cardboard selves may have had the times of their lives.
Scott Isaacs – New York Mets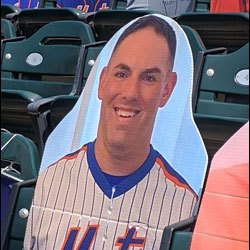 Long-suffering Mets fan here. Devoted to this infuriating team pretty much since birth. There for the wild highs and the excruciating lows. There for Spring Training in Port St. Lucie every March. There to say goodbye to Shea and hello to CitiField. There for two World Series losing Game 5s, 15 years apart. There for fun road trips across the country. There for Keith Hernandez and Pete Alonso. Then 2020 hit, and I wasn't sure I'd be "there" for anything.
When I first heard about the Mets plan to offer the cutouts for an $86 donation to the Mets Foundation, I was kind of amused but didn't seriously consider sending a picture. That changed when a former co-worker now based on Long Island reached out with an awesome offer. He was going to interview the printer responsible for making all these faux fans… did I want to be a "test dummy" for his story? All I had to do was send a picture. Sold!
~ Scott Isaacs
I discovered my cutout on Opening Day. About halfway through the game, the Braves got a runner to third base and my phone blew up. There I was, lurking over the shoulder of every runner who advanced to third base. While the constant airtime was fun in the beginning, my fellow Mets fan friends blamed my "presence" for every home loss! Always suffering, whether in the flesh or in cardboard, I guess. Wouldn't have it any other way!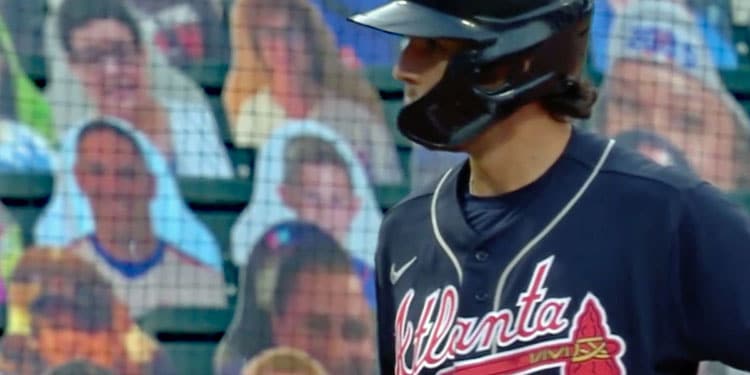 Hayami Arakawa – Oakland Athletics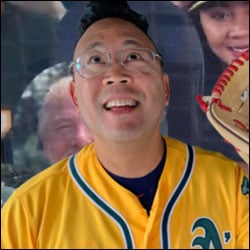 I had Oakland A's tickets during the hay day of the Moneyball era, and much like the book, there were plenty of exciting games, winning seasons and memorable ball players from the era. In those days, we could get to the ballpark two hours before the game and shag home run balls from both teams. Jason Giambi and Jermaine Dye hit bombs during BP.
Fast forward to 2020, I admittedly knew few of the Oakland A's players when February's Spring training started, having lived in Boston since 2006. When the A's promotional department sent out an offer to have a personal cutout to be put up in the stands, I thought it was a cool idea, especially when I learned it would benefit ALS research.
I never saw my cutout during the shortened season, though the picture I sent them was on-air quality. I have to assume that my cutout was hit by a foul ball because yesterday afternoon I received an email from the A's telling me I have signed Matt Chapman baseball heading my way. Wow, bonus! Let's Go Oakland!
~Hayami Arakawa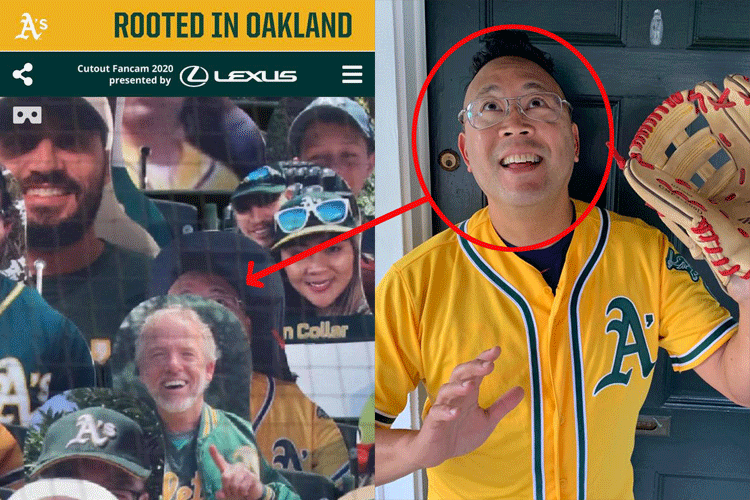 Jono Gallagher – Boston Red Sox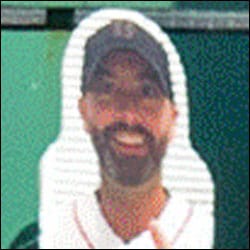 On September 20, 2020, JD Martinez of the Boston Red Sox hit his 6th home run versus the New York Yankees. It was an 8th inning solo shot into Section 2, Row 2, Seat 6 of the Green Monster seats. And it hit the cardboard cutout of Jono Gallagher in the face. It was the first time I'd ever caught a ball at a game, fair or foul. And he wasn't even there!
Before the season started, I learned that I could make a donation to the Red Sox Foundation in exchange for a cardboard cutout atop the Green Monster. I knew I had to participate. But I don't normally go to Sox games by myself so I decided to purchase a cutout for my buddy and for my mom as well. She and I started a tradition a couple of years ago of going to at least one Sox game each season and I wasn't going to let COVID-19 break that tradition!
About an hour after the game ended I got an email from the Red Sox saying that I had caught JD's home run. It felt like I had won the lottery! And in a sense I had. For "catching" a home run ball hit by a Red Sox player, I would receive the home run ball signed by the player that hit it, a custom Red Sox jersey with my last name on it, and two tickets to a Red Sox game atop the Green Monster in 2021.
I can't wait for that day. Because I'll be watching the team I love play baseball in the greatest ballpark in the country, and I'll be keeping a tradition alive by watching the game with my mom!
~Jono Gallagher
In case you missed it, here is the home run that JD Martinez hit. Jono positioned him perfectly, made the catch squarely off the face, and then likely needed to be recycled.
What's On Deck?
What gimmick will MLB think up next? Mic'ing up the players so they can be interviewed as they play? (Whoops, they already did that). What about guest umpires? Celebrity base coaches? Pictures of loved ones printed on the bases? Something with "lasers"? I just hope it doesn't take another pandemic to find out.
Brett Rudy is a trailblazer in the world of baseball. As the founder of Baseball Is My Life and co-founder of Charity Hop Sports Marketing, he's dedicated to elevating the sport and supporting the athletes who play it. With a passion for making a difference, Brett has created successful philanthropic initiatives like Charity Wines and 100 Innings of Baseball for ALS. He's also the mastermind behind the Corked Bat Collection, Cooperstown Classic at the Baseball Hall of Fame, and Winterball for Toys for Tots. When he's not working to improve the game, Brett can be found playing outfield in the Boston Metro Baseball League, living and breathing the sport he loves.