By the end of the 2019 season, Major League Baseball attendance declined for the fourth consecutive year – at a 1.6% clip that season. And after a year mostly without fans in 2020 due to COVID, what should have been a bounce-back year in 2021 was anything but – with paid attendance shrinking by more than one-third!
But what if these declines had nothing to do with long games, high ticket prices, and people watching games on their mobile phones? What if the cause is lackluster baseball marketing that can be addressed? It is, and it can.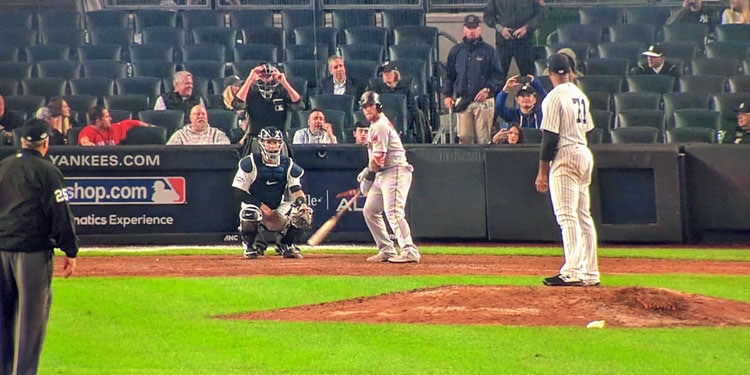 Claimed Reasons Attendance is Declining
With attendance at MLB games in decline for four straight years, there is panic.
The games must be too long! Now everything from pitch clocks to number of mound visits is being examined. But a longer game is like a bigger glass of beer – and I want that.
Here are the typical reasons given for declining attendance:
Games are too long
Ticket prices are too expensive
Games start too late
Mobile creates too many viewing options
Expansion creates secondary markets which draw less attendance
Expansion has led to decreased competition
Weather keeps people away (because people blame the weather for everything)
The decline certainly isn't due to the lack of new stadiums, as 15 of 30 MLB teams have opened a new ballpark since 2000 – that's 50%, for those without a calculator. The Texas Rangers are about the make it 16.
Actual MLB Attendance – 2010 through 2019
According to data from Forbes, Major League Baseball attendance appears to be in freefall since 2015, down to a mere 68.5 million fans in 2019 (68.7 was previously projected). However, MLB is not the only game in town.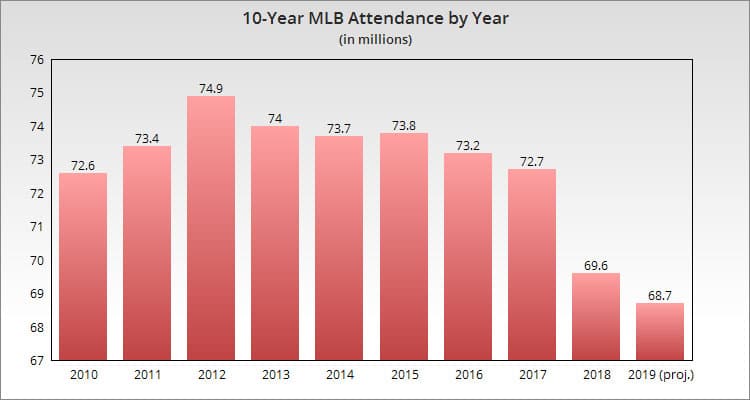 UPDATE: Attendance was not reported by MLB in 2020 due to COVID-19. Yet, in 2021 when fans returned to the stadiums, attendance dropped sharply to 45.3 million.
Why MLB Attendance is Declining – and How to Reverse the Trend
The problem with MLB attendance is a marketing problem. Forget everything you've heard. There are several factors created by MLB and its ballclubs, designed to improve the game – but which may have led to the declining attendance. Here are 5 issues causing the attendance problem, and how they could be addressed and reversed – to increase attendance.
1. Ballplayers Are Playing More Baseball, So Are Too Busy to Attend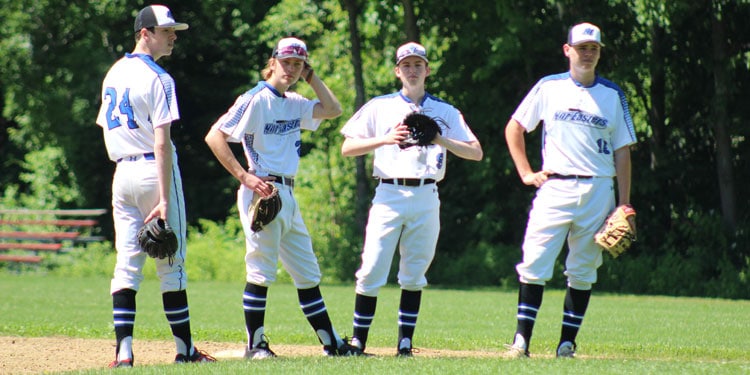 A study from the Sports & Fitness Industry Association (SFIA) shows that the number of people who play baseball in the U.S. increased 21% to 15.9 million from 2014 to 2018. And for the third consecutive year, baseball and softball combined to be the most participated team sport in the U.S. with 25.6 million players.
Major League Baseball attributes much of that success to their "Play Ball" program which launched in 2015 in partnership with USA Baseball. Casual baseball participation has increased 52.8% since Play Ball launched, too. Amazing. Kudos to them. Seriously.
However, if kids are playing more baseball of their own, they have less time to attend MLB games. Plus, if kids play two double-headers over the weekend with more demanding travel team schedules, they are not looking to take in more games during the week.
Even though Little League claims their participation has declined 1.5% to 3% per year since the early 2000's, Little League is just one brand of youth play. Baseball participation is up.
Babe Ruth Baseball, Cal Ripken Baseball, American Legion Baseball, CABA, Dixie, Dizzy Dean, and AAU are amongst the popular youth leagues. Adult baseball is also on the rise, led by the Men's Adult Baseball League and Men's Senior Baseball League which fields organizations all over the country.
Baseball is running up the score, and many of these leagues also play longer seasons than Little League which runs just April to June for most teams. Travel teams often play February though October (depending on geographic region).
By the way, Little League's ability to popularize the Little League World Series, first get it nationally aired in 1963, and continue that airing through today is a marketing feat of genius. It is for that reason that many casual fans think Little League equates to youth baseball. But it is just one brand, albeit the largest. Still, their downward trend is not consistent with the overall direction of the sport.
Collectively, baseball is growing – and by a lot. We haven't even discussed the attendance of college baseball, independent baseball or minor league baseball. All of this incremental baseball is cutting into MLB's market share. It's actually surprising their attendance isn't down more than 1.4% with all this incremental play.
How to Fix It: DON'T!! Growing baseball is a longtail play. In the short-term, more kids will be playing ball themselves and going to fewer MLB games. But in the long-term, these kids will grow into adults with a passion for the game.
2. The Seats Look Empty, Making the Game Look Boring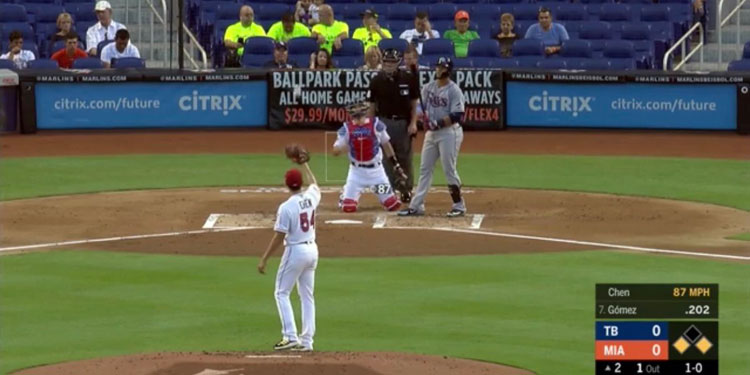 When the camera pans over the audience at the Academy Awards, every seat is filled by somebody in a gown or tuxedo. "Seat Fillers" fill all empty seats, whether attendees are going to the bathroom, or receiving an award. To the viewing audience at home, the event perception is exclusive and desirable.
Most Major League Baseball games are not sold out. However, even when games are sold out, some of the best seats in front remain empty as business-owned luxury boxes go unused. To the viewing audience at home, this creates the exact opposite perception: cheap and undesirable.
Additionally, the seats in the outfield and upper sections appear a vast wasteland when complete sections go empty. Why would anybody want to attend a game – or even watch a game – when it appears to have zero interest? They wouldn't, and they don't, and attendance declines.
How to Fix It: There are several easy ways to fill empty seats, and also some challenging ones. However, in a $10.3 billion dollar business, these methods should be a priority:
Fill the seats in front – Behind the plate where the camera shows on television, fill those seats. Invite season ticket holders, lottery winners, or just people dressed in the most fan-friendly attire the opportunity to fill unused seats in front. No brainer, and it carries zero cost.

Hide empty seats in back – Most basketball stadiums already do this when WWE comes to town. The stadium is only partially full, so they don't sell certain sections above eyeline or out of camera view – and then they keep them in the dark. According to Wrestling Inc, the average attendance at a WWE live event was 5,000 in 2018, but the average attendance at an NBA game (where most WWE events occur) is about 18,000. Yet, WWE events always appear full.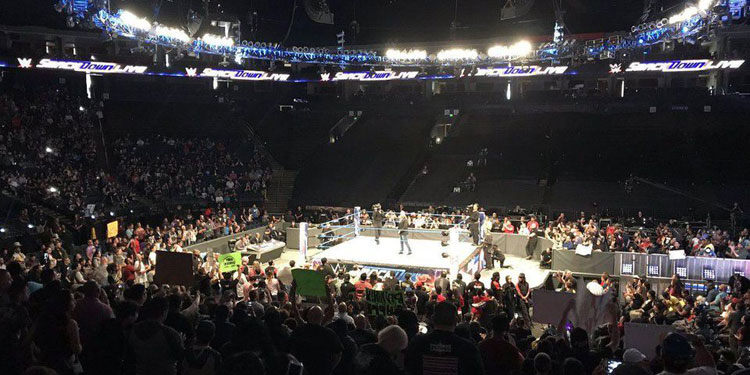 Imagine the future – Triestina, a professional soccer team from Italy, filled every empty seat with two-dimensional images of fans printed on a sheets of vinyl. They've even filled sections of the stands at Fenway Park with mannequins when they filmed the movie "Fever Pitch."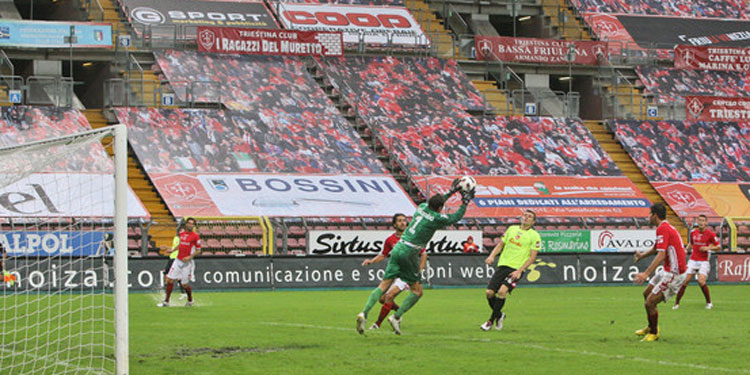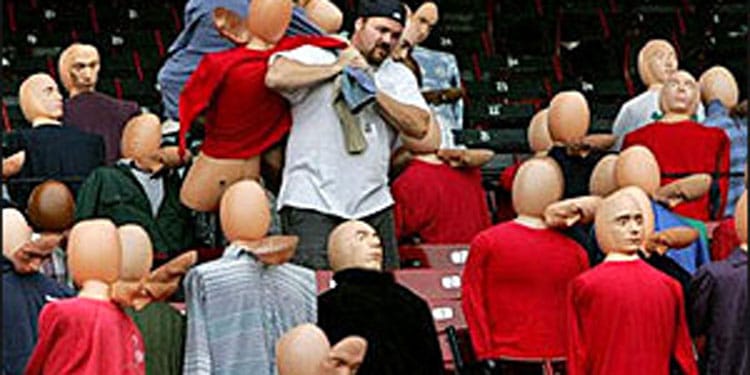 3. Buying Tickets Is Harder Than Negotiating a Used Car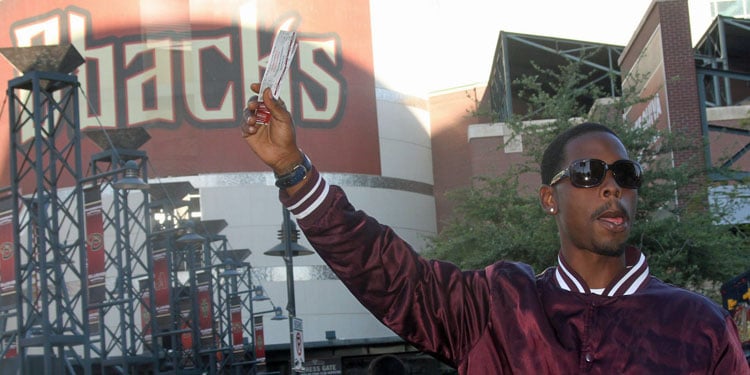 Buying tickets is designed for the seller, not the buyer. Here are some examples:
Waiting on hold, or in virtual queue, results in an increased customer abandonment rate.

Being forced to purchase bundled ticket packs in order to attend premium games results in ticket resale below cost, devaluing the brand.

Being forced to purchase multiple games at multiple times because tickets don't all go on sale together is a hassle, and has negative impacts on brand perception.

Purchasing tickets on the secondary market passes the purchase experience of the reseller to the fan, and this experience should be owned by the ballclub.

Tickets are not available when the fans desire them most – at winter holiday – directly impacting total sales volume.
How to Fix It: Here is how ticket purchasing could be made simpler for the buyer:
Inform the buyer of the length of their queue – Reduce abandonment by letting users know how many people are ahead of them online or on the phone. This way, customers can step away, and come back closer to their purchase time. Many companies even offer their customers an opportunity to receive a call back when it is their turn.

Raise your prices – When teams can sell tickets fast and cheap to re-sellers they can claim they are keeping ticket prices low without having to use their own staff to sell every seat. However, this means fans buy tickets on the secondary market with huge markups. Using technology, teams should be able to sell most tickets on their own, and push in real-time to mobile devices. This would allow them to raise face-value prices, while the ultimate consumer would actually pay less (on average) because they avoid middle-man markups. Several teams already have "ticket buy-back" plans in effect that cut out the re-seller, but the problem remains that ticket resellers continue to keep average pricing well above face value.

Sell in time for the holidays – According to the National Retail Federation, 30% of retail sales are at the holidays. The 2019 MLB schedule was announced August 22, 2018. Thus, teams should make it their top priority to sell tickets by November and ship actual paper tickets that fans can give as gifts in plenty of time for the holidays in December. It is remarkable that most teams pass on this opportunity. (Of course, the reason most teams don't do this is they want to sell season tickets first, but if they sell out in 4Q of the prior year, who cares!)

Rethink the staggered ticket releases and bundled game packs – I get that teams want to sell the less popular games first when demand is high – like to poor opponents, or on poor game days or times. I also get that it's easier to bundle these poor games with high-demand games, like Opening Day, However, this means that people must order tickets many times (when ticket drops are staggered) and re-sell games they don't want (when tickets are bundled). Collectively, this makes the ticket purchase process a hassle. Let fans pick their own bundles consisting of Upper Tier and Lower Tier tickets. This way, they have 81 home games to choose from instead of a dozen bundles filled with games they mostly don't want.

Explore dynamic ticket pricing strategies – Airlines have been pricing their tickets on the fly based on real-time market factors since American Airlines began the practice in the early 1980s. Unlike the airline industry where purchase is a mix of "have to" travel and "want to" travel, attending baseball is 100% about the want. This makes dynamic pricing trickier in baseball – but not impossible.

The study Evaluating the Effectiveness of Dynamic Pricing Strategies on MLB Single-Game Ticket Revenue presented at the MIT Sloan Sports Analytic Conference found that the dynamic pricing strategy used by a franchise in their test sample resulted in revenue decrease of 0.79%. However, perhaps their strategy was not optimized. The study concluded by claiming that it felt revenue could be increased by 14.3% with dynamic pricing compared to a pricing policy where prices are fixed.
4. Instant Replay Suggests that the Onfield Product Is No Good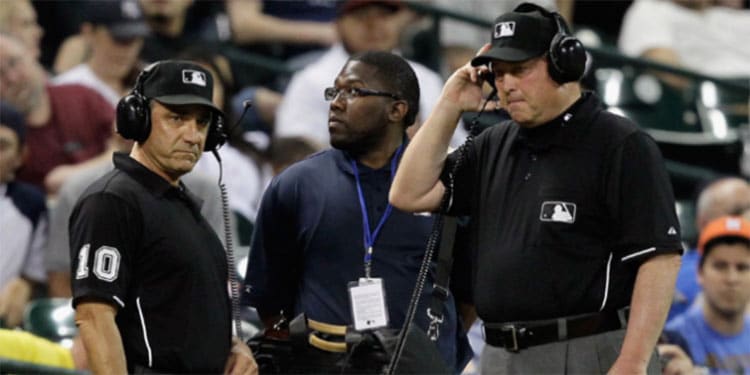 Personally, I've never liked instant replay because I think it damages the human element of the game, and also eliminates the art that is a skill by the fielder.
Framing pitches is an art, and good catchers do it better than poor catchers. A strike zone monitored by lasers will eliminate this skill.
The neighborhood play at second base, trapping a ball in the outfield, coming off the bag a moment early on a play at first base… All of these are arts that skilled defenders do better. It is a fielder's job to deceive an umpire. If you don't want an umpire deceived, don't allow the play to be close enough for that to happen.
However, this is NOT why instant replay is killing the game. And it isn't because replay delays the excitement from the game's most thrilling plays either while officials in New York review the tape at 30 frames a second.
Instant replay is killing the game because it is reinforcing with fans, one replay at a time, that the officials in charge of the game are not respected. The umps are for show only. They can make the easy calls, but on the tough calls, let's go to the tape. If you teach fans 162 games a year that umpires are not good, you are training fans to believe that the on-field product is not good.
If you teach fans the on-field product is not good, why the heck would they want to watch that game? Not to mention, disagreeing with the umpires is half the fun. The arguments create fan banter.
MLB is removing the human element for the sake of perfect accuracy. But baseball was never about perfect accuracy. It is about averaged-accuracy over a season. That is why we have batting averages and earned run averages. One call may be wrong, but over the course of the season, it balances out.
There will always be an instance like when Detroit Tigers pitcher Armando Galarraga nearly tossed a perfect game in 2010 until umpire Jim Joyce incorrectly ruled that Indians batter Jason Donald reached first base safely on a ground ball. But that's baseball.
How to Fix It: Eliminate instant replay in every instance where a player's art contributes to a play. If no player art was involved, go to replay (e.g., foul balls, home run calls). Everything else, no replay. Stop training fans the on-field baseball product is anything less than elite.
5. Discussing Athlete Salaries Is Exploiting How Expensive the Game Is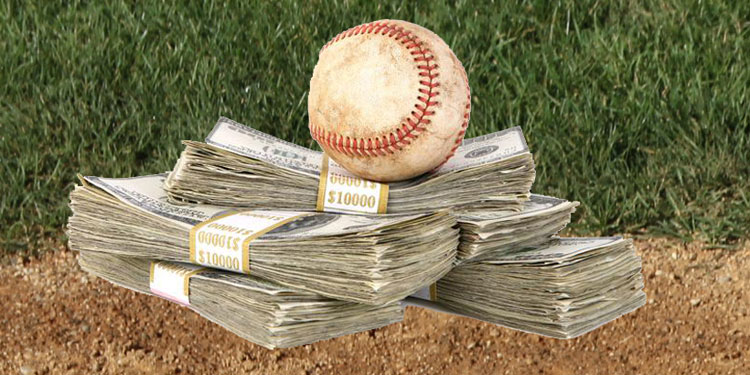 These Nike sneakers are the most expensive sneakers ever!
These Hershey's Chocolate Bars cost 100 times more than the dinner you ate last night!
These are not marketing tag lines you have ever seen before. Why not? Because a brand should never brag about how expensive their product is. MLB often forgets that players are brand extensions. Just as Gillette is a product of Procter & Gamble, Bryce Harper is a product of Major League Baseball.
Fans do not want a constant reminder of how much an athlete gets paid. Whether true or false, and whether fair or not, from repeated salary promotion, the consumer perception is that:
These are not boys playing a kids game, but are high priced entertainers.
These salaries are why my ticket prices are so high.
These players think they are better than me because they earn more than me. They are entitled, or privileged.
Brands should compete on value, not on price. It is Marketing 101. Yet, MLB continues to tout the high contracts of their athletes. Contract terms are almost always the first thing fans see when a player is signed. Here is a (not so) great post by MLB Network.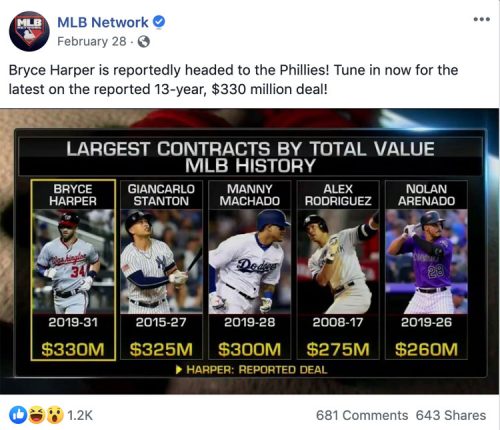 How to Fix It: Stop promoting salaries during broadcasts, in press releases, and on social media. If the general media breaks the news on a leaked salary, fine. But when MLB promotes salaries, it is perceived as braggart and high priced. High salaries make it impossible for the normal baseball fans to relate to the athletes, and that is exactly the opposite of what MLB should be doing. Even if the the salaries are deserved, that does not mean it should be the primary marketing speaking point.
When fans can relate to their idols, they follow them with a passion.
Update: Catastrophic 2020 & 2021 Baseball Attendance
Due to COVID-19, attendance for 2020 was not made generally available. And perhaps this is fair, as many stadiums had no fans at all that year, replaced with cardboard cutouts. However, even with attendance restrictions still in place in much of the country, 2021 should have been a recovery year, yet attendance was an abysmal 45.3 million – down 33.9% from 2019, the last fully-attended season.
Even with the Field of Dreams game in 2021 that brought more television viewership than any regular season baseball game on any network since 2005, baseball still limped along. Why? Because while that was an incredibly cool event (that I enjoyed thoroughly, and all those who worked on it should be commended), it did nothing to address any of the marketing issues described above to aid with ticket sales.
Can Marketing Save Baseball?
Let me know what you think of these ideas above, or if you have any new ideas to offer. But keep in mind, ideas are a dime a dozen. Execution is what gets the job done. MLB is up. It's their at-bat.
Brett Rudy lives in Boston, Massachusetts where he created Baseball Is My Life, and is co-founder of Charity Hop Sports Marketing, helping athletes raise money for their philanthropic initiatives. Brett helped launch Charity Wines with more than 30 professional athletes, selling more than one million bottles of wine. Brett is also the creator of the Corked Bat Collection, 100 Innings of Baseball for ALS, the Cooperstown Classic at the Baseball Hall of Fame, and Winterball for Toys for Tots. In his spare time, Brett plays outfield in the Boston Men's Baseball League.