There is no shortage of baseball apps for baseball players. However, most baseball leagues – especially at the youth and amateur levels – don't incorporate software into their game plan. Here are 4 apps your baseball league must have to give your players world-class tools with an all-star experience.

Now more than ever, baseball players want to track their performance through in-depth statistics, tracking software, video, and data analytics. Until recently, most of this technology was not available unless you had a big-league budget. Today, most leagues can offer this functionality to their players without breaking the bank.
Switcher Studio
Switcher Studio lets you sync multiple iPhones and iPads to livestream directly to Facebook, YouTube, LinkedIn, Twitch, or the platform of your choice.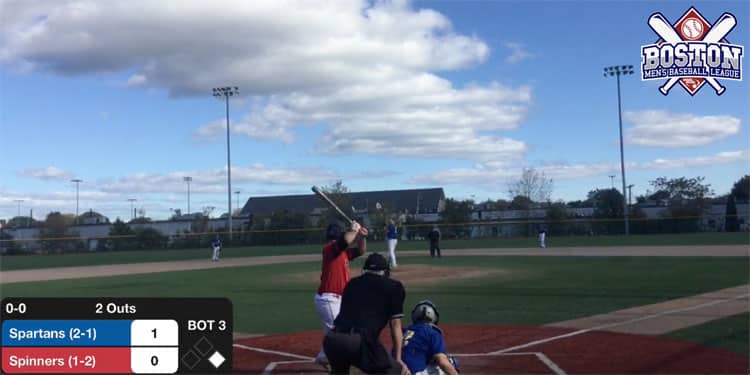 No longer is live sports streaming limited to a basic boring video feed. With Switch Studio, you can livestream everything from T-ball to high school to college to amateur adult baseball directly from your mobile phone. But you can look professional while you broadcast.
Whoever is producing from their mobile phone can easily add lower-thirds to introduce athletes, roll in prerecorded videos like openers or player interviews, bring in guests to provide remote commentary, and display sponsor logos to monetize the streams. Plus, you can keep score and track counts with customizable scoreboards. If you have multiple iPhones, you can shoot from multiple angles.
With Switcher Studio, friends and family who can't be at the game can tune in – and comment – as the action occurs. And, players in the game can go back and watch the recordings later to see their favorite performances and see which calls the umpire got wrong. Video can easily be shared across social media.
If you have an unlimited data plan through your cell phone provider, data is not an issue. If you plan to stream a full 3-hour game, it is recommended you bring an extra battery pack, as the video can eat through your battery life in a few hours.
If you're looking for the best streaming software for live sports, Switcher Studio is the top draft pick.
Switcher Studio costs $45 a month or can be purchased for $400 for a year.
Switcher Studio was created by Nick Mattingly out of Louisville, Kentucky in partnership with Gabe Mondata who led development out of Switzerland.
ChangeUp
ChangeUp is more than a pitch counter to track pitches within a baseball game. For the first time, a coach or parent can manage a pitcher's workload and assess a pitcher's performance across multiple teams and leagues.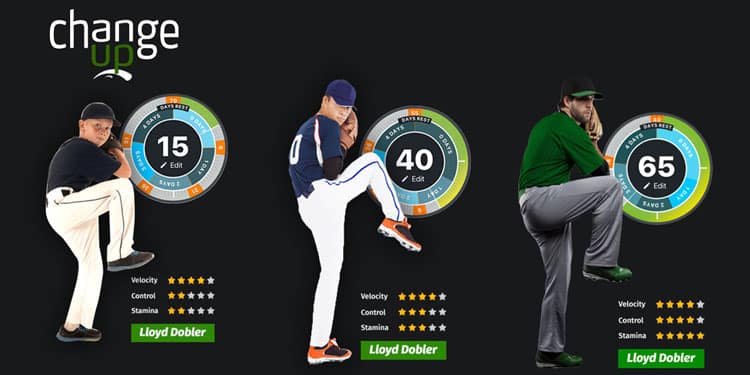 Most youth and amateur coaches are volunteers. Most coaches have a pitch counter or pitch clicker to track pitches in a game. Almost no coaches have the ability to track their pitching staff's performance in a game or over time.
Now, imagine you are the coach, and several of your pitchers pitch for a Little League team and also for an 'elite' or AAU team. How are you supposed keep track of usage and performance across different teams? Previously, you wouldn't be able to. Today, this data can be available as long as all your players' teams and leagues are on the ChangeUp network.
ChangeUp data analytics inform pitchers about their own effectiveness, assist managers and coaches with pitch count compliance, and lead to healthier athletes for years to come. The pitching app allows users to:
Accurately track pitching performance across unlimited teams and seasons.
Ensure compliance with mandated pitch count restrictions and required rest.
Access powerful analytics focused on effectiveness, durability, and safety.
Observe trends and growth by seeing historical player profiles.
ChangeUp tracks pitchers from their very first outing until they hang up their cleats, creating life-long career profiles that support training and development. Imagine if you could track your growth over time. Now you can, one pitch at a time.
ChangeUp can be downloaded for free on the Apple App Store. League plan prices will be determined based on the need of your league.
ChangeUp was created by Drew Tripp and Jeremy Coffey who were both the coaches and parents of young pitchers playing on multiple teams.
Realplay
Realplay delivers video of every swing, pitch, and catch that any player makes on a baseball or softball field. Their cameras capture every moment to help players improve, share their highlights, and hold on to memories.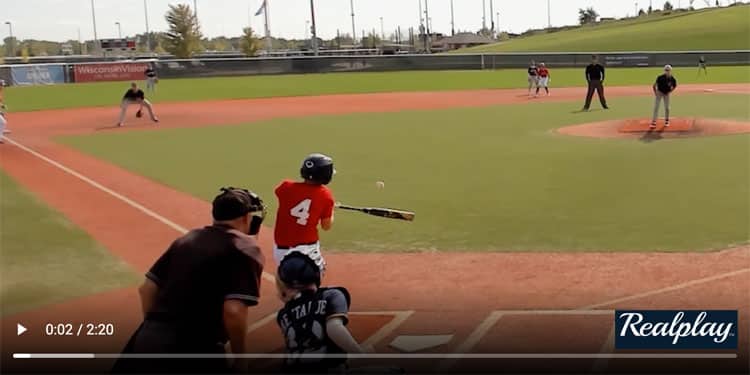 Every athlete within the Realplay program has unprecedented access to video of their baseball or softball performance – edited, tagged and posted for them after every game. Their camera systems are installed at private fields and public institutions to provide season long video for each game played.
The video they produce is unmatched in the amateur and professional levels of sports. Their split-screen views are meant to allow coaches to give the best instruction, and athletes to understand comprehensively how to make the physical adjustments that will help their game.
So for parents, Realplay delivers photo and video albums that can be cherishes forever and shared on social media in a way that's never really been done. For players and coaches, real-time feedback is available in a way that never before has been pitched.
Cost is as low as $7.99 a month for individuals, up to $450 a season for a team.
Justin Real is the founder of Realplay, and played in the amateur baseball himself from 2006 to 2016 in the Boston Yawkey League and the Boston Men's Baseball League.
400hitter
400hitter is a web-based statistics engine that includes player stats, league standings, league scheduling, umpire assignments, player registrations, and more. Without doubt, it us the best and easiest-to-use software on the market for amateur baseball leagues.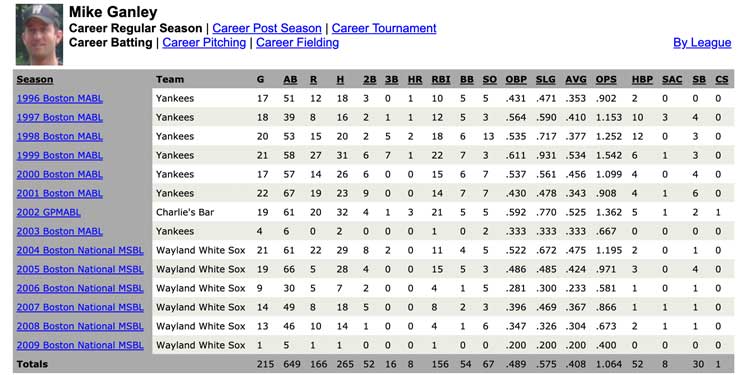 On 400Hitter, a player's statistics follow them across their career, wherever they play. So if a player switches teams or leagues, their statistics remain linked to provide a full career view of statistics.
Keeping career stats for players and teams also allows for features that can't be found on any other stats app, including career leaders by league, career leaders by team, day vs. night splits for a player, rookie stats, and so much more.
Line scores, box scores and game summaries for each game allow for photo uploading and can also be shared on social media. See 400hitter in action in the Boston Men's Baseball League.
400hitter costs $75 per team and must be used for an entire league to function accurately.
Mike Ganley joined the Boston Men's Baseball League in 1996, he noticed a shortcoming from the stats side. So in 1997, he created 400hitter. He continued to play amateur ball through 2009, and today is the Director of Baseball Systems for the Boston Red Sox.
Brett Rudy is a trailblazer in the world of baseball. As the founder of Baseball Is My Life and co-founder of Charity Hop Sports Marketing, he's dedicated to elevating the sport and supporting the athletes who play it. With a passion for making a difference, Brett has created successful philanthropic initiatives like Charity Wines and 100 Innings of Baseball for ALS. He's also the mastermind behind the Corked Bat Collection, Cooperstown Classic at the Baseball Hall of Fame, and Winterball for Toys for Tots. When he's not working to improve the game, Brett can be found playing outfield in the Boston Metro Baseball League, living and breathing the sport he loves.