When batters are left with nothing but a baseball bat's handle, most chuck the bat into the closest trash can. Not former minor league pitcher, Randall Thompson. He had an insightful idea. Thompson hollowed out the bat barrel and turned it into a beer mug, and that's how Dugout Mugs was born. Yet, it's the marketing that knocked these mugs out of the park. And that's where Nate Lagos comes in.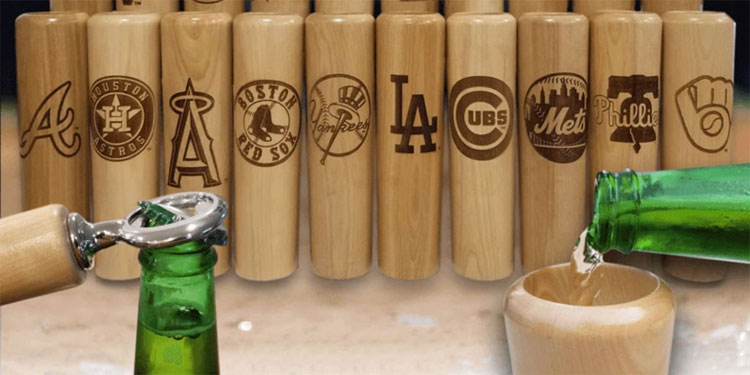 The Idea to Pour Beer Into a Baseball Bat
But first, a little history…
In 2011, Randall Thompson was a professional baseball player, pitching in the Gulf Coast League for the Single A Affiliate of the Toronto Blue Jays. In 18 games, he compiled a 2.87 ERA with 44 strikeouts in 47 innings. Not bad. But after one season, his journey to the show came to a halt when he was released the following Spring Training.
Fast forward to 2014. Thompson is the pitching coach at Florida Tech. While sitting in the dugout, he overheard the hitting coach tell the guys to "focus on the hands." To emphasize his point, he cut off the top of a baseball bat and left the barrel sit on the bench. Instead of thinking about hitting mechanics, his first thought was, "I wonder if I could drink a beer out of that." And that was how the idea to drink out of a bat barrel entered the game.
Thompson sketched the first bat mug on a scrap of paper. The original dugout mug held 12 ounces of beverage.
By 2017, Thompson Mug Co. sold more than $1 million worth of baseball bat mugs. At $49 each, that was more than 20,400 bats. Dugout Mugs was now in the minor leagues. With expansion and marketing, the brand would soon be ready for the majors.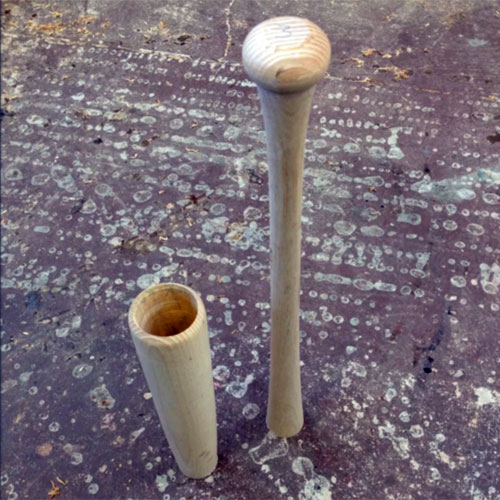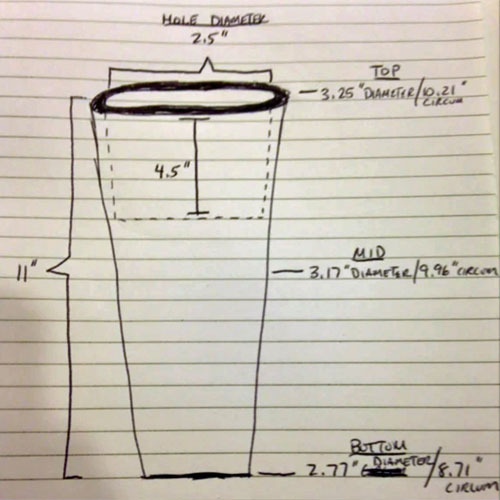 A New Pitchman for a Novel Product
Today, Nate Lagos is the Chief Marketing Officer at Dugout Mugs. Like Thompson, he also had big league aspirations. In 2015, Lagos was a collegiate submarine pitcher for the North Greenville Crusaders. By 2017, he hit the summer circuit, tossing for the Winnipesaukee Muskrats in the New England Collegiate Baseball League and the Brockton Rox in the Futures Collegiate Baseball League. By 2018, his journey toward pro ball concluded, and his career in marketing for Dugout Mugs was just beginning.
Lagos sat with us to explain what has made the Dugout Mugs brand so successful. You can watch the interview in entirety:
Licensing Leads the Brand to Explosive Growth
Lagos described how licensing advanced Dugout Mugs into a whole new league.
"We're officially licensed with Major League Baseball, Minor League Baseball, the MLBPA and the Hall of Fame. It's really added to our rocket ship of growth.
Licensing became possible as people in power positions at big baseball brands observed the "Dugout Mugs effect" early on. They'd see the bat mugs at a baseball game or sports bar and a crowd of people would gather asking, "Hey, what is that? Where did you get that?"
Then they'd get mugs of their own. The brand was adopted by the industry fast. It was viral. And with the product in the right people's hands early on, it led to these big licensing opportunities.
"From early on, we've always had a product that people gravitated towards. I'm the marketing guy. I can brag about revenue all day. We are the 719th fastest growing company in America according to the Inc. 5,000, so it's been insane growth. "In fact, throughout the last five years, Dugout Mugs has doubled in size every single year. But, it's all attributed to how awesome our products are. Randall's genius shines through in everything we put out."

Product Expansion Drives in More Runs
With licensing in place, Dugout Mugs was in a position to leverage those relationships to expand their product lineup.
Now, in addition to the beer mug, the've added the shortstop whiskey glass, the wine mug, the bottle opener, and introduced this year, the metal dugout mug that looks like old-school Easton bat.
Lagos added that product expansion is "the easy way to get people to buy again and again."
He mentioned that another great way to increase purchase frequency and quantity is through gifting. He estimates that 80% of Dugout Mugs sales are through gifting.
"Wedding season, graduation, bachelor parties, coaches gifts at the end of the year, Father's Day, Christmas, and Valentine's Day are all opportunities for us to get in front of new customers. They also allow our existing customers to see how happy recipients are when they receive Dugout Mugs as gifts."
Free Trial Was Worth a Shot to Generate Leads
To share a few company secrets of how Dugout Mugs grew its customer base, Lagos shared some of his most successful marketing tactics. He stepped into the box and detailed an ongoing lead generation campaign:
A free knob shot.
It's a shot glass made from the knobbed end of the baseball bat.
"One way we've grown a lot is through our shot glass. We say, 'Grab a shot glass for free. Just cover the $8.95 it takes to ship it to you.' We know through our upsells and post-purchase flows that the initial free purchase is actually worth $30 to our brand after 60 days. So it's a great loss-leader that we use to get people into the marketing funnel quickly and inexpensively. Then, we can expand on customer value from there."
Big Names in MLB Drive More Cheers
I was curious if Lagos had ever encountered famous MLB stars just randomly using Dugout Mugs. He recalled several.
"Earlier this year, we saw an order come in for a full set of New York Mets products. The personalization on the back of each mug said, 'Congratulations, Steve Cohen.' It turns out, that's the owner of the Mets. Today, Steve Cohen's profile picture on Twitter shows him sitting in front of a shelf with a bunch of our baseball products on them."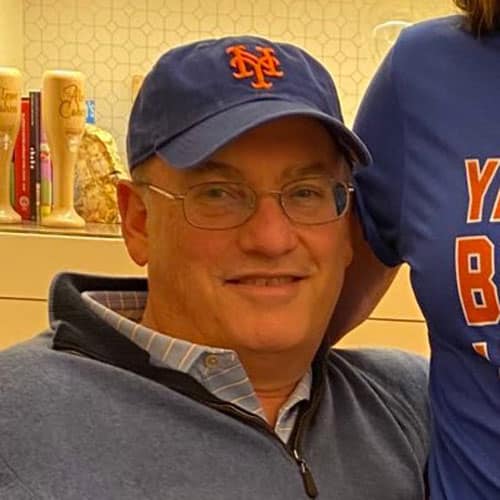 There are many other athletes using Dugout Mugs the brand wasn't even aware of until they reached out regarding partnership opportunities.
"Justin Turner, David Ortiz, Mariano Rivera, Pudge. Some absolute baseball legends had our product. They either bought it for themselves or were gifted it. It's really great when we can reach out to a player's agent about our Cheer to Charity program, and they say, 'Oh, yeah. He actually already has some of your Dugout Mugs.' That's awesome and makes doing any kind of marketing collaboration a lot easier and a lot more fun."
Dugout Mugs started the Cheers to Charity initiative a couple of years ago. They partnered with one athlete each month, including Turner, Ortiz, Rivera, Ivan Rodriguez, and several more. Dugout Mugs donated $1,000 upfront to the athlete's charity, and then contributed additional proceeds based on sales from their custom mug. The Justin Turner Foundation, David Ortiz Children's Fund, Mariano Rivera Foundation, and Fundación Posada de Moisés were amongst the recipient causes receiving support.
"We found with the authenticity of our story and the uniqueness of our product, a lot of players are more than willing to work with us for free because of the good cause. In general, we don't have to shell out a ton of money for players to rock our stuff. It's an example of our product taking care of itself."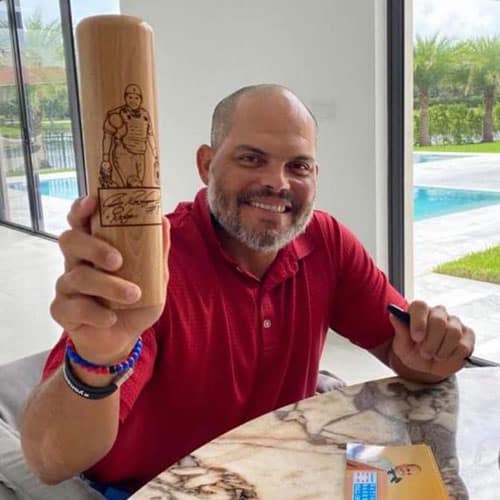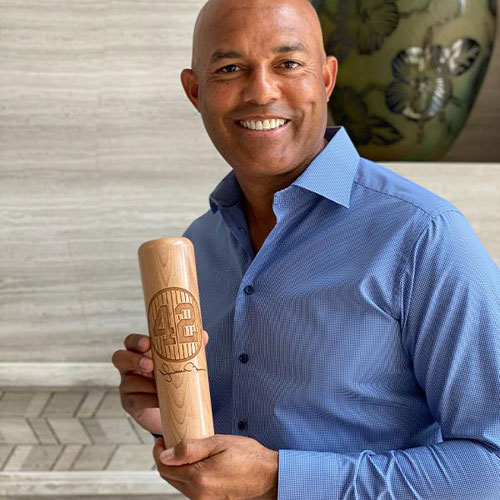 Earning a Plate Appearance Requires a Content Play
When asked how Dugout Mugs promotes itself, Lagos responded that "our company was built on Facebook."
Most of the advertising spend from Dugout Mugs has been invested in online ads (OLAs) across Facebook, Instragram and Google.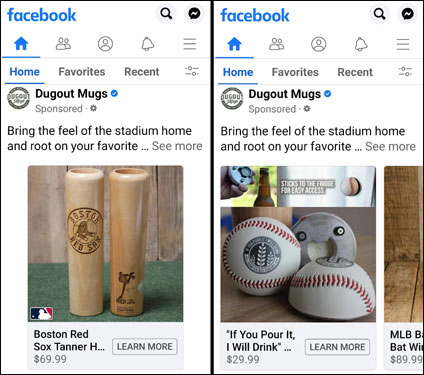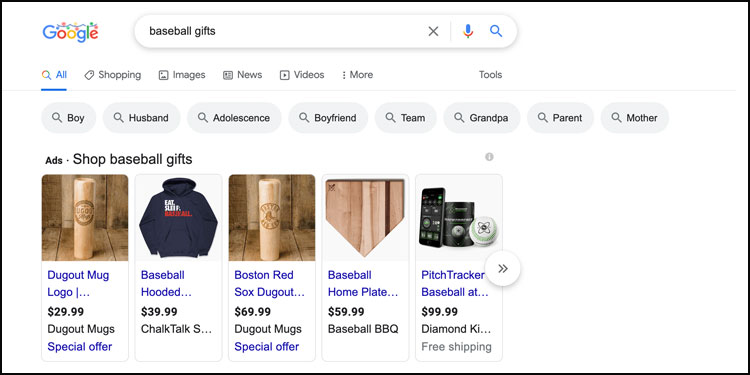 Lagos further explained that as advertising privacy policies shifted in the digital marketing space, it became more challenging for Dugout Mugs to identify baseball enthusiasts. So they needed to get more creative.
Dugout Mugs has a product that is cool already. Now they just needed to tap into pockets of diehard baseball fans that like to watch a game, pour a beer, or be reminded of the days playing catch with their dad in their backyard.
"A big piece of what we did this year was sponsor creators in the baseball space. We partnered with the guys at Barstool (3.2 million followers on Twitter), Jomboy Media (400k followers on Instagram), and a bunch of other smaller creators with podcasts and blogs and YouTube shows. That's all been great because each one of them has a really loyal and baseball purist fan base."
It's just about finding people on these platforms to say: 'Yes, I'll pay $50 for that.'
It Turns Out Roger Maris' Grandson is Batting Cleanup for Dugout Mugs
I asked Lagos about the Sales and Marketing teams at Dugout Mugs. Do the employee players consist of baseball enthusiasts, or subject matter experts. For instance, if you're looking for an Email Marketing Manager, do you just find the best email marketer you can find? Or do you look for sports people first? I was not expecting the answer I got.
"It's a little bit of both. I love hiring athletes. There are a lot of lessons that can be learned on the baseball field that transfer really well over to work, especially in a startup setting where sometimes you got to grind it out and things aren't always perfect. I've got a PR manager who wasn't a gifted player, but has loved baseball forever. He was a bat boy for the Houston Astros when he was a kid."
And Blaise Maris is their Sales Manager. That's the grandson of Yankees slugger, Roger Maris, who held the MLB single-season home run record holder with 61 dingers until Mark McGwire surpassed him. Dugout Mugs even sold a limited edition of Roger Maris mugs with proceeds benefitting ALS.
Trying to better understand how Roger Maris' grandson came to work at Dugout Mugs, I learned that "Blaise played ball at Florida Tech, which is our founder Randall Thompson's alma mater."
Throughout the company, there are just so many stories of baseball lovers and people with baseball in their blood.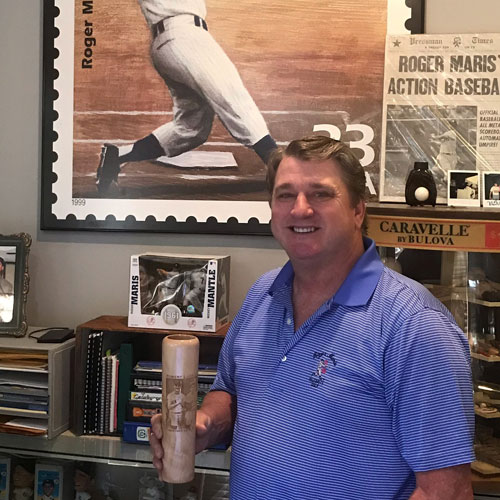 It's More Environmentally-Friendly to Drink From a Bat Than to Hit From One
I asked Lagos about their mug production, and it turns out they are pretty efficient with their bat control. I had assumed they had all these wasted bat handles since the barrels were being turned into mugs, but that isn't the case.
"The way they're manufactured now, before all the environmentalists come at us for wasting a bunch of wood, we take the same billet as would be used for a bat. It's a 36-inch cylinder of wood that you would usually make one baseball bat out of, and we turn that into three Dugout Mugs."
It may actually be more eco-friendly to drink out of this bat than to actually play baseball with one. Three people can drink a beer, or one person can play baseball. It's a tough choice. Lagos hopes prospects make a green decision.
"It is much more environmentally friendly."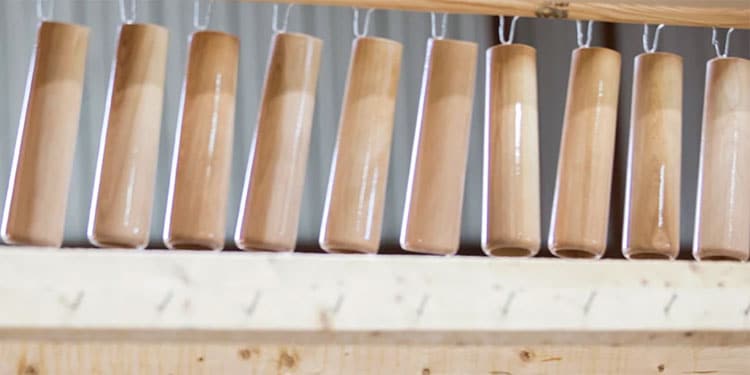 Where to Bat Your Dugout Mug
Dugout Mugs make great trophies because they can sit on a shelf without taking up too much space. Plus, they look impressive in the background of Zoom calls.
Or, as Nate Lagos wrapped up with: "You can put some champagne in them and celebrate like a champion."
Brett Rudy is a trailblazer in the world of baseball. As the founder of Baseball Is My Life and co-founder of Charity Hop Sports Marketing, he's dedicated to elevating the sport and supporting the athletes who play it. With a passion for making a difference, Brett has created successful philanthropic initiatives like Charity Wines and 100 Innings of Baseball for ALS. He's also the mastermind behind the Corked Bat Collection, Cooperstown Classic at the Baseball Hall of Fame, and Winterball for Toys for Tots. When he's not working to improve the game, Brett can be found playing outfield in the Boston Metro Baseball League, living and breathing the sport he loves.