The 3rd Annual Cooperstown Classic Baseball Tournament
June 18-19, 2006
This year's games were played Father's Day Weekend at the National Baseball Hall of Fame in Cooperstown, New York.
For the second straight year, skipper Frank Alexopolis, led his Brockton Reds of the Men's Independent Baseball League to the cup against 8 other teams from the Boston Men's Baseball League. The Brockton Reds defeated the Boston Orioles, 7-0, in the finals, and swept tourney play, 4 games to 0. Over two years of participation, the Reds are undefeated at 8-0 overall.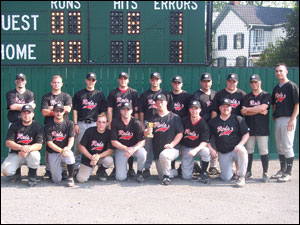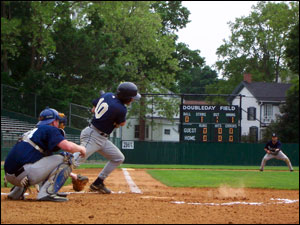 Cooperstown Classic Teams in 2006:
Brockton Reds (4-0) – Champions 🏆
Boston Orioles (2-2) – Runners-up
Boston Mariners (3-1)
Boston Marlins (2-1)
Boston Senators (1-2)
Boston Tigers (1-2)
Boston White Sox (1-2)
Middlesex Brewers (1-2)
Quincy Grays (0-3)