Dozens of pro baseball players have had candy released in their name. Whether a chocolate bar or chewing gum, these treats are tasty. Now, these aren't ballplayer spokesmen advertising an energy bar, appearing on a Topps Stand-Ups candy series, having a baseball card printed on a box of Milk Duds, or being named Candy Maldonato. These players had a treat named after them. Take a bite!
Albert Belle Bar
Malley's Chocolates introduced the Albert Belle Bar in 1995, a milk chocolate candy with crisped rice. While the candy was popular with Cleveland Indians players, Albert Belle himself was less popular with the fans. He skipped the news conference announcing his own candy.
Wade Boggs .352 Bar
Produced in 1990 by Pacific Candy Co., Wade Boggs .352 bars were produced in blue or red wrappers to match the Boston Red Sox uniform colors. Although Boggs never actually hit .352 in a season, it was his career batting average at the end of the 1989 season (1,597 for 4,534) when the candy bar was produced.
Jose Canseco! 40/40 Bar
Taste the power of the Canseco 40/40 bar, named for the Oakland A's sluggers' 40 home run and 40 stolen base season in 1988. The chocolate bar with fresh roasted peanuts – the only time in MLB history this feat has ever been accomplished. The candy bar came out in 1991 with half of the proceeds to charity.
For $3.95 more, fans could send an empty wrapper back to Latin Foods to receive a Canseco 40/40 Bar "Taste the Power" poster!
Ty Cobb Milk Caramel Nut Bar
Produced by the Benjamin Candy Company in 1926, the Ty Cobb Milk Caramel Nut Bar was a sure hit. This candy was a winner everywhere, and provided lots of quality candy for a nickel. The wrapper urges consumers to "Write for premium list. It's free. Save the wrappers." Eat the best!
Warren Cromartie – CroBar
The CroBar sold at the entrances to Olympic Stadium, where the Montreal Expos played, with proceeds supporting juvenile diabetes at the McGill Cancer Research Center. Unfortunately, the player strike of 1981 interrupted sales, and the candy producer, Comet Confection Ltd., was also shut down when their employees went on strike. This pure milk chocolate bar with roasted almonds was a limited hit.
Cecil Fielder Bar
With chocolate, caramel, nougat and peanuts, the Cecil Fielder Bar was named for the Detroit Tigers slugger in 1994. Manufactured by the Morley Candy Co. in Michigan, the bar was only available only at Tiger Stadium and at Tigers owner Mike Ilitch's Little Caesars pizza shops.
Lou Gehrig Big League Chewing Gum
The Goudey Gum Company started in 1919 and had a factory in Boston, Massachusetts. In 1933, Goudey was the first American company to issue baseball cards with each stick of gum. (They had previously been available with cigarettes and candy). The 240-card set, also called "Big League Chewing Gum," became a rival of the T206 and Topps baseball card sets.
In 1934, Goudey produced a 96-card set that was endorsed by two players, Lou Gehrig and Chuck Klein. The 1934 Goudey set is sometimes called the "Lou Gehrig" set. This Lou Gehrig Big League Chewing Gum wrapper is from this set.
Ken Griffey, Jr. Bar
Produced in 1989 by Pacific Candy Co., Ken Griffey, Jr. milk chocolate bars were produced in blue or yellow wrappers to match the Seattle Mariners uniform colors. The back of the wrapper celebrate Juniors first Major League at bat, hit, home run, and stolen base. The bar is 2.5 by 3.5 inches and a quarter-inch thick, and designed to look like a baseball card. At the time of the candy release, Ken Griffey, Jr. claimed to be allergic to chocolate, peanuts and grass.
According to the Mariners' public relations director, Dave Aust, more than 1 million Ken Griffey, Jr. bars were sold during his rookie year.
Tony Gwynn, who also had a chocolate bar released by Pacific Candy Co., makes fun of Ken Griffey, Jr.'s bar at the 1990 MLB All-Star Game. Also seen in this video are the Wade Boggs .352 Bar and Ryne Sandberg Bar.
Tony Gwynn Base Hit Candy Bar
Produced in 1990 by Pacific Candy Co., Tony Gwynn Base Hit candy bars were produced in gold or tan wrappers to match the San Diego Padres uniform colors. The wrapper claims Gwynn to be the National League's most prolific singles hitter, holding a career .332 Major League average at the time, with four National League batting titles, and four 200hit seasons.
Travis Hafner Pronk Bar
Travis Hafner received the nickname "Pronk" in his minor league days when teammates sometimes referred to him as "The Project" and other times "Donkey" for the way he looked when running the bases. The name stuck, and so will the Pronk Bar if it melts and gets stuck to your pants. Produced by Malley's in 2006, the Cleveland Indians' bar consists of milk chocolate with crisped rice.
Reggie Jackson – The Reggie! Bar
In 1976 after playing a season with the Baltimore Orioles, Jackson said while commentating during a World Series broadcast, "If I played in New York, they'd name a candy bar after me." The following season, Jackson joined the Yankees, and in 1978, Standard Brands unveiled the round bun bar with peanuts dipped in caramel and covered in chocolate. Reggie! bars were handed to fans as they walked into Yankee Stadium. The candy retired in 1982, five years before Reggie did.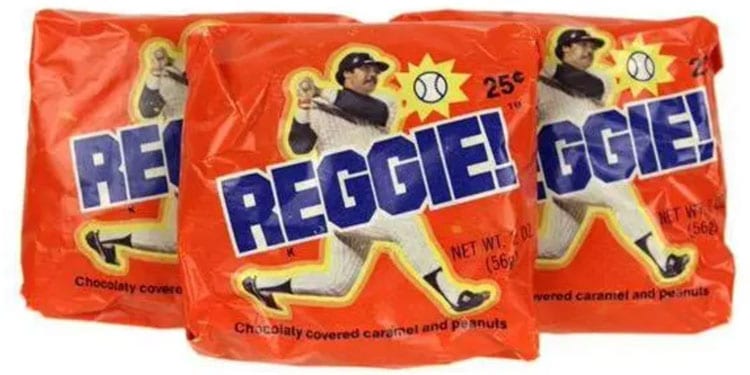 In 1993, the D. L. Clark Candy Co. re-introduced the Reggie! bar following Reggie Jackson's induction to the National Baseball Hall of Fame. Now with peanut butter instead of caramel, each bar also came with one of three Upper Deck cards commemorating his career – his 1973 MVP season, the 1977 World Series, and his Hall of Fame induction.
Chipper Jones – Chipper Bar
Malley's Chocolates introduced the Chipper Bar for Chipper Jones in 1997. This milk chocolate candy has crisped rice, but no peanuts – perhaps so the Atlanta Braves star wouldn't chip his teeth. Chipper hoped to sell his bar to schools and youth groups at half-price so they could raise money for projects.
David Justice Bar
Morley released the David Justice Bar, a milk chocolate bar with crispies, for the Atlanta Braves outfielder in 1997. Similar to a Nestle Crunch, the Justice Bar is thicker and richer. The artwork was created by Bryan Kaczmarek.
On the back label, Justice inspires eaters with the quote: "Everyone is blessed with their own talents and gifts. Find your, develop them, and be the best. If you can look in the mirror and know that you are giving your best, that is all that you can ask of yourself."
Mark McGwire – Max X Bar
Each box of The Ultimate Max X Bar from Mark McGwire includes an All-Star Bat Photo Display and four health bars with a candy bar taste: 2 Peanut Butter Max X Bars, and 2 Chocolate Chip Max X Bars.
Per the back label from Mark, "Health and nutrition play and important role in my life. Peak performance is necessary for me to achieve my goals. The Max X Bar is an important aspect in helping me perform to the Max X."
Half of revenues support physically challenged American workers, creating additional jobs that will allow visually impaired and severely disabled an opportunity to develop new job skills, become self-sufficient, increase self-esteem, and improve their quality of life. The bar is a registered trademark of JAMAC, LLC and and was distributed by C&B Marketing in 1999 – the same year Mark McGwire's son Max was born. Perhaps Max is the "Favorite Little All-Star" the packaging refers to!
Mike Mussina – Moose Bar
In 2004, Mike Mussina, nicknamed "Moose," released a milk chocolate peanut butter log from Wolfgang Candy called the Moose Bar. Proceeds benefit the Mike Mussina Foundation, which benefits children's charities in his hometown of Montoursville, Lycoming County.
Jonathan Papelbon – PapelBon-Bons
Created as a concept for Boston Red Sox relief pitcher Jonathan Papelbon in 2009, PapelBon-Bons were to be frosted milk chocolate balls that you could eat up like fastballs. Each boxes would contain 1 of 10 Jonathan Papelbon mini baseball cards on the back packaging that collectors could cut out.
Jonathan Papelbon knows that closing out a game is sweet. And nothing is sweeter than chocolate. Well, nothing except for giving boys and girls the opportunity to play youth baseball. Proceeds from Papelbon-bons chocolate milk balls were to benefit South End Baseball which provides kids in Boston the chance to play ball and learn about teamwork and fair play. So gobble up some Papelbon-bons, if you think you can catch up to them.
Kirby Puckett Bar
The Kirby Puckett Bar came out in 1994 from Morley. The bar is a bundle of energy, and features caramel and crisp rice coated in milk chocolate. On the back, Kirby encourages eaters to get into the swing of things, and to stay in school.
Cal Ripken, Jr. – The Cal Bar
Cal Ripken Jr., the Baltimore Orioles shortstop released his own candy bar from Morley Candy Makers in 1993. The Cal Bar is a double play of peanuts and caramel in milk chocolate. In the first 5 months, 1.4 million of the bars were sold, primarily as fund-raising items, with Ripken's share benefiting his philanthropic foundation in Baltimore. At the time, The Cal Bar was the fastest seller in Morley's line of baseball-related candy bars.
In 2000, Morley introduced a second edition of the bar, urging players to learn to play baseball the Ripken way, and was sold to benefit schools and youth organization.
Pete Rose – Supercharg'r Energy Bar
The first candy bar released by Pete Rose was called Supercharg'r, and was launched in 1979 by Nutrisciences. Each display box held 24 energy bars claiming to contain vitamins and minerals while being carob and protein rich. They were nature's answer to candy.
Pete Rose Bar
The Pete Rose Bar released by Malley's in 1993 is milk chocolate with crisped rice. Proceeds from the sale of each bar benefit the University of Cincinnati Pete Rose Scholarship Fund.
Babe Ruth – Baby Ruth
In 1921, the year after Babe Ruth was sold to the New York Yankees by the Boston Red Sox, the Curtiss Candy Company renamed their Kandy Kake candy bar to Baby Ruth. Since they had no licensing rights and did not want to get sued, they claimed it was named for Grover Cleveland's daughter Ruth who passed away 16 years earlier in 1904. The candy maker was also located on the same street as Wrigley Field, demonstrating even more baseball ties. To this day, nobody knows the real story of the candy bars' naming with certainty.
Curtis brands was purchased by Nabisco in 1981, and then sold to Nestlé in 1990. Ferrero acquired Nestlé USA's confectionery brands, including Baby Ruth, in 2018, and the they continue to produce the Baby Ruth today with milk chocolate, peanuts, rich caramel, and smooth nougat.
In 2006, because the Baby Ruth candy bar had long been associated with America's Pastime, it became the official candy bar of Major League Baseball.
Babe Ruth – Ruth's Home Run
In 1926, Babe Ruth agreed to lend his name to Ruth's Home Run candy bar by the George H. Ruth Candy Co. The signature of Babe Ruth appears on the wrapper four times, along with the messaging "save this wrapper and ask your dealer how to get a Babe Ruth home run baseball."
Curtiss Candy Company, the producers of the Baby Ruth bar sued them (even though the George H. Ruth Candy Company had Babe Ruth's endorsement and Curtis Candy did not). They claimed that it infringed on their trademark established for the Baby Ruth bar, and that the bars were too similar in name.
In 1931, Curtiss won the case, and Ruth's Home Run bar was forced off the market. Meanwhile, Curtis Candy continued to maintain their bar was NOT named after Babe Ruth, and that it was just that the names were too similar. Ya, OK.
San Diego Chicken – The Famous Chicken Bubble Gum
The Famous Chicken, also known as The San Diego Chicken, is the mascot of the San Diego Padres – played by Ted Giannoulas. Ted's chicken comedy is all improv during actual games, with no script, and no rehearsal. His sketches draw on slapstick, parody, and visual antics, much to the surprised delight of sports fans. But chicken-shaped bubble gum? Chew on that!
Ryne Sandberg Bar
Ryne Sandberg of the Chicago Cubs lent his name to Chris Candies in 1990 to release a milk chocolate candy bar. Ryne's signature and picture we embossed in the chocolate! And for only $22 more, plus $2.95 shipping and handling, you could mail in the wrapper to receive an autographed baseball signed personally by Ryne Sandberg.
Ichiro Suzuki & Randy Johnson – Area 51
Area 51 is the highly classified United States Air Force facility located within the Nevada Test and Training Range. In this case, Area 51 is where baseballs disappear, and is a candy bar made from the finest European milk chocolate by Seattle Chocolates. It is named for Ichiro Suzuki and Randy Johnson – both who wore uniform Number 51 during their illustrious careers with the Seattle Mariners.
Frank Thomas – Big Hurt Bar
The Frank Thomas Bar is made of milk chocolate and crisp rice, and was produced by Morley in 1996. Each bar invites eaters to to join the Big Hurt fan club so that Thomas could stay in touch. In fact, if you called the number on the back of the wrapper, you could listen to a message from Frank Thomas himself!
Morley's had perviously released a slimmed down version of a Big Hurt Bar with milk chocolate, caramel, and pecans.
Larry Walker Bar
Larry Walker of the Colorado Rockies had The Larry Walk Bar named after him in 1998 by Morley. It was made of milk chocolate, caramel, and peanuts. All proceeds went to The Children's Hospital in Denver.
In addition to the treats described above, here are some famous candies that (contrary to belief by some) were NOT named for baseball players:
M&M's – Roger Maris & Mickey Mantle
The M&M Boys were the duo of New York Yankees baseball players Mickey Mantle and Roger Maris, who were teammates from 1960 to 1966. They gained prominence during the 1961 season when they both challenged Babe Ruth's single-season home run record. Maris eventually broke the record with 61 homers, and Mantle finished with 54. Of course, the M&M candies originated in 1941 by Mars, long before Maris or Mantle began playing Major League Baseball.
Oh Henry! – Hank Aaron or Henry Rodriguez
Nestlé claims that Thomas Henry, the manager of the Peerless Candy Co., invented a bar he called the "Tom Henry Bar" in the late 1910s, and that it later became Oh Henry! when it was purchased by Williamson Candy Co.
An alternate story is that there was a boy named Henry who frequented the George Williamson of Williamson Candy Co. at his shop. He became a favorite of the young girls who worked there, who would say "Oh Henry" when speaking to him.
But sadly no, it was not named after Hank Aaron, who was not born until 1934 – more than a decade after Oh Henry! was introduced.
Of note, in 1996, Montreal Expos fans would throw Oh Henry! bars onto the field after a Henry Rodriguez home run.
Brett Rudy lives in Boston, Massachusetts where he created Baseball Is My Life, and is co-founder of Charity Hop Sports Marketing, helping athletes raise money for their philanthropic initiatives. Brett helped launch Charity Wines with more than 30 professional athletes, selling more than one million bottles of wine. Brett is also the creator of the Corked Bat Collection, 100 Innings of Baseball for ALS, the Cooperstown Classic at the Baseball Hall of Fame, and Winterball for Toys for Tots. In his spare time, Brett plays outfield in the Boston Men's Baseball League.