1939 Centennial of Baseball
On June 12, 1939, the U.S. Post Office issue the first postage stamp to feature baseball in the United States. The 3-cent violet stamp commemorates the centennial of the invention of baseball, believed at the time to have been created by Abner Doubleday.
Doubleday, a career army officer, has long been credited with inventing the game and formalizing its rules in Cooperstown, New York, in 1839. At that time, Doubleday was a cadet at West Point. Evidence of his baseball skills remain somewhat unknown.
The stamp has an appealing design showing a group of young boys playing baseball, a small town panorama in the background. The vignette features a batter, who has taken his stance, and the pitcher poised to deliver the ball. Bureau of Engraving artist William Roach designed the stamp, and later explained the site in his artwork is in Milford, Delaware (not Milford, New York) – not anywhere near Cooperstown.
A total of 81,269,600 stamps were issued at 3¢ each for a total value of $2,438,079. (Stamp ID# Scott 855).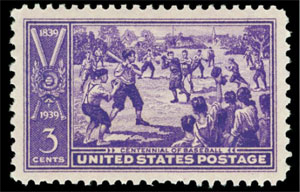 First Day of Issue
In the spring of 1937 (two years prior), the Cooperstown Chamber of Commerce requested the issue of a commemorative stamp celebrating the Centennial of Baseball in Cooperstown. Congress approved the request, and for the first time a sport was depicted on a stamp. U.S. Postmaster General James Farley dispatched cancellation equipment and nearly 50 additional personnel to insure the success of the postal effort. More than 398,000 stamps were cancelled in Cooperstown that day.
---
Stamp Stats
Value: 3¢
Issue Date: June 12, 1939
First City: Cooperstown, New York
Quantity Issued: 81,269,600
Printed by: Bureau of Engraving and Printing
Printing Method: Rotary Press
Perforation: 11×10 ½
Color: Violet