1969 100th Anniversary of Baseball
The 6-cent postage stamp marks the 100th anniversary of professional baseball and was issued on September 24, 1969, at Cincinnati, Ohio.
Americans began playing baseball in the early 1800s, as informal teams using local rules. By the mid 1800s, the sport was considered America's "national pastime." In 1869 the Cincinnati Red Stockings became the first salaried team, making them baseball's first professional baseball team. In 1870 the team moved to Boston, where they became the Boston Red Sox. It wasn't long before Cincinnati had a new baseball team, the Cincinnati Reds.
The stamp was issued in panes of fifty, with a total of 130,925,000 stamps issued at 6¢ each for a total value of $7,855,500. (Stamp ID# Scott 1381).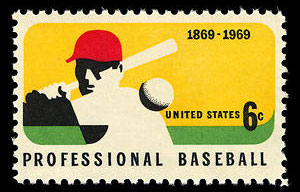 Stamp Errors – Score that E6
In these rare errors, one issue had the black plate omitted entirely from the printing (left). This stamp is valued at $500 (Scott 1381a). In the other, the black plate was printed twice, giving the illusion of double-printing (right). This stamp is valued at $5,750 (Scott 1381c). There are also other variations of the black plate shifting that can be found if you search hard enough.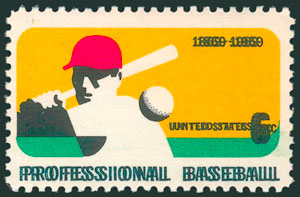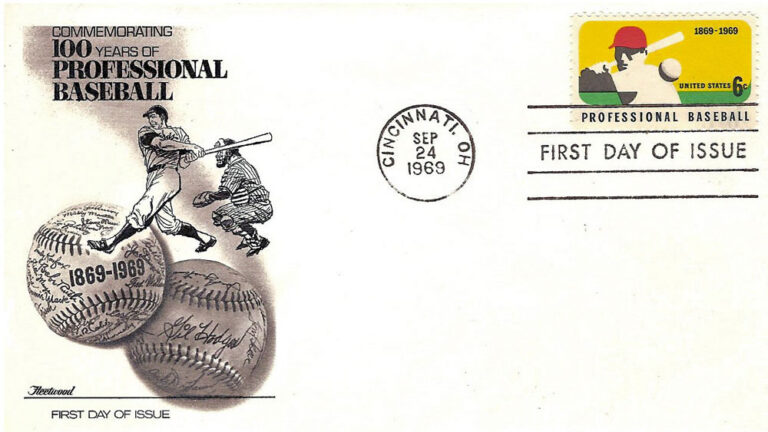 ---
Stamp Stats
Value: 6¢
Issue Date: September 24, 1969
City: Cincinnati, OH
Quantity: 130,925,000
Printed By: Bureau of Engraving and Printing
Printing Method: Lithographed, engraved
Perforations: 11
Color: Yellow, red, black and green