1969 Grandmas Moses
The U.S. postage stamp depicts the folk artwork of Anna Mary Robertson Moses (1860 – 1961), affectionately known as Grandma Moses, in a 1951 painting entitled Fourth of July Fourth. The original is hanging in the White House, and prominently features a baseball scene.
Grandma Moses began painting at the tender age of 78. Her works have been internationally on greeting cards and are displayed in the collections of many museums.
A total of 139,475,000 stamps were issued at 6¢ each for a total value of $8,368,500. (Stamp ID# Scott 1370).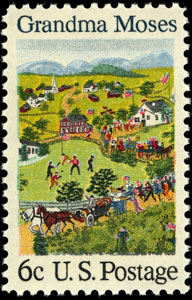 Stamp Error Variations
There are two rare error variations of the Grandma Moses stamp. The first is missing perforation between two horizontal stamps. This stamp (#1370a) is valued at $140. The second was printed with the black and Prussian blue print plates omitted. This stamp (#1370b) is valued at $400.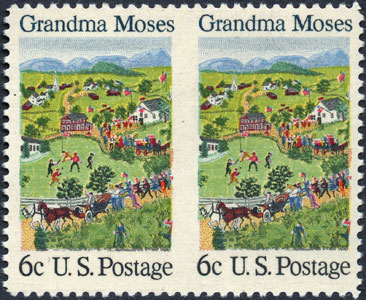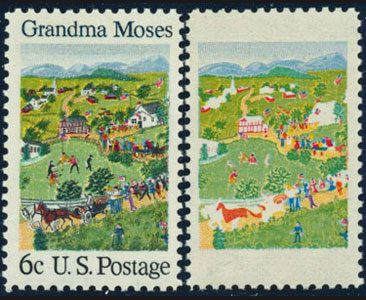 First Day of Issue
The USPS issued Grandma Moses as part of the American Folklore Series on May 1, 1969 in Washington, DC.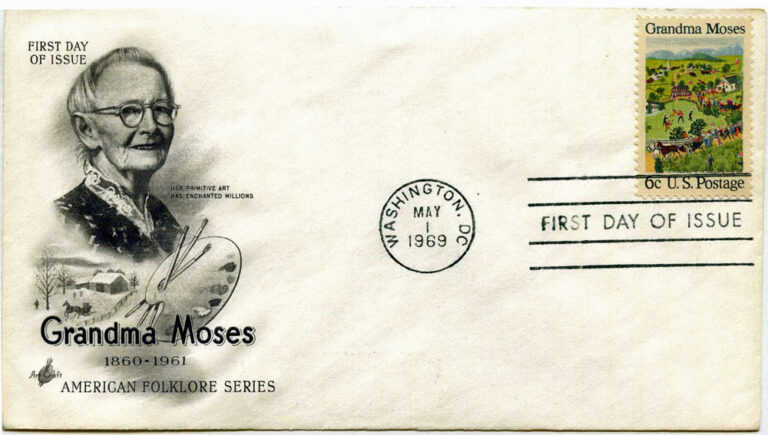 Fourth of July Painting
Otto Kallir of the Galerie St. Etienne gave Grandma Moses' painting Fourth of July to the White House as a gift in 1952.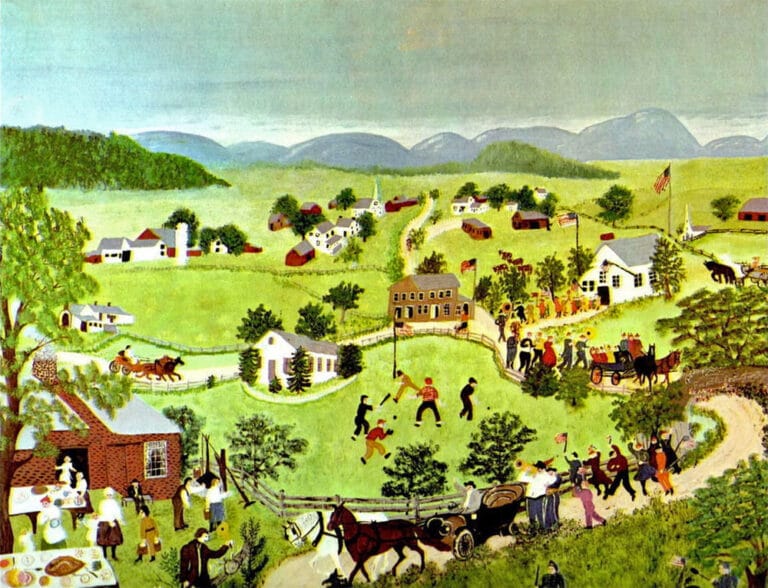 About Grandma Moses
American folk artist Anna Mary Robertson Moses (popularly known as Grandma Moses) was born on September 7, 1860, in Greenwich, New York.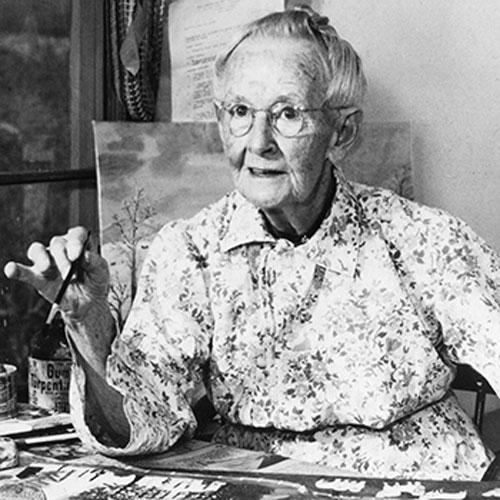 From a young age, Moses enjoyed painting and took art lessons in school. Some of her early works at home were landscape paintings made with lemon and grape juice. However, she put her artistic ambitions aside to earn a living.
Moses never lost her interest in art, continuing to produce embroidered pictures and quilted items for friends and family.
By the time she was 76, Moses developed arthritis, which made embroidery difficult and painful. Her sister then recommended she start painting again. She usually painted with her right hand, but when she experienced pain, she could also paint with her left hand. Moses' paintings captured a nostalgic rural life, based on her years of farm life.
In 1938, and art collector discovered Moses' paintings in a drug store window. He purchased all they had plus several more from Moses herself, all for between $3 and $5 each. The following year, three of her paintings were displayed in the New York Museum of Modern Art exhibition.
Soon, Moses' art was on display in Europe and her paintings were selling for up to $10,000 each. In the 1950s, her exhibitions broke attendance records and her paintings were being reproduced on greeting cards, tiles, fabrics, and ceramics. They were also used to market coffee, lipstick, cigarettes, and cameras.
Grandma Moses received a number of honors during her lifetime. She received two honorary doctoral degrees and the Women's National Press Club trophy Award for outstanding accomplishment in art. A documentary was made about her life and she wrote an autobiography. In 1960, New York celebrated her 100th birthday as "Grandma Moses Day," and she was featured on the cover of Life magazine.
---
Stamp Stats
Value: 6¢
Issue Date: May 1, 1969
City: Washington, DC
Quantity: 139,475,000
Printed By: Bureau of Engraving and Printing
Printing Method: Lithographed, engraved
Perforations: 11
Color: Multicolored