1984 Roberto Clemente
The 20-cent commemorative stamp recognizing the 50th birthday of baseball superstar Roberto Clemente was issued August 17, 1984, in Carolina, Puerto Rico, his birthplace. The First Day Ceremony was held at the Roberto Clemente Sport City, a facility that included facilities for a wide variety of sports.
An outstanding athlete and humanitarian, Roberto Clemente began playing major league baseball in 1955 with the Pittsburgh Pirates. During his baseball career, he played in twelve All-Star games, captured eleven Golden Glove awards as a right fielder, led the National League in batting four times, and had a lifetime batting average of .317. He was named the League's most valuable player in 1966.
In 1960 and 1971 Clemente led the Pirates to world titles and was voted the most valuable player in the 1971 World Series. He was killed in a plane crash on New Year's Eve, 1972, while on his way to Nicaragua to assist in the distribution of supplies to earthquake victims. He was elected to the Baseball Hall of Fame in 1973.
The stamp was designed by Juan Lopez-Bonilla of Louisville, Kentucky; art director and typographer was Bradbury Thompson; modeler was Clarence Holbert. A total of 119,125,000 stamps were issued at 20¢ for a total value of $23,825,000. (Stamp ID# Scott 2097).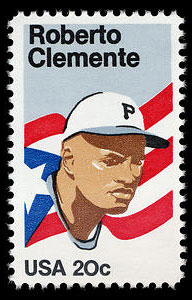 Stamp Error Variation
There is a rare variation of this stamp where two Clemente stamps side-by-side are missing the perforations (Scott #2097a). This error stamp is valued at $1,350.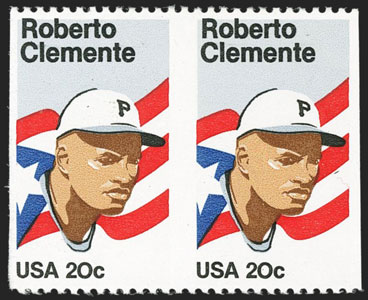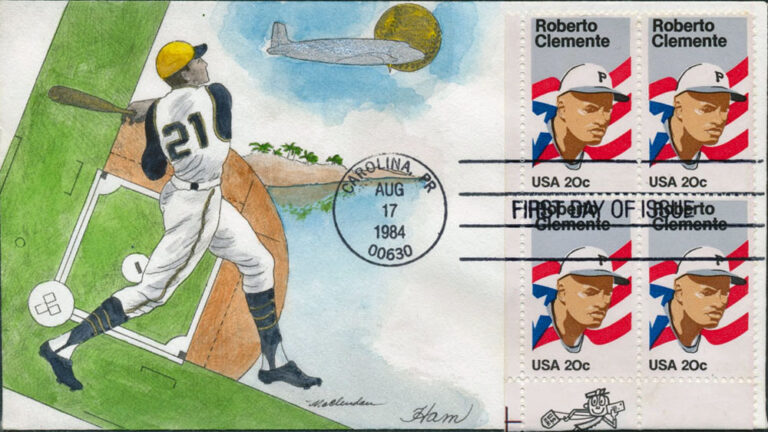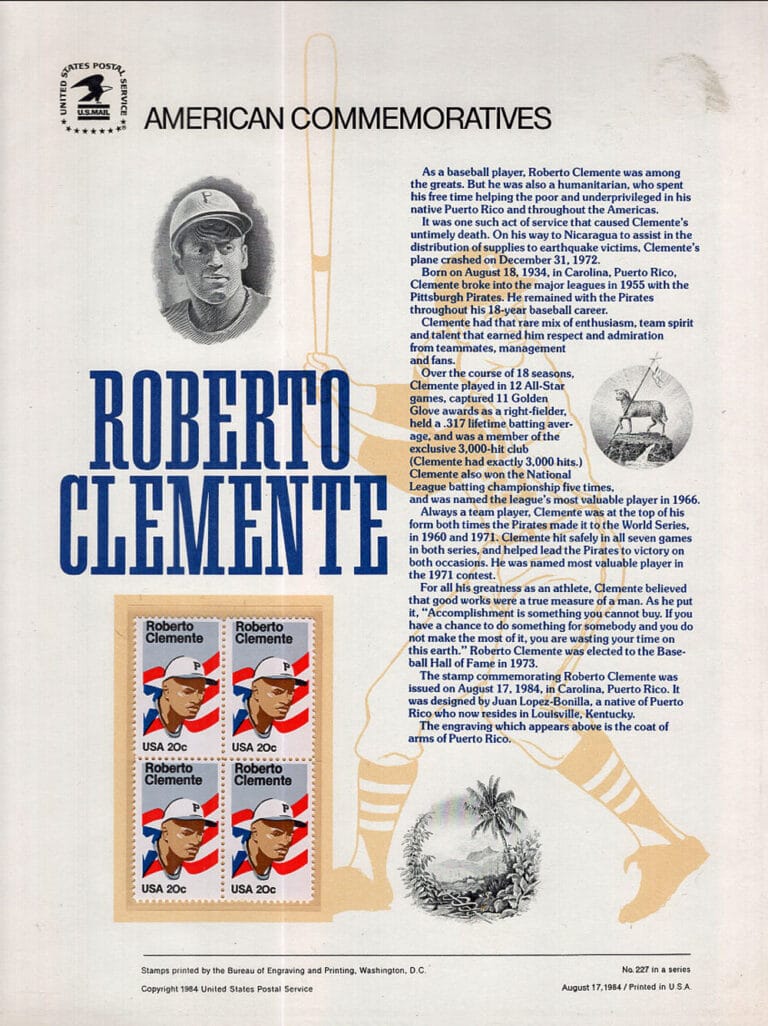 ---
Stamp Stats
Value: 20¢
Issue Date: August 17, 1984
City: Carolina, Puerto Rico
Quantity: 119,125,000
Printed By: American Bank Note Company
Printing Method: Photogravure
Perforations: 11
Color: Multicolored