1992 Olympic Summer Games
The U.S. Postal Service saluted the game of baseball in its first year as an Olympic medal sport with the issuance of a 29-cent commemorative stamp on April 3, 1992, in Atlanta, Georgia. Atlanta, home of the Braves, were the 1991 champions of baseball's National League, and was on deck to become the site of the 1996 Summer Olympic Games.
Although baseball was played as a demonstration sport in seven former Olympic Games, the 1992 Summer Games in Barcelona were the first where the game was played as an official sport. Cuba took home the gold medal, with Chinese Taipei winning silver, and Japan bringing home the bronze. The United States team finished a respectable 5-2, but lost in the semifinals to Cuba.
The Baseball stamp featured a graphic image of a base runner engulfed in a cloud of dust as he tries to slide into home plate under the tag of the opposing catcher. The Postal Service was a worldwide sponsor of the 1992 Summer and Winter Olympic Games.
The stamp was designed by Anthony DeLuz of Boston, Massachusetts, as part of an International Stamp Art contest sponsored by the Postal Service and eight of its thirty-two partner postal administrations from around the world as part of their unified Olympic sponsorship.
A total of 160,000,000 stamps were issued at 29¢ for a total value of $46,400,000. (Stamp ID# Scott 2619).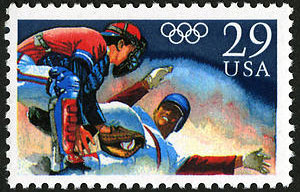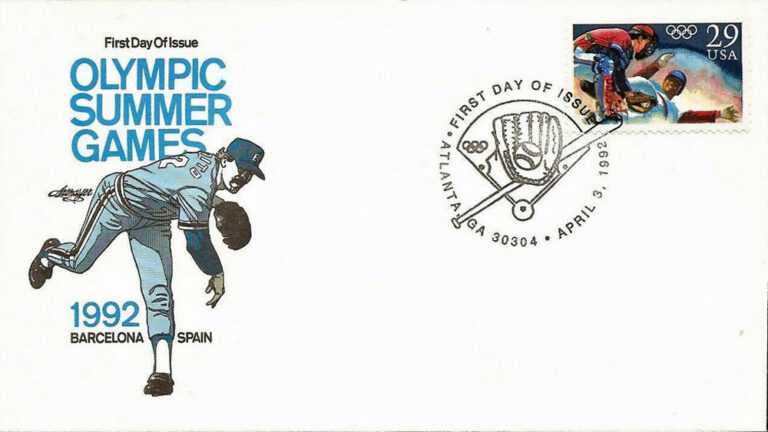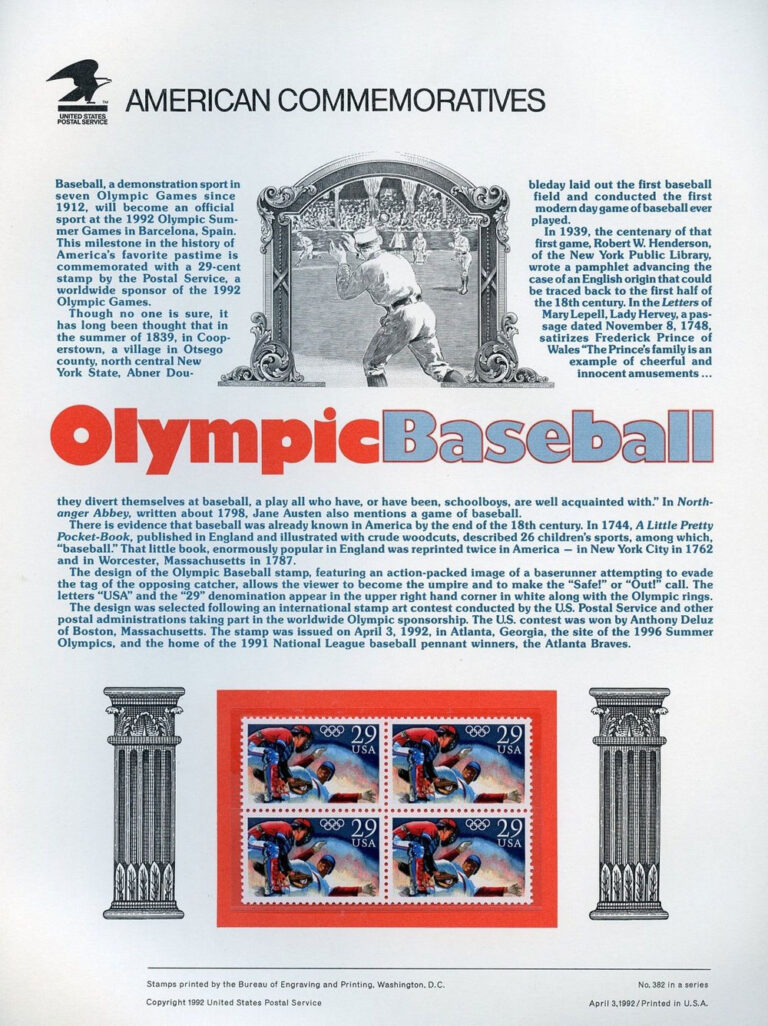 ---
Stamp Stats
Value: 29¢
Issue Date: April 3, 1992
City: Atlanta, GA
Quantity: 160,000,000
Printed By: U.S. Bank Note Co
Printing Method: Photogravure
Perforations: 11
Color: Multicolored