1996 Folk Heroes
The Postal Service issued four 32-cent Folk Heroes commemorative stamps on July 11, 1996, at the Postage Stamp Mega Event in Anaheim, California. Designed by David LaFleur of Derby, Kansas, the stamps feature four characters from American folklore.
Mighty Casey – This baseball giant played with the Mudville Nine. At his moment of potential triumph, he approached the plate with arrogance and confidence and then struck out at bat. Ernest Lawrence Thayer's poem, "Casey at the Bat," became an American classic due to the oratory skills of a performer named William DeWolf Hopper, who claimed to have recited it over 10,000 times.
Pecos Bill – The strongest, toughest cowboy there ever was, Pecos Bill, said to be able to rope a railroad train and ride a cyclone.
Paul Bunyan – Bunyan and his mighty blue ox, Babe, journeyed all over the United States, shaping the undeveloped country. According to certain tall tales, he single-handedly scooped out the Great Lakes and dug Puget Sound.
John Henry – This steel driver worked on the Big Bend Tunnel in West Virginia, pitting himself against the steam drill, he battled for ten hours. Finally beating the machine, he collapsed and died.
A total of 23,681,000 stamps were issued at 32¢ for a total value of $7,577,920. (Stamp ID# Scott 3083).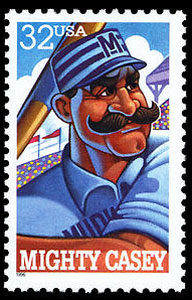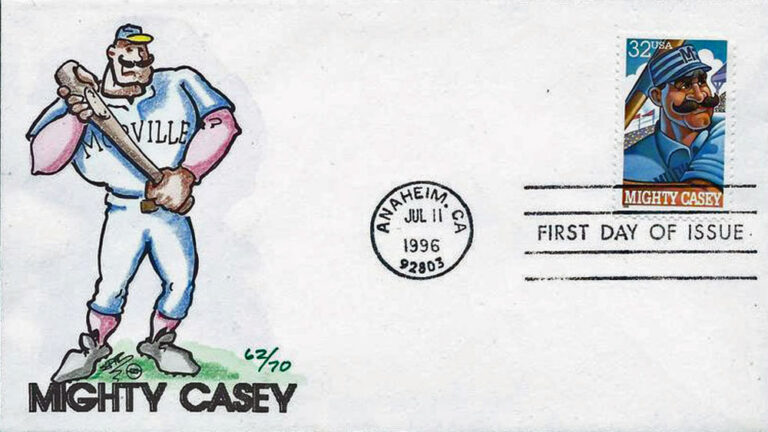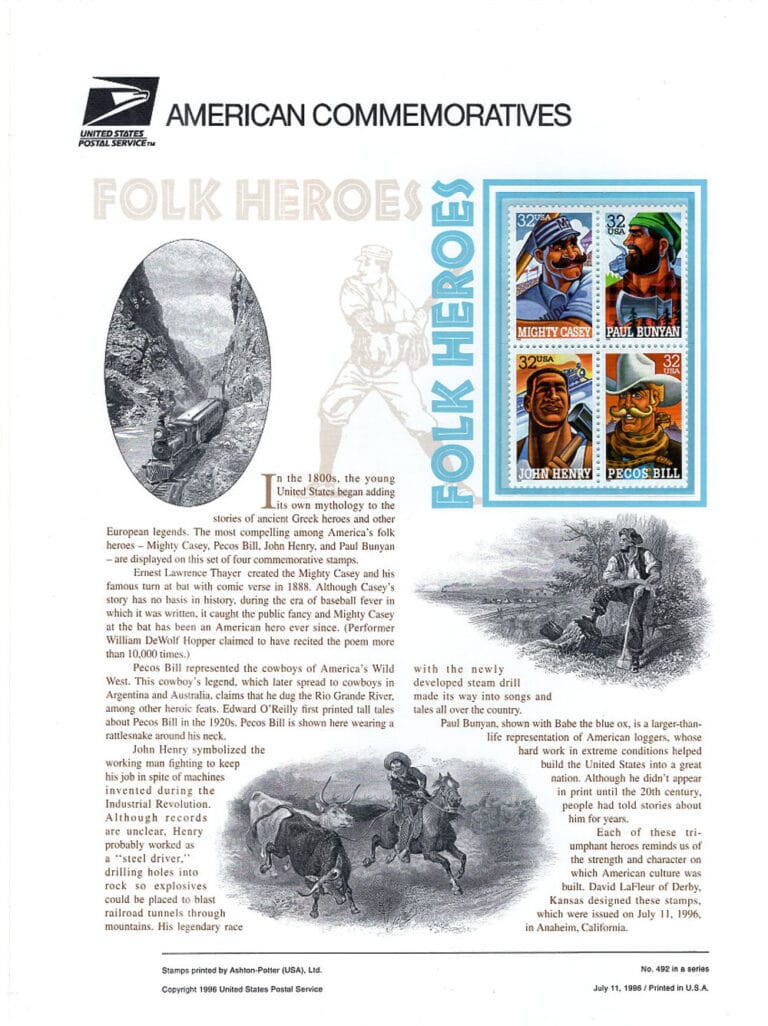 ---
Stamp Stats
Value: 32¢
Issue Date: July 11, 1996
City: Anaheim, CA
Quantity: 23,681,000
Printed By: Ashton-Potter (USA) Ltd
Printing Method: Lithographed
Perforations: 11.1 x 11
Color: Multicolored