2012 Major League Baseball All-Stars
The Postal Service honored the memory of four great players whose unchanging dreams and exceptional skills propelled them to success. These Major League Baseball All-Stars 45-cent First-Class Forever stamps salute the accomplishments of Ted Williams, Larry Doby, Willie Stargell and Joe DiMaggio—truly remarkable men. Each of these Hall of Famers was a perennial All-Star selection and each left an indelible impression on the game.
Joe DiMaggio (1914-1999) – Admired for his skill and grace as a fielder and base runner, the Yankee Clipper is best known for his incredible 56-game hitting streak in 1941—the season of "The Streak." DiMaggio led the New York Yankees to ten pennants and nine World Series titles. (Stamp ID# Scott 4697).
Larry Doby (1923-2003) – Was the first African-American to play in the American League, joining the Cleveland Indians shortly after Jackie Robinson broke the color barrier in the National League. The seven-time All-Star excelled as a hitter and center fielder and set an American League outfielder record for 164 consecutive errorless games. (Stamp ID# Scott 4695).
Willie Stargell (1940-2001) – Powered the 1979 Pittsburgh Pirates to a World Series title. Hitting 475 home runs during his career, the seven-time National League All-Star is famous for smashing baseballs out of stadiums. (Stamp ID# Scott 4696).
Ted Williams (1918-2002) of the Boston Red Sox served during World War II and the Korean War. The last Major League player to bat over .400 for a single season, in 1941, Williams won six American League batting titles and four home run titles. Despite breaks in his career, Williams hit .344 over 19 years, including 521 home runs. (Stamp ID# Scott 4694).
Illustrator Kadir Nelson based the stamp art on historic photographs of the four players. Art director Phil Jordan designed the stamps. A total of 20,000,000 stamps of each of the 4 players were issued at 45¢ each for a total value of $36,000,000.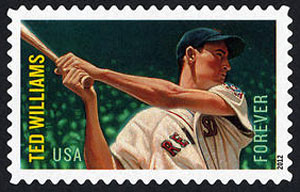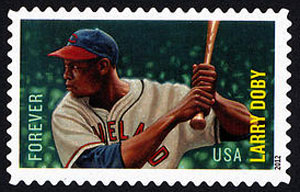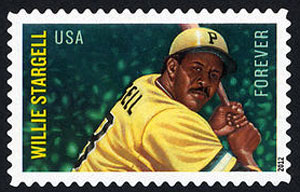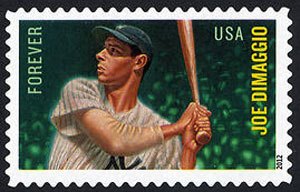 Imperforate Stamp Variations
Each stamp in the series was printed with a variation where there was not perforation between the stamps. These imperforate issues are more rare, and worth about twice the value of those with perforations. This equates to about $2.50 per stamp instead of $1.10 per stamp.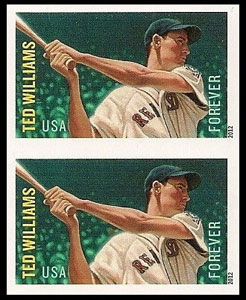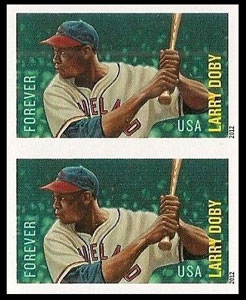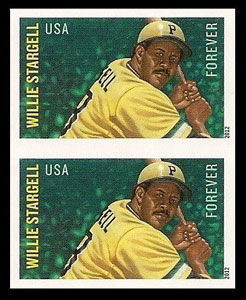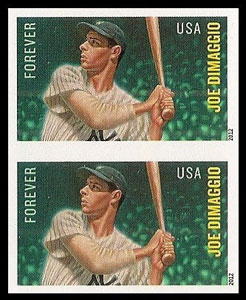 Stamps Batted In (SBIs)
To please sports fans, the USPS played ball by developing a "Stamps Batted In" voting competition based on the number of stamps pre-ordered. They created individual sheets of 20 stamps depicting each player.
Williams took the lead early in the competition trailed closely by DiMaggio, Stargell and Doby. About a week prior to the July 20 stamp issuance, Yankees fans stepped up to the plate to put Joe DiMaggio out in front. This changed quickly once the Boston media shared this news. Boston fans then placed Williams on top of the competition on the First-Day-of-Issue. Pre-orders for stamp sales eclipsed 1 million.
Leading by a close margin, Williams fans hit 300,385 SBI, followed by DiMaggio fans at 290,925.
Ted Williams, Boston, MA
July 21 at 7 p.m. in Boston's Fenway Park prior to the Red Sox/Blue Jays game. Dedication of the sheet of stamps honoring Ted Williams. Boston Postmaster James Holland will unveil the stamp image on the field. Ted Williams Little League players will also be on the field with the Navy Honor Guard.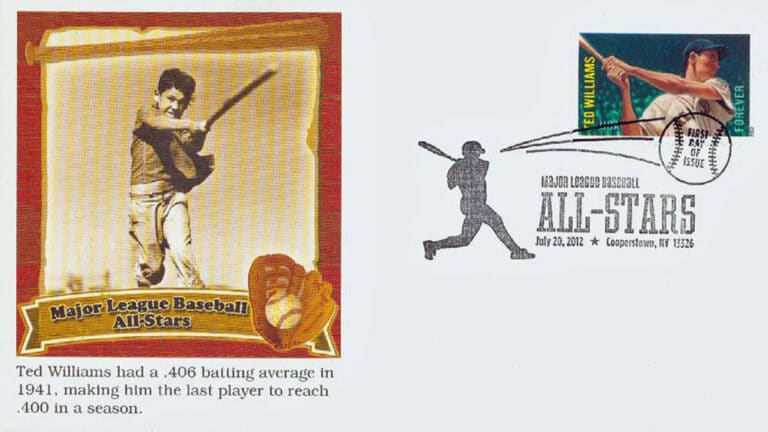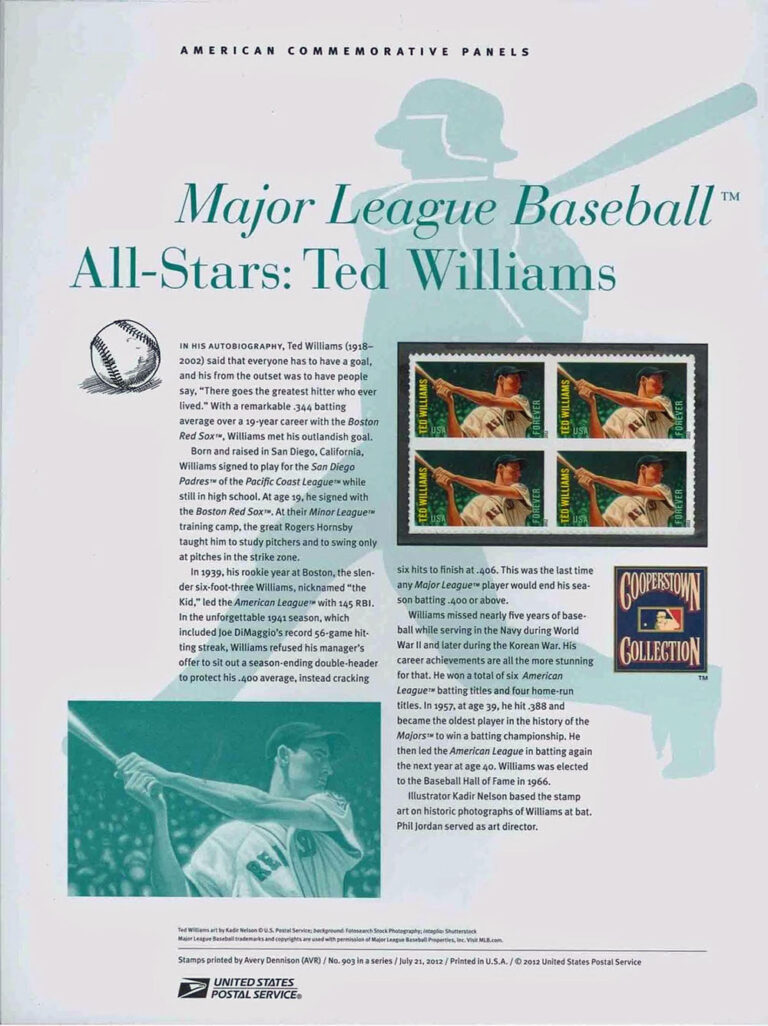 Larry Doby, Cleveland, OH
July 21 at 10 a.m., Jerry Malloy Negro League Conference at the Renaissance Cleveland Hotel, 24 Public Square, near Progressive Field, home of the Indians.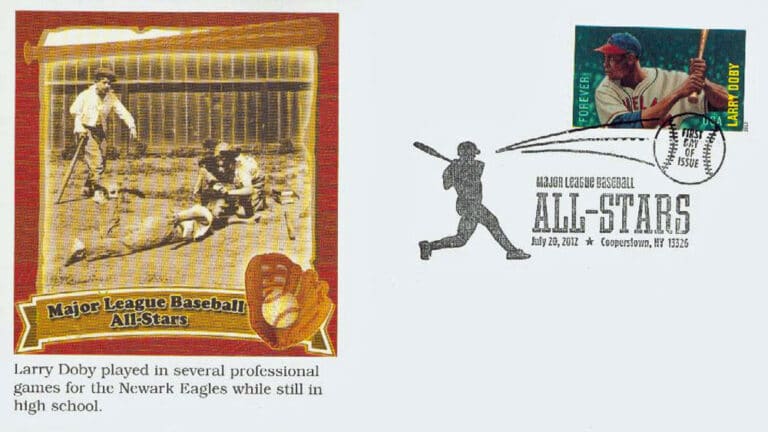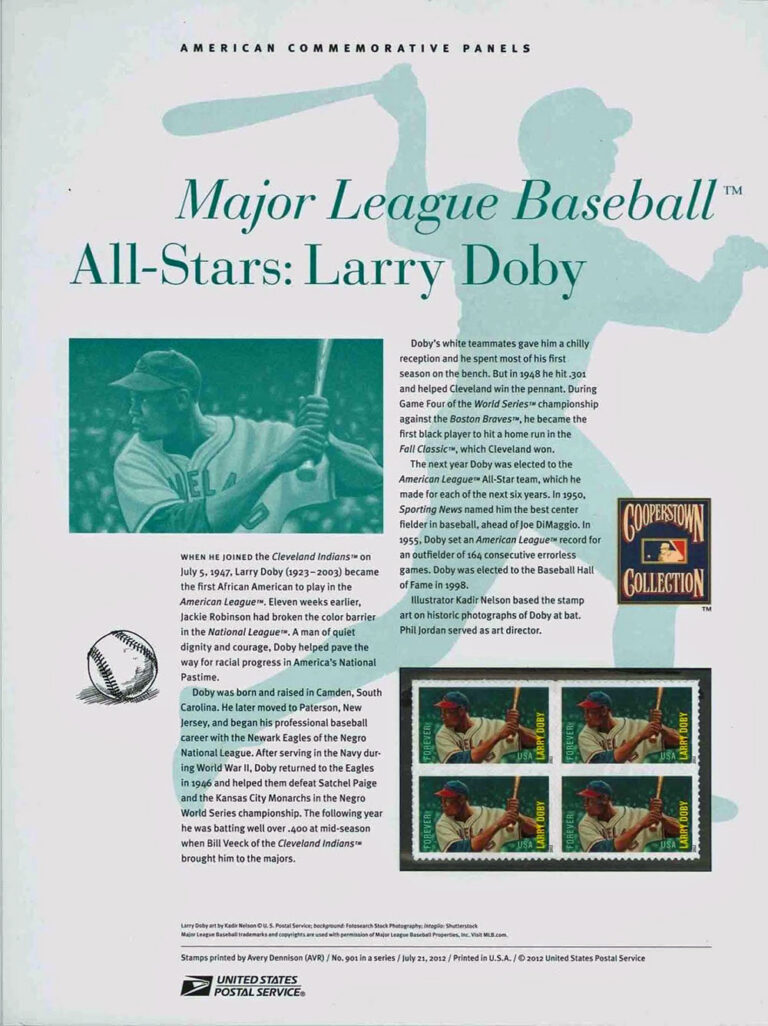 Willie Stargell, Pittsburgh, PA
July 21 between 6:30 p.m. and 6:40 p.m. at PNC Park in Pittsburgh before the 7:05 p.m. Pirates/Marlins game for the sheet of stamps honoring Willie Stargell. Scheduled to join U.S. Postal Service Chief Operating Officer and Executive Vice President Megan Brennan in dedicating the stamp are Stargell's wife, Margaret Weller-Stargell; Pittsburgh Pirates Board Chairman Robert Nutting and Pirates President Frank Coonelly.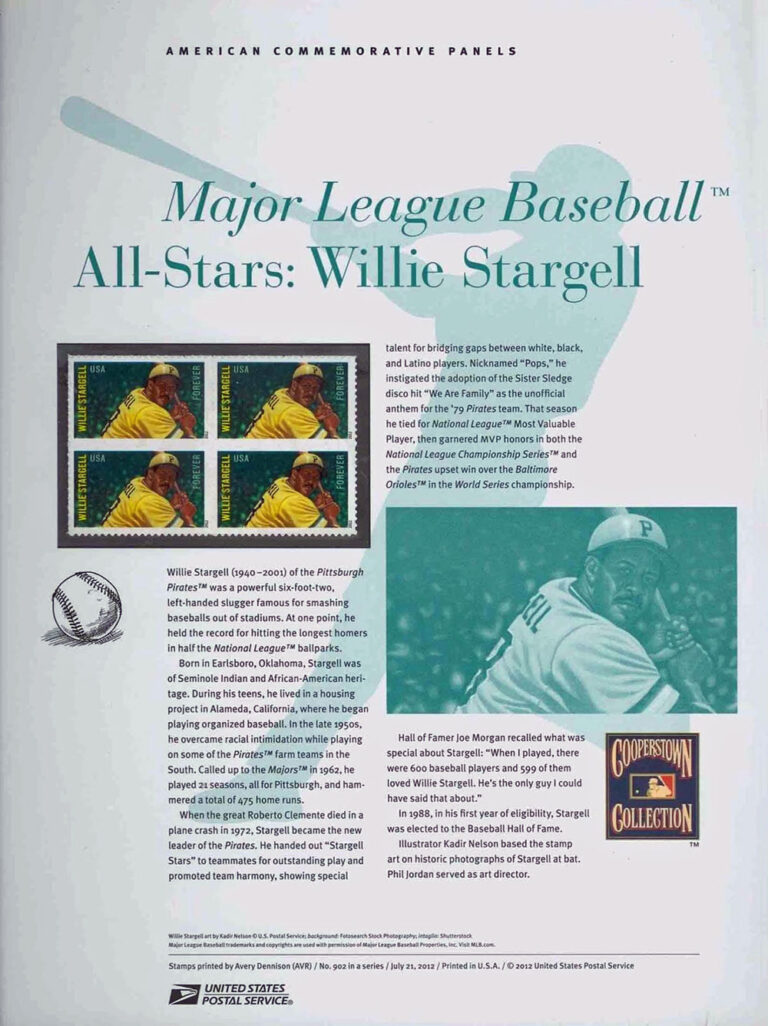 Joe DiMaggio, Bronx, NY
July 21 at 11 a.m., Bronx Post Office, 558 Grand Concourse, Bronx, NY 10451. In conjunction with the festivities, Bronx Borough President Ruben Diaz will proclaim this historical recognition of a sports icon as "Joe DiMaggio Day!" Scheduled guests include DiMaggio's granddaughter Katie Stein and Pulitzer award winning sports writer Dave Anderson and New York Yankees Museum Curator Brian Richards.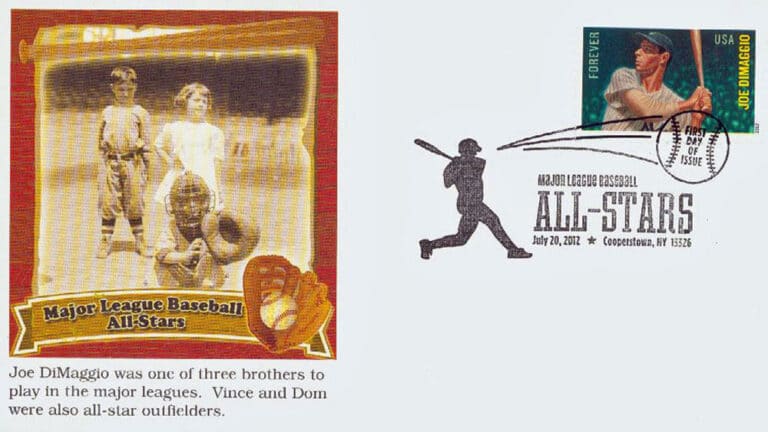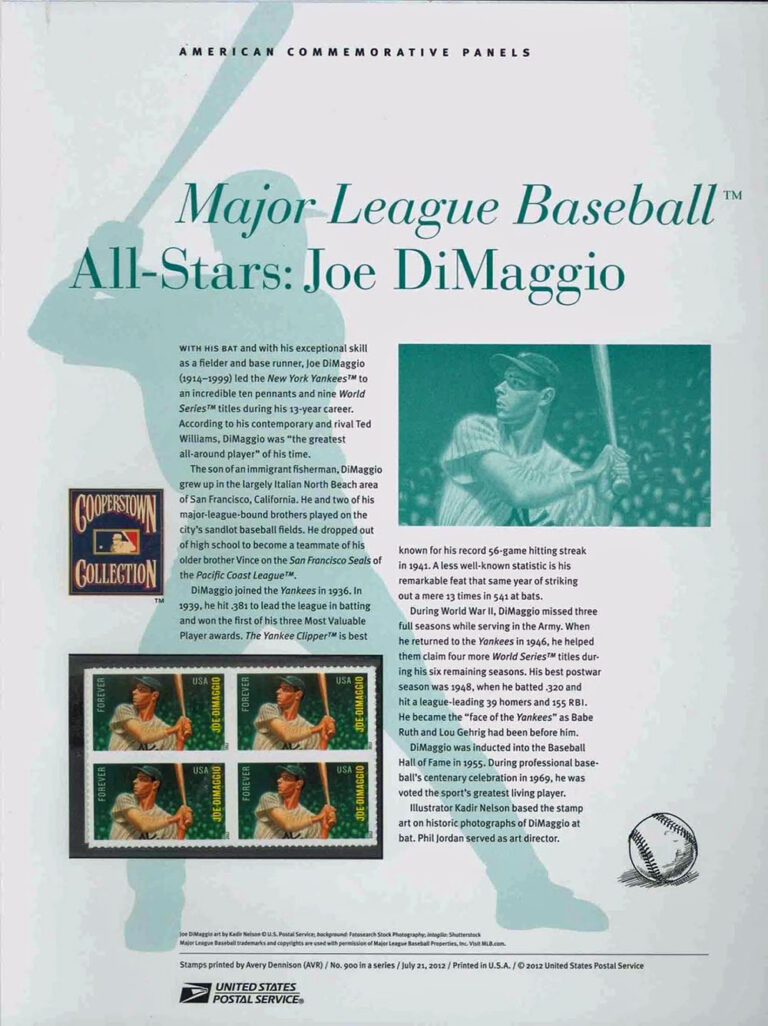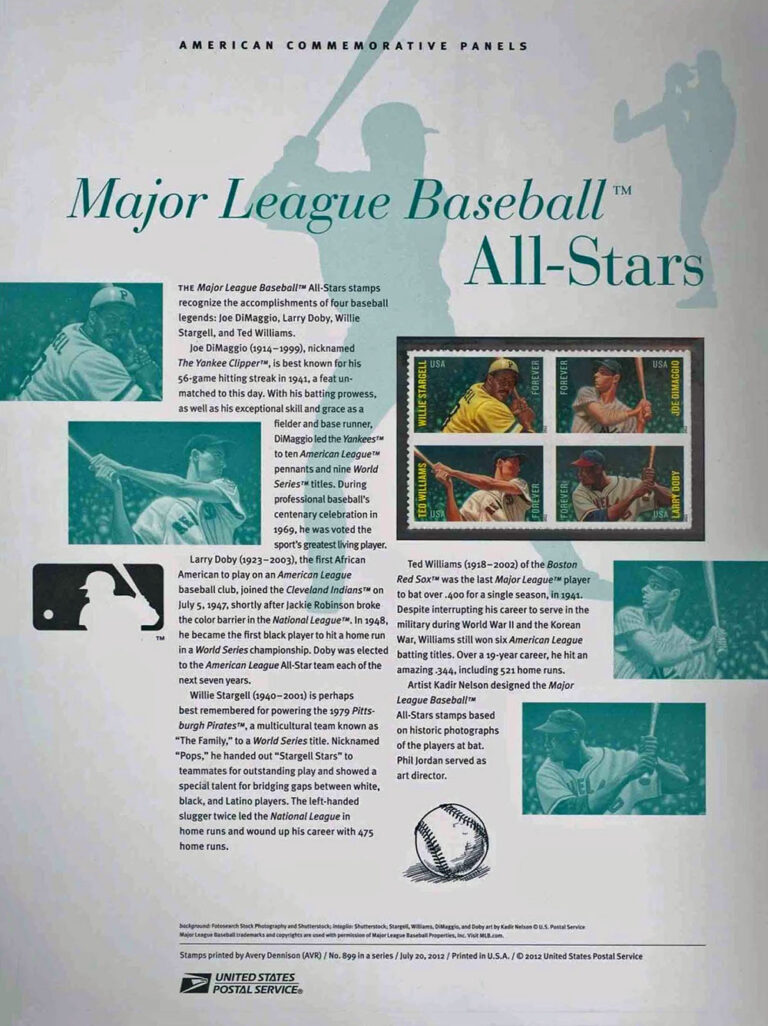 ---
Stamp Stats
Value: 45¢ (Forever)
Issued: July 20, 2012
First Day City: Cooperstown, NY
Type of Stamp: First-class, Self-Adhesive
Printed By: Avery Dennison
Printing Method: Photogravure
Perforations: Imperforate