2021 Backyard Games
On November 17, 2020, the U.S. Post Office announced that Backyard Games will be issued as a postage stamp set. The scheduled release date is August 12 in Rosemont, Illinois.
These stamps capture games that Americans play for outdoor fun. A pane of 16 stamps features eight unique designs including: badminton, bocce, cornhole, croquet, flying disc, horseshoes, tetherball and baseball. Greg Breeding was the art director. Mike Ryan designed the stamps with original artwork by Mick Wiggins.
A total of 25,600,000 stamps were issued at a value of 55¢ each for a total value of $14,080,000. (Stamp ID# Scott 5631).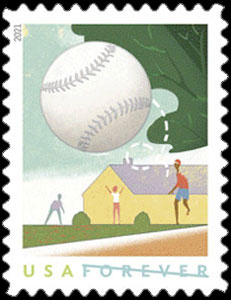 Artist Mick Wiggins Explains His Sports Art
It started off as just another backyard game – Wiffle Ball. Until, of course, the USPS legal team determined that it was actually a JUGS ball design, and that the U.S. Post Office had usage rights to neither brand. In an exclusive interview, illustrator Mick Wiggins describes everything from being selected to design a stamp to the creative process.
The Ball That Changed Before Your Eyes!
The artwork that Mick Wiggins created for the 2021 issue of Backyard Games started off as a Wiffle Ball, one of eight sports played in the backyard. The illustration clearly conveys the curve of the pitch headed for the yellow Wiffle Ball bat. By the time the artwork ended up on a stamp, the wiffel ball changed to a baseball, the laces were changed from red to white, and the yellow bat was changed to a brown "warning track" driveway. Still, the final product is a work of art that's out of the park. Wiggins explains how he got the call, and how he has remained in The Show all these years.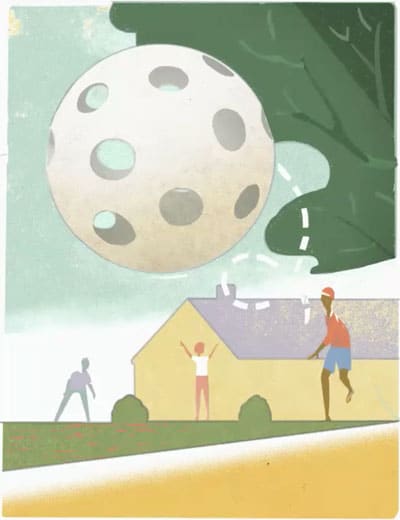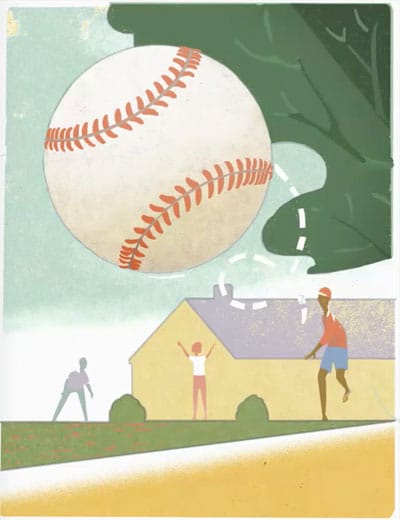 Who's Ready for Some Backyard Sports?
Featured are the eight stamps in the final panel: badminton, bocce, cornhole, croquet, flying disc, horseshoes, tetherball and baseball.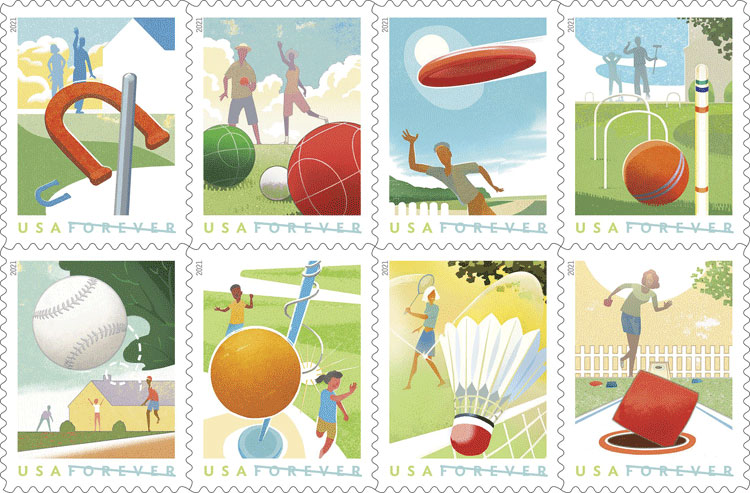 ---
Stamp Stats
Value: 55¢ (forever)
Issue Date: August 12, 2021
First City: Rosemont, Illinois
Type of Stamp: First-Class, Self-Adhesive
Quantity Issued: 25,600,000
Printed by: Banknote Corporation of America
Printing Method: Offset