2021 Yogi Berra
This Yogi Berra forever baseball postage stamp from the USPS honors the Hall of Fame catcher from the New York Yankees.
Honoring Yogi Berra (1925-2015), this stamp salutes one of the best and most celebrated baseball players of his era, winning a record 10 World Series with the New York Yankees. The stamp art is an original digital portrait of Berra dressed in his Yankees cap, pinstripes and catcher's chest protector. Considered the best catcher in the American League in the 1950s, he was also a feared hitter, and in 1972 was inducted into the National Baseball Hall of Fame.
Antonio Alcalá was the art director and stamp designer. Charles Chaisson was the artist. The "Yogi Berra" lettering was created by Michael Doret.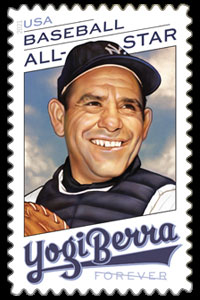 ---
Stamp Stats
Value: Forever
Issue Date: June 24, 2021
City: Little Falls, NJ
Quantity: TBA
Printed By: TBA
Printing Method: TBA
Perforations: TBA
Color: Multicolored