Legends – Baseball Scrapbook & Stamp Album
The game of baseball long has been labeled the national pastime, and rightly so. Neither the claims of other sports with higher attendance nor the apparent shattering of legends about the game's Cooperstown origins can alter the fact that the character and qualities of baseball make it the most American of athletic pursuits.
This book published by the United States Postal Service (USPS) in 1989 is dedicated to four of the game's legends whose stirring achievements have earned them commemoration on U.S. postage stamps – Jackie Robinson (in 1982), Babe Ruth (in 1983), Roberto Clemente (in 1984) and Lou Gehrig (in 1989). The book came sealed with a mint unhinged stamp for each player that was to be affixed within the album by the collector, as well as a baseball card of each, picturing the player's U.S. postage stamp on the front of the card, with their career statistics on the back.
This book is USPS item 8831, and originally retailed for $7.95, and included the stamps for the collector to affix on their own. Read or download the entire book to see these legends and their postage stamps.
Jackie Robinson – 20¢ (1982)
Robinson served as an Army Liutenant during World War II, then joined the Kansas City Monarchs, a black professional baseball team. He actually became the first black player in organized baseball in October of 1945 when he signed with the Montreal Royals of the International League. He led that league in batting and sparked the Royals to the 1946 league title before signing with the Brooklyn Dodgers of the National League in April of 1947. (See more of this stamp.)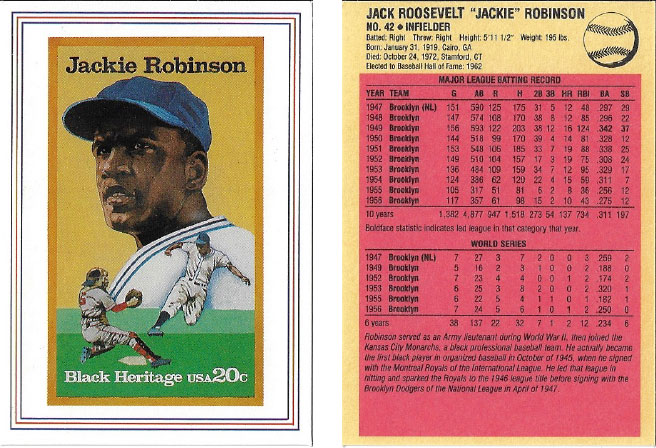 Babe Ruth – 20¢ (1983)
Babe Ruth, quite simply, was the greatest slugger in the history of baseball. "Babe Ruth could hit the ball so hard, and so far, that it was sometimes impossible to believe your eyes," said former teammate Sad Sam Jones. Ruth's career total of 714 home runs was a spectacular feat that revolutionized the national pastime. Today, decades after his death, he still reigns as the most famous player and greatest gate attraction the game has ever known. (See more of this stamp.)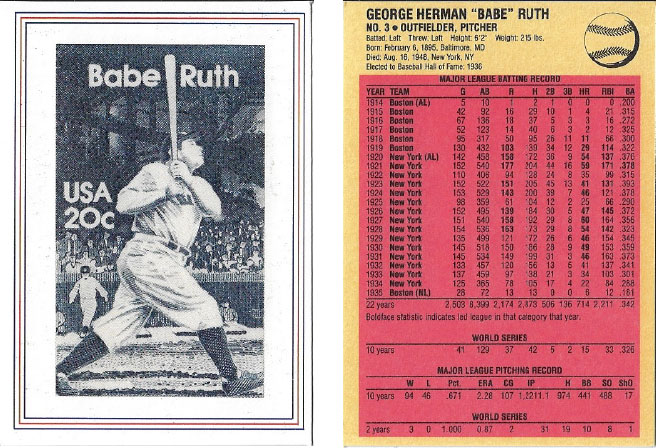 Roberto Clemente – 20¢ (1984)
Roberto Clemente lived his philosophy of life on the field and off it. In addition to playing baseball spectacularly and with a visible zeal, he spent much of his time serving the poor and underprivileged of his native Puerto Rico and elsewhere. It was in that charitable capacity that Clemente died in a plane crash at the age of 38 on New Year's Eve, 1972, en route to Nicaragua with a load of life-saving supplies to distribute to earthquake victims. (See more of this stamp.)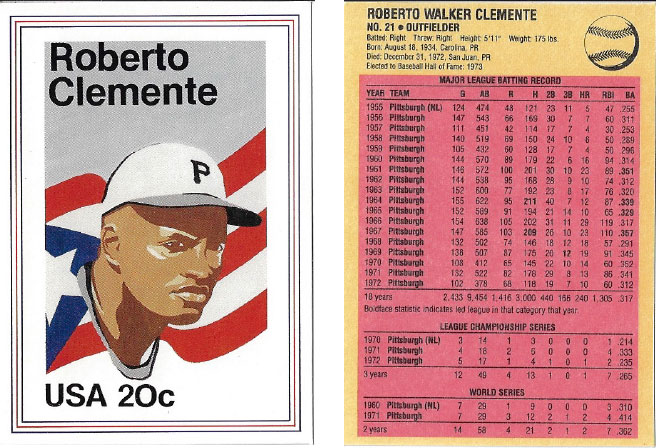 Lou Gehrig – 25¢ (1989)
Two facts of Lou Gehrig's life – his unbelievable, record streak of 2,130 consecutive games played and amyotrophic lateral sclerosis (ALS) the tragic disease which cut short his career and took his life at age 37 – sometimes combine to overshadow his amazing accomplishments as an all-around baseball player. But as a man who was strong, heroic, modest, and uncomplaining, Gehrig came to be admired, loved, respected and revered by a nation of sports enthusiasts. (See more of this stamp.)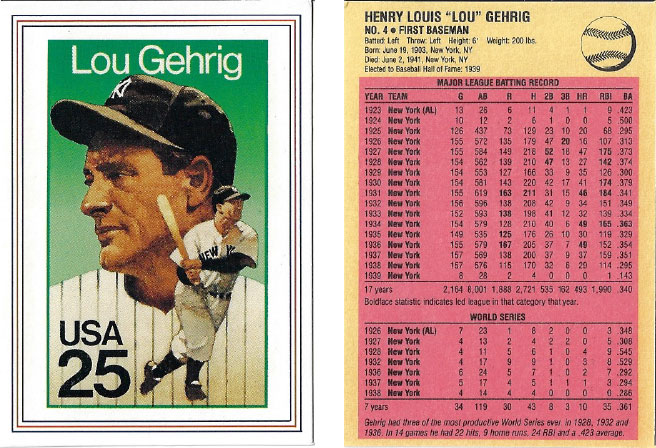 Legends Stamps Instruction Slip
This included instruction slip let stamp collectors know how to mount, affix, and protect the four included legendary stamps within the appropriate pages of the stamp album. The second card informed users that the Legendary Baseball Scrapbook and Stamp Album was Item Number 8831.