Play Ball!
Play Ball! Great Moments in Major League Baseball History is the perfect keepsake for baseball fans and stamp collectors alike. The 40-page softbound book is filled with the vivid paintings of artist Graig Kreindler, whose extraordinarily detailed work captures our national pastime's biggest icons in action.
The book was published in July of 2012 and tells the story of baseball on stamps. It comes complete with 16 postage stamps: The ten Legendary Playing Fields stamps issued in 2001, the two 2010 Negro Leagues Baseball stamps, and the four very popular 2012 Major League Baseball All-Stars stamps.
The book features 12 reproductions of Kreindler's striking images of baseball's past. He usually works from famous photographs, putting color and an artist's touch into famous black and white photos of Lou Gehrig's farewell speech, Babe Ruth choosing a bat or Jackie Robinson sliding home during the World Series. Prolific despite his detailed work and still in his early 30s, Kreindler has created dozens of baseball paintings over the past several years. His work quickly gained a huge following and original works sell for thousands of dollars, but the 8 ½" x 11" book retailed for $24.95.
Great Moments in MLB History –
On U.S. Postage Stamps
Read or download the entire book, Play Ball!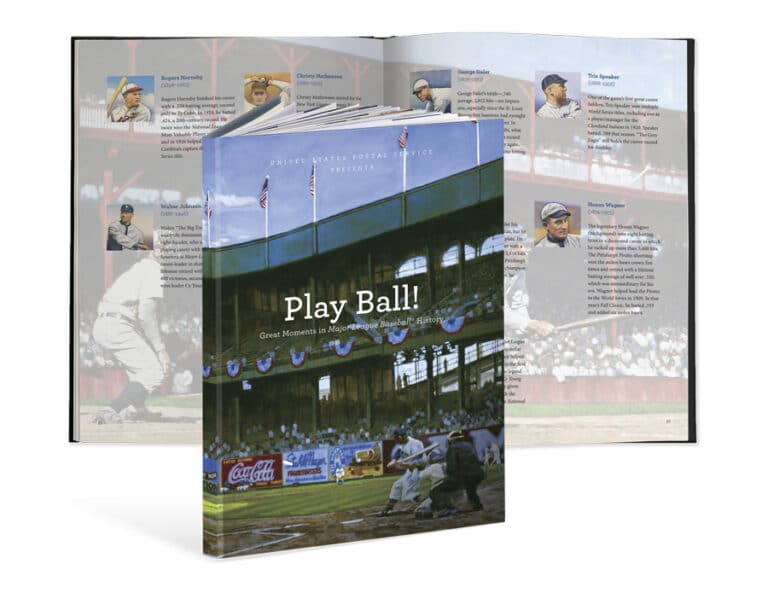 2001: Legendary Playing Fields
USPS issued 34-cent postage stamps with ten postcard images of legendary baseball stadiums. The backs of each stamp describes the historic baseball fields. (See more.)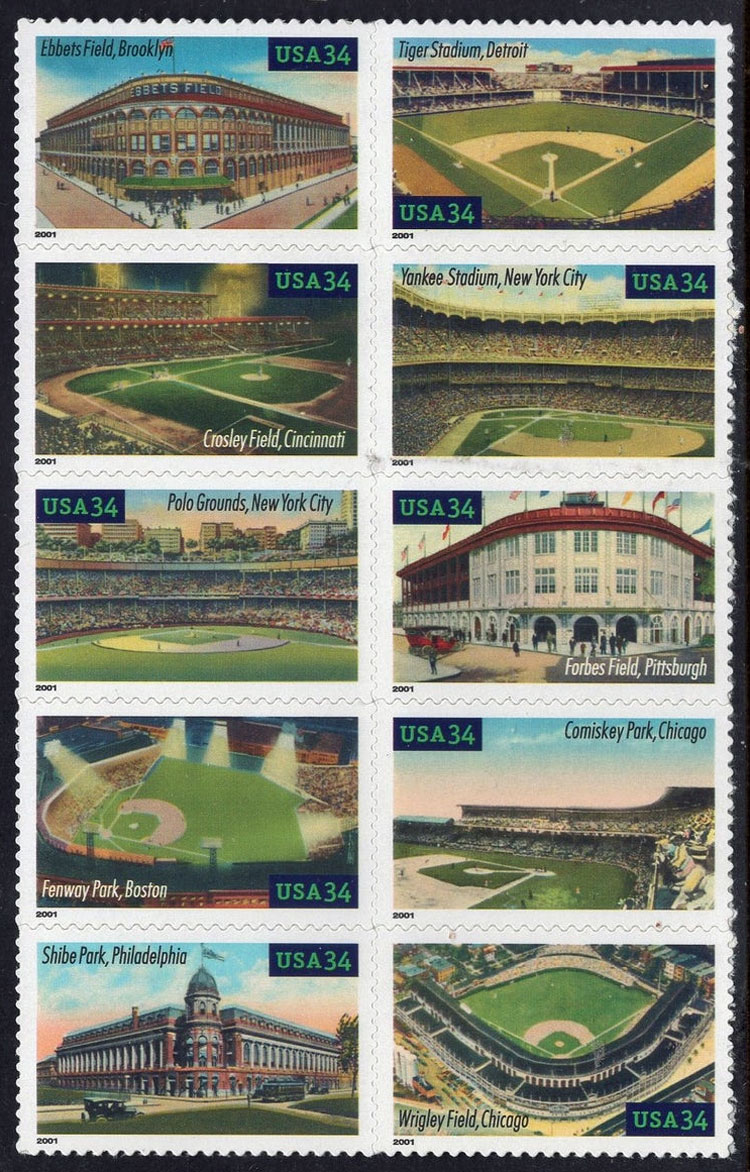 2010: Negro Leagues Baseball
The Negro Leagues Baseball 44-cent U.S. postage stamp set pays tribute to the father of Negro leagues baseball, Andrew "Rube" Foster, in a two-stamp set. (See more.)

2012: Major League Baseball All-Stars
The USPS honored Ted Williams, Larry Doby, Willie Stargell and Joe DiMaggio with Major League Baseball All-Stars 45-cent First-Class Forever postage stamps. (See more.)