Resurgence: Chin Music (2021)
As part of the Ballpark Brewer Series baseball beers, Resurgence Brewing bats cleanup. Their fruited sour, Chin Music, has a perfect blend of raspberries, blackberries and guava resulting in a dark pink appearance. This beer is absolutely perfect for a night at the ballpark.
ABV – 4.2%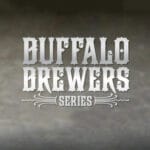 ---
Watch the 2021 Ballpark Brewers Series
Learn all about the breweries and beers that make up this year's lineup.
See complete list of baseball beers:
See all from Buffalo Brewer Series: