Joe Maddon's Try Not To Suck
Made by Haymarket Beer Company, Joe Maddon's Try Not To Suck is a baseball beer made in collaboration with Chicago Cubs manager, Joe Madden. It is a crisp, light, and refreshing German-style lager.
When infielder Javy Baez was asked what advice Maddon gave when Baez made his season debut in September 2015, the response was: "Try not to suck." And it stuck. Today, it is the Cubs rally cry. And a beer.
Proceeds benefit Chicago's neighborhoods through the Respect 90 Foundation and homeless and jobless veterans through Rags of Honor.
ABV – 4.8%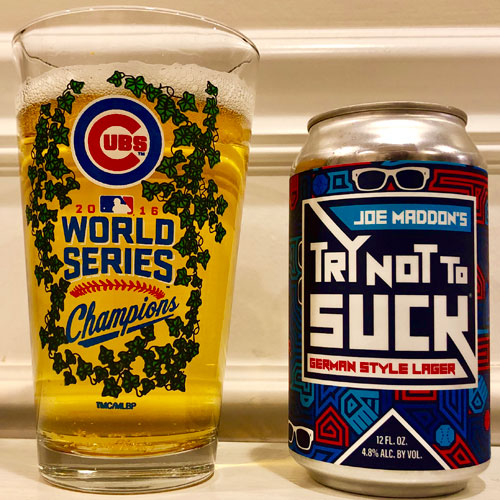 ---
Joe Maddon Debuts New Beer
Cubs manager Joe Maddon is expanding his brand—he's now selling beer! Jon Hansen sat with him at Haymarket in the West Loop to talk more about his choice of hops.
See complete list of baseball beers: