Outfield Beer Company
Outfield Beer Company in Edwardsville, Kansas offers a rotating variety of hand-crafted baseball beers within their exceptional line-up. Outfield strives to merge baseball and their farming background with every beer we they create. OBC sources all of its products locally when available. Their rotating tap lineup was launched in 2019, and seeks to pay homage to America's greatest pastime and their Midwest roots.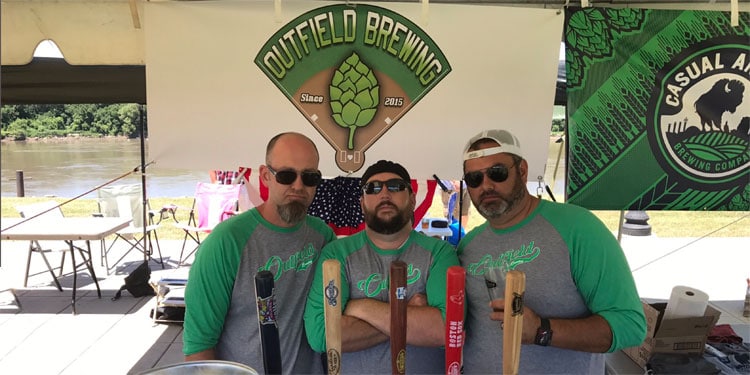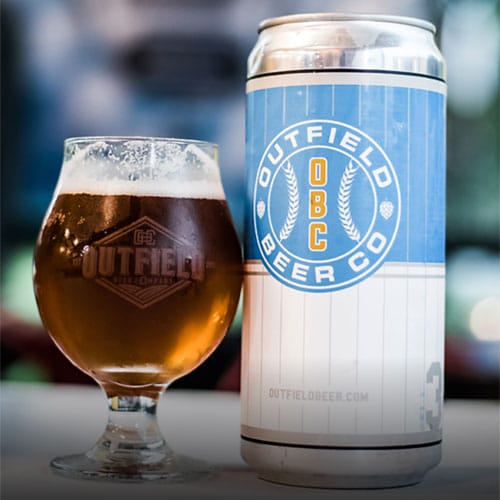 ---
Starting Line-Up
View their baseball-themed beer on draught:

Broken Bat Black IPA
Time to shatter the lumber with our Cascadian dark India Pale Ale. Our Black IPA is led by a legion of hop varieties that lay down a smooth yet aggressive brew.
ABV – 6.7% | 62 IBU

Bushleaguer Pale Ale
Warrior, Simcoe, and Willamette complete the backbone of this moderately hopped Ale with just enough hops to balance out the malty profile. Styles vary, but our key is balance. Think IPA with all the hops dialed down for a welcoming gustatory journey. This brew also comes in Blueberry!
ABV – 4.6% | 21 IBU

Cactus League
A toast to spring training in the desert Southwest! This American Cream ale with the addition of Hatch Chiles will tease your senses without the heat.
ABV – 6.0% | 35 IBU

Can 'O Corn
No cream goes into the beer, nor does creamed corn. This cream ale adds a touch of corn to make a semi-dry, faintly hopped beer that finishes clean. It is an easy drinking light ale that is as easy as a Can-of-Corn in baseball. ABV – 5.8% | 38 IBU

Clean Hit
This lightly hopped IPA starts with a hint of malty sweetness, then ends with a long finish of fresh and moderate amount of tropical hops in an appetite-arousing smooth bitterness that is most indicative of a slightly-hazy East Coast IPA.
ABV – 5.7% | 52 IBU

Ducks On the Pond, End of Summer ESB
Strong Bitter
ABV – 5.8% | 46 IBU

Fall Classic
Oktoberfest
ABV – 6.2% | 33 IBU

Fielder's Choice Schwarzbier
Lager – Euro Dark
ABV – 5.1% | 36 IBU

Flying Deutschman Oppo
Altbier
ABV – 5.1% | 46 IBU

Grind It Out
A coffee forward brown ale beer with a lighter body that allows the Hometown, Roasterie coffee beans to express more of its natural flavors and unique qualities.
ABV – 5.9% | 50 IBU

High Hopper
IPA
ABV – 5.5% | 87 IBU

Lost In the Lights
Outfield's Helles-Style Ale is a hazy, golden beer perfect during any time of the year, in the day or under the lights. The malt characterizes a fresh Germanic grain character, reminiscent of European lagers while the German Noble and American hops, fuse together lending a mild and lemony flavor. A subtle addition of lemon peel and coriander helps to finish the beer with a soft hint of spice. This brew also comes in Blueberry!
ABV – 5.4% | 41 IBU

Moonshot
This Farmhouse Ale is a hybrid of a citrus Hoppy Saison, Moonshot blends notes of coriander and orange spiciness sending this one over the fence.
ABV – 6.8% | 54 IBU

Non-Roster Pale Ale
Sometimes beers, like baseball players, have to earn a spot on the menu. NPR earned a spot after demonstrating it has the right formula. The simplicity of this beer is its calling card, a soft and malty golden taste with a moderate amount of Centennial and Citra hops that don't overpower the palate. NRP is a hard-working approachable beer that will always have a spot on our team. This brew also comes in Blueberry!
ABV – 7.3% | 55 IBU

OBC EPA
Pale Ale
ABV – 7.7% | 42 IBU

Outfield Beer Kolsch
Outfield's Kölsch arose out of our desire to brew a simple, cross-over beer that should have been brewed in Cologne and the rest of Germany long ago. Like many regional pale brews in Germany, all with their own distinctive styles, we created a Wheat-Kölsch; light, crisp, clean, and slightly tart. Cheers to your smooth journey of taste sensations.
ABV – 5.5% | 35 IBU

Pay-off Pitch Pale Ale
ABV – 5.9% | 30 IBU

Pillar of Polarization
East Coast Style IPA resulting in a smooth drinkable beer. Magnum hops added to mash as well generous portion of Galaxy and Amirillo hops added at boilout give this beer a slight citrus undertone. This beer will certainly be on the home run side of the pillar of polarization.
ABV – 5.3% | 65 IBU

Pop Fly Pils
Distinctly different, yet similar to the Bohemian-style pilsner, this style is lighter in color and body and has a lower perceived hop bitterness. Outfield's take is to accentuate the tartness of the malt with a touch of lemon, given the beer a refreshing finish and an impeccable malt balance with floral aromatics to the nose. This is one of a kind.
ABV – 5.5% | 33 IBU

Quality Start IPA
The IPA that started the Dream! A heavy combination of Galaxy and Citra hops is our take on the West Coast IPA.
ABV – 6.2% | 56 IBU

Shut Out Stout
This full-bodied, roasted, sweet alternative stout delivers rich-sweet flavor of roasted barley without overpowering the palate with too much malt or hops. Lactose, not milk, is the finishing ingredient that makes this beer velvety smooth. A barrel-aged varietal of this beer is also available that is infused with Weller Special Edition oak chips.
ABV – 5.8% | 35 IBU

Sittin' Dead Red
When you are looking for an absolute, no frills, bold down the pipe pitch, this red ale delivers a hit with Mosaic and Amarillo tropical hops, a saison twist, and an amber sweetness.
ABV – 6.3% | 52 IBU

Squeeze Play
Brown Ale
ABV – 6.0% | XX IBU

Winter Wallop
This American IPA has pine notes with rosemary.
ABV – 5.6% | 23 IBU
---
The Outfield Brewing Story
From a dream started through a conversation at a Royals playoff game in 2014 came the blessings from family, to the KC Nanobrew Festival in 2017. This is Outfield Brewing's story.
See complete list of baseball beers: