Rally Cap Brewing Co.
Rally Cap Brewing Co. is located in Baton Rouge, Louisiana and brews baseball themed beer that's handmade for the home team. The Rally Cap craft brewery and taproom celebrates community through sports, and a ton of baseball beers. Several have clever names that only a true baseball fan would recognize the wordplay from. Grab a front row seat.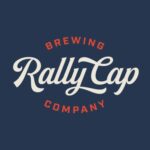 ---
Starting Line-Up
Select a beer for full details.
---
Welcome to Rally Cap Brewing Co.
Take a peek inside Rally Cap Brewing.
See complete list of baseball beers: