Second Sin Brewing
Second Sin Brewing is a local brewery in Bristol, Pennsylvania known for their Home Phield Advantage and Lil' Slugger baseball beers.
The Second Sin Brewing Company founders – Mike Beresky, Phil Harris, and Jake Howell – have known each other since their days playing middle school football together. In 2011, they decided to follow their foolhardy dream of opening a small brewery, which was originally to be called Gluttony Brewing Company – but the trademarked named was disputed.
The founders decided to find a name that would keep the spirit alive. After research into the Seven Deadly Sins, they discovered they were originally defined by Pope Gregory the Great. Pope Gregory also ordered them from least to most offensive to god, with Gluttony coming in second. Thus, Second Sin Brewing Company was born.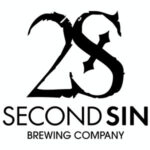 See complete list of baseball beers: