Cooperstown, New York
The Village of Cooperstown in New York is best known for the National Baseball Hall of Fame, but the town and surrounding area is so much more for the baseball enthusiast. There are tournaments for ballplayers or all ages, plus dozens of baseball-themed shops, restaurants, breweries, and attractions. If you are baseball fan and have never been, drop everything and go. Induction Weekend when the new HOF class is inducted is a top choice, but any weekend will do.
Not everybody in your family a baseball enthusiast? No worries. The Farmers' Museum, Fenimore Art Museum, Glimmerglass Opera, and the New York State Historical Association are also based in Cooperstown.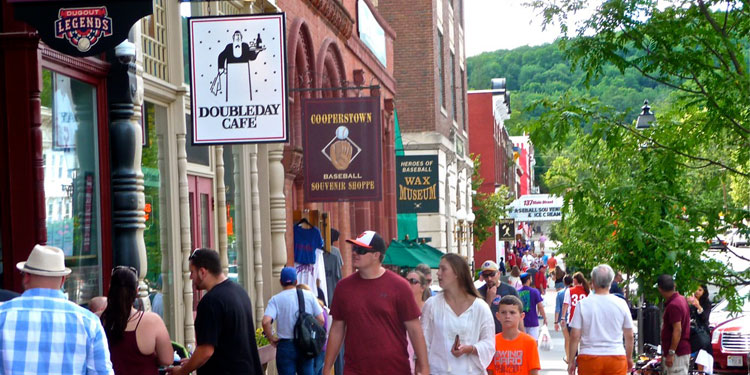 ---
National Baseball Hall of Fame
The National Baseball Hall of Fame & Museum preserves the history of America's pastime and celebrates the legendary players, managers, umpires and executives who have made the game a fan favorite for more than a century. You could spend an entire day here, but many people spend a few hours at a time and make several trips.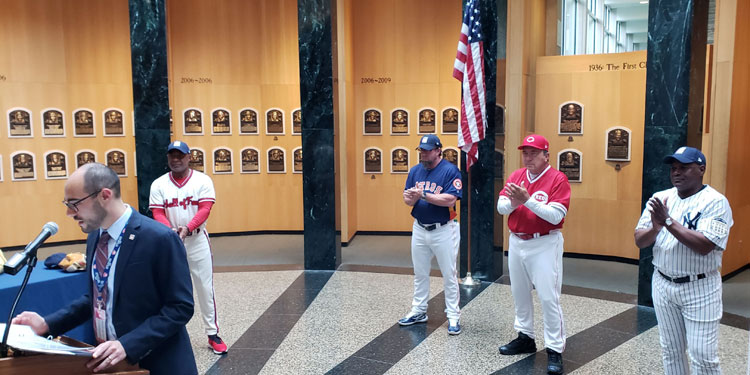 ---
Doubleday Cafe & Restaurants
Cooperstown is a drinking town with a baseball problem, and no restaurant knows this better than Doubleday Cafe. They deliver an excellent breakfast and lunch, and the bar has good local brews. Or give the Hardball Cafe a try, just a few doors down.
Even the non-baseball named facilities have a baseball vibe, as everybody on Main Street is there for one reason. For pizza, go to Sal's Pizzeria. For Italian, try Toscona or Nicoletta's. Even Mt. Fuji delivers a decent Japanese cuisine. Even beyond Main Street, there is no shortage of food options.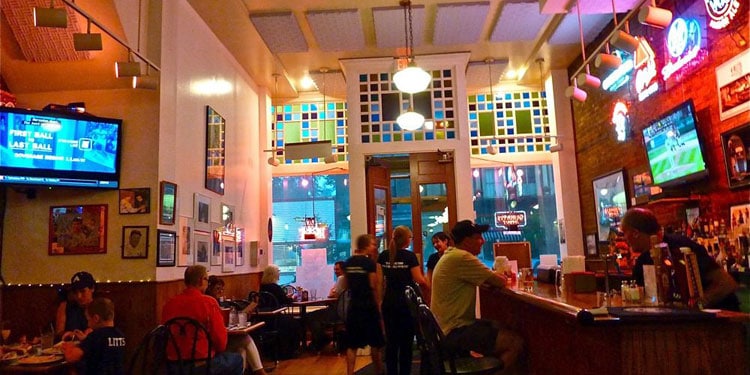 ---
Shop in Cooperstown
Not even sure where to start, as there are dozens of baseball-themed stores, ranging from clothing stores, memorabilia shops, craft shops, baseball bat factories, art galleries, and so much more. Cooperstown Bat Company is shown below, although right across the street is Where It All Began Bat Company.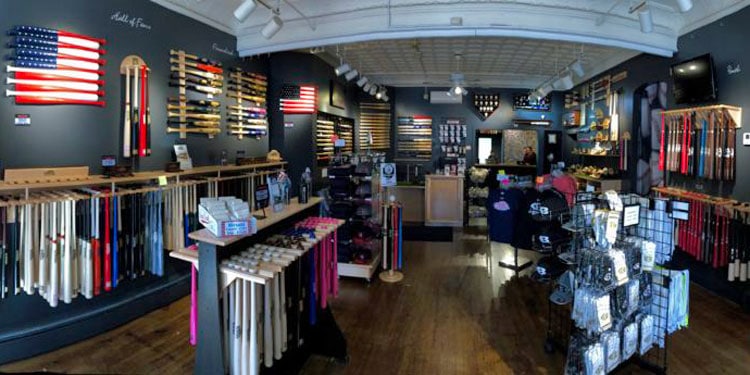 Here is some neat and affordable art found while browsing the Cooperstown shops.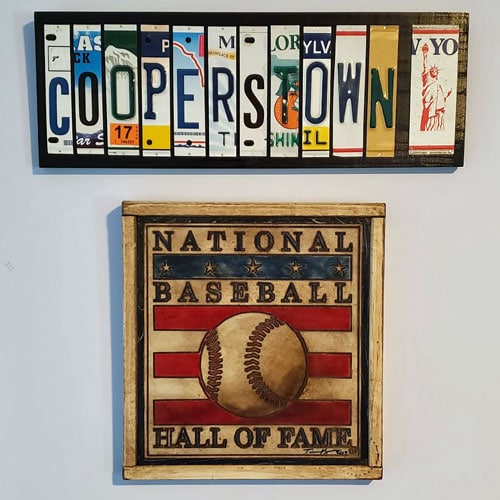 ---
Heroes of Baseball Wax Museum
The Heroes of Baseball Wax Museum features more than 30 wax figures in historic settings, a virtual reality batting cage and a Baseball Bloopers Theatre. You can spend a good 15 minutes there. The photos alone are worth the price of admission, especially if you can track down George Steinbrenner.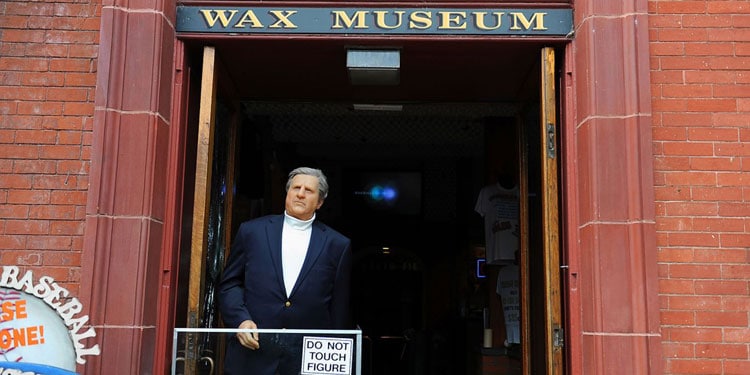 ---
Cooperstown Beer & Spirits
If you are looking for a brewery, look no further than Cooperstown Brewing Company. They have two sizable taprooms, and nothing but baseball beers on tap.
Looking for something a little stronger? Try Cooperstown Beverage Exchange on Main Street, serving up baseball-themed whiskey and other spirits made by Cooperstown Distillery.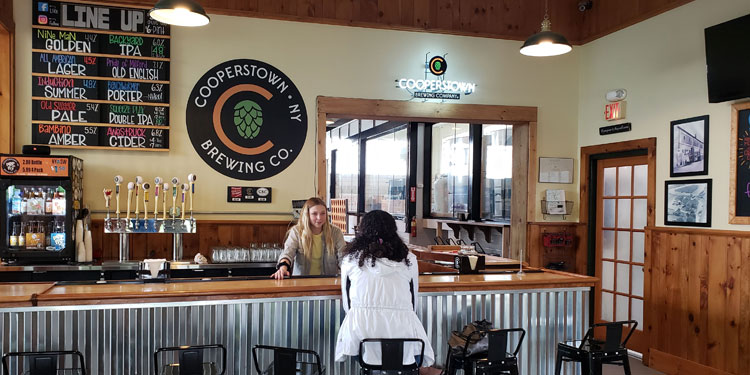 ---
Doubleday Field
Doubleday Field is considered the birthplace of baseball, and was named for Abner Doubleday. It is around the corner from the Baseball Hall of Fame, and there is typically action on this field from amateur baseball teams who travel to the mecca to play there.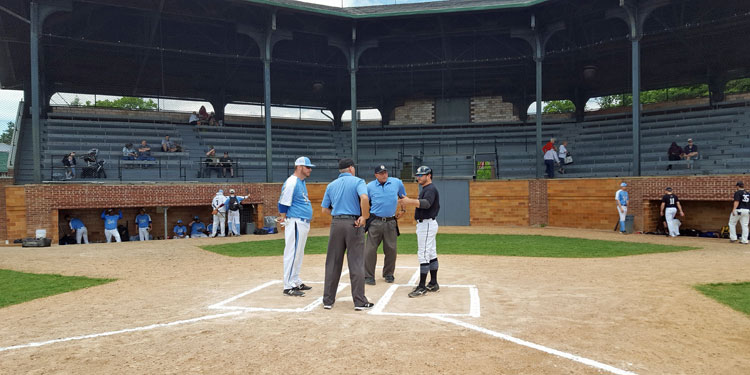 ---
Cooperstown Dreams Park
Located in Milford, NY about 5 miles out of town. Dreams Park offers 22 small diamond baseball fields on 165 acres. All fields are enclosed and lit stadiums. Each year, more than 1,000 teams participate that are 12 and under. Players live on campus. Cooperstown Dreams Park was built in 1996.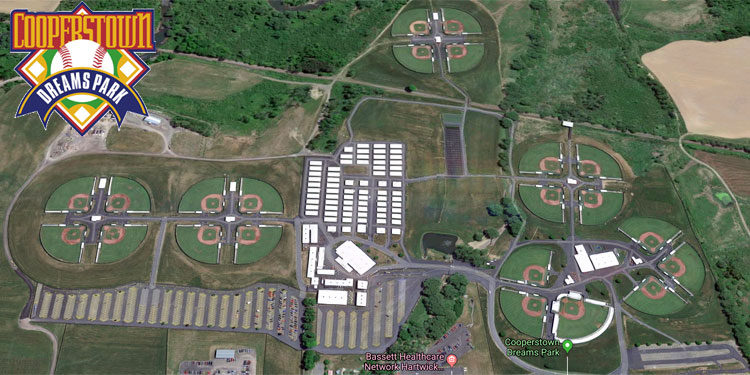 ---
Cooperstown All-Star Village
Located in Oneonta, NY about half an hour from the action,
Cooperstown All-Star Village
leverages the famed town name. Founded in 1999, this 9-diamond baseball resort holds tournaments for players 12 and under. The All-Star Village includes lit small diamond ballfields, batting cages with electronic pitching, an arcade, and accommodates 250 teams per season. They also have on campus housing, a fitness center, spa, swimming pools, a general store, and more.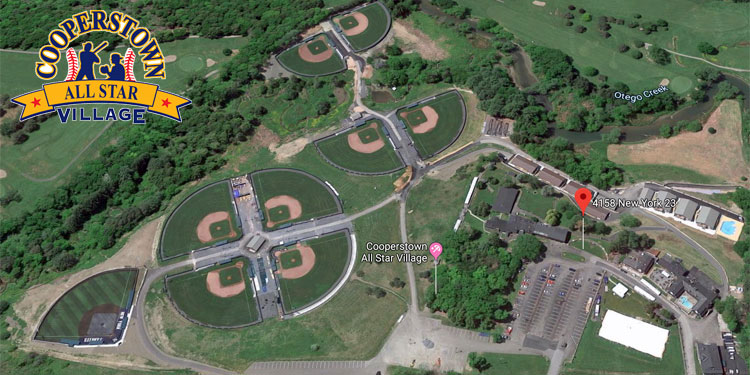 ---
Visit Cooperstown, New York
If having fun is your bucket list, then Cooperstown, NY is the perfect place for you. View more videos from Cooperstown/Otsego County Tourism.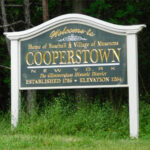 Explore U.S. and Canada baseball attractions: