Boys of Summer Lemongrass Honey Wheat
Made by Broken Bat Brewing, Boys of Summer is about the final out, the dog pile, and the celebrations that follow. There's nothing like it. This light, easy drinker is an ode to the ballplayers who make the great game of baseball so enjoyable to watch. Sit back, kick your feet up, and enjoy the show.
ABV – 5.9%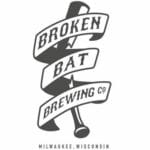 ---
Inside Broken Bat Brewing
Spend Opening Day of Broken Bat Brewing Co. in Milwaukee, WI. The Micro Craft Beer looks around the taproom, then talks with the owners, Tim Pauly and Dan McElwee.
See complete list of baseball beers:
See all from Broken Bat Brewing: