Safe at Home – Session Hazy IPA
Made by Broken Bat Brewing, Safe at Home is a baseball beer encouraging beer drinkers to drink safely from home during the coronavirus pandemic. They brewed this session hazy IPA in collaboration with Pilot Project and Brewer's Kitchen in Chicago.
The beer is loaded with Citra, Lemon Drop, and Trident hops. To downplay the COVID-19 tone, they claim that just like Jackie Robinson in the World Series, in April and May 2020, we need to stay home, stay safe, and save lives.
ABV – 4.9%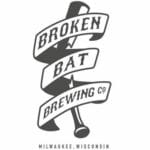 ---
Jackie Robinson Steals Home
Jackie Robinson of the Brooklyn Dodgers swipes home in the eighth inning of Game 1 of the 1955 World Series versus the New York Yankees with Yogi Berra guarding the plate.
See complete list of baseball beers:
See all from Broken Bat Brewing: