Unwritten Rules
Made by Broken Bat Brewing, Unwritten Rules Pistachio Pudding Pastry Stout is a baseball beer based on some seriously dumb unwritten rules. So they went ahead and broken some of both with this beer. They dumped in multiple servings of a secret family recipe dessert. Get your hands on this perfect chilly weather brew!
ABV – 8.2%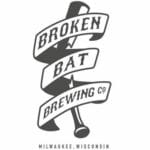 ---
Inside Broken Bat Brewing
Spend Opening Day of Broken Bat Brewing Co. in Milwaukee, WI. The Micro Craft Beer looks around the taproom, then talks with the owners, Tim Pauly and Dan McElwee.
See complete list of baseball beers:
See all from Broken Bat Brewing: