Disco Demolition Night DDH Double IPA
Made by Left Field Brewery, Disco Demolition Night DDH Double IPA is a baseball beer inspired by the chaos of a ridiculous ballpark promotion. On July 12, 1979 at Comiskey Park in Chicago, a crate filled with disco records was blown up on the field between games of a doubleheader between the Chicago White Sox and the Detroit Tigers. Many fans came to see the explosion and rushed onto the field after the detonation. The playing field was damaged by the explosion and the fans, and the White Sox had to forfeit the second game.
Disco Demolition Night is an explosively juicy double dry hopped double IPA better suited for listening to great records than blowing them up. Bursting with flavours of orange, pineapple and hints of gentle strawberry rounded out by a slightly dry, medium finish.
ABV – 7.8%
IBU – 30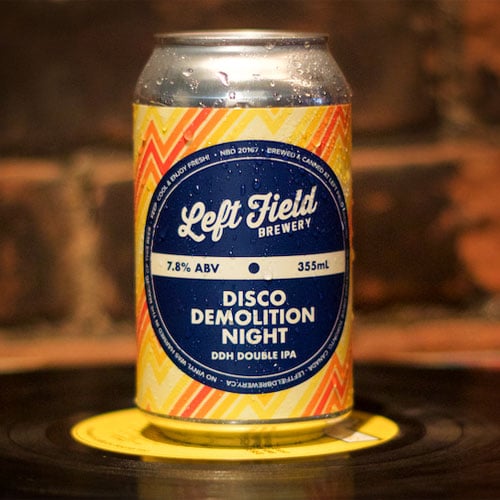 ---
Disco Demolition Documentary
ESPN documentary about one of the most bizarre baseball promotion ever – blowing up disco records on the field.
See complete list of baseball beers:
See all from Left Field Brewery: