Jewel Box
Made by Left Field Brewery, Jewel Box is a mixed fermentation with cherries that was brewed with a simple base of pilsner malt, unmalted wheat, and aged hops. It was fermented and aged in oak foeders for ten months. 1,050 pounds of Niagara Cherries were added for the final months of aging imparting flavors reminiscent of cherry pie. This light rose beer has a delicate tartness, funky Brett character, oak complexity, and a mild tannic finish.
"Jewel box" is a term used in reference to the group of Major League Baseball ballparks built (or re-built) primarily between 1909 and 1915, after the wooden ballpark era and before the modern multipurpose stadium era. These parks featured two-tier grandstand design to take advantage of the steel structural supports and often squeezed inside a city block bringing fans right on top of the action. Jewel box stadiums that remain in use today include Fenway Park in Boston and Wrigley Field in Chicago.
ABV – 5.5%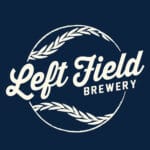 ---
Inside Left Field Brewery
Hear from Mark Murphy, the co-founder of Left Field Brewery.
See complete list of baseball beers:
See all from Left Field Brewery: