O'Neill Stout
Made by Left Field Brewery, O'Neill Stout is a tribute to Tip O'Neill. Known today as "Canada's Babe Ruth," Tip was the first ever winner of the Triple Crown in 1887 for the St. Louis Browns with a .435 batting average, 14 home runs, and 123 RBIs.
Made with 100% Canadian ingredients, O'Neill stout has a base of Barn Owl (Ontario) Pale Ale malt that provides a lightly toasted malt background, while Red Shed (Alberta) Roasted Barley provides flavors of rich chocolate and freshly brewed coffee while remaining light and refreshing with a balanced bitterness.
James Edward "Tip" O'Neill began playing organized baseball in Woodstock, Ontario, Canada, and later played ten seasons in Major League Baseball from 1883 to 1892 as an outfielder (mostly left field, of course) and pitcher. In addition to the Browns, O'Neill also played with the New York Gothams, Chicago Pirates and Cincinnati Reds.
Beginning in 1984, the Tip O'Neill Award has been given annually to a Canadian baseball player who is judged to have excelled in individual achievement and team contribution while adhering to the highest ideals of the game of baseball.
ABV – 4.5%
IBU – 45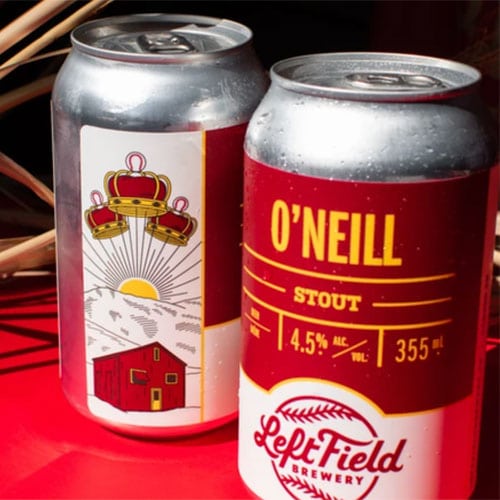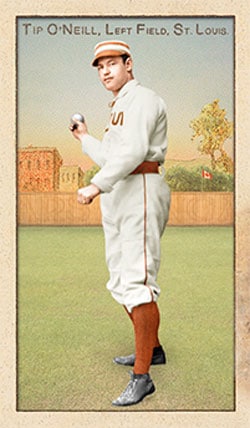 ---
The Tip O'Neill Award
Justin Morneau of the Colorado Rockies receives the Tip O'Neill Award for being the best Canadian baseball player in 2014.
See complete list of baseball beers:
See all from Left Field Brewery: