Pine Tar Incident IPA
Made by Left Field Brewery, Pine Tar Incident IPA is a baseball beer that's a tribute to one of the game's most controversial home run calls. This 1983 home run off the bat of George Brett of the Kansas City Royals was called an out because New York Yankees manager Billy Martin informed the umpires that Brett had too much pine tar on his baseball bat. The umps inspected that bat and this beer, and made the call that Pine Tar Incident is dank, flavorful, and exploding with juicy citrus and a bracing piney bitterness.
ABV – 6.6%
IBU – 55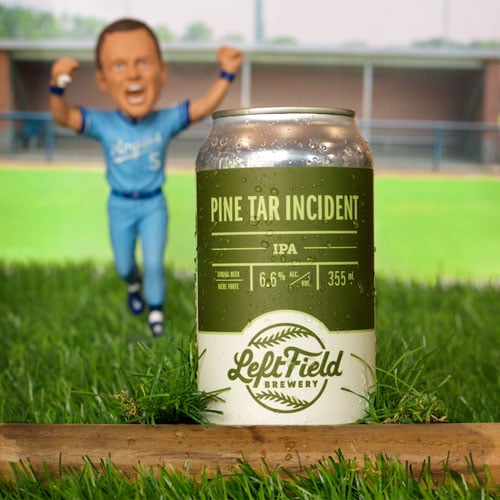 ---
The George Brett Pine Tar Incident
From July 24, 1983, it's one of the most famous arguments in MLB history. Royals icon George Brett's potentially game-winning home run is ruled an out due to an illegal bat, causing a scene at Yankee Stadium.
See complete list of baseball beers:
See all from Left Field Brewery: