In a Pickle
Made by Rally Cap Brewing Co., In a Pickle is a hazy IPA brewed with generous amounts of Citra and Mosaic hops. The result is bursts of citrus, stone fruit, and peach with a nice mouthfeel.
Remember playing ball in the schoolyard and putting down two gloves on the ground for bases? The you had one runner and two fielders and played a game where the runner would try to get from base to base without getting out. That's how the runner would find himself in a pickle. It happens at the big league level, too.
No actual pickles came anywhere near the brew process in this rundown!
ABV – 6.1%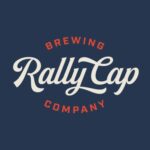 ---
The Longest Pickle in Baseball
---
Welcome to Rally Cap Brewing Co.
Take a peek inside Rally Cap Brewing.
See complete list of baseball beers:
See all from Rally Cap Brewing: