Pine Tar Incident
Made by Rally Cap Brewing Co., Pine Tar Incident is a West Coast IPA hopped with Centennial, Citra, Chinook, and Eureka hops, offering notes of pine, especially on the finish. This beer leads off with a bit of fruitiness before finishing off dry. A bit of piney bitterness lingers enough to leave you wanting another.
The baseball beer celebrates a memorable day in baseball history. On July 24, 1983, George Brett was called out by Home Plate Umpire Tim McClelland after an apparent two-run homer because he had too much pine tar on his bat. The ensuing pandemonium, including Brett's rush out of the dugout, will be remembered as one of the craziest moments in baseball history.
ABV – 7.0%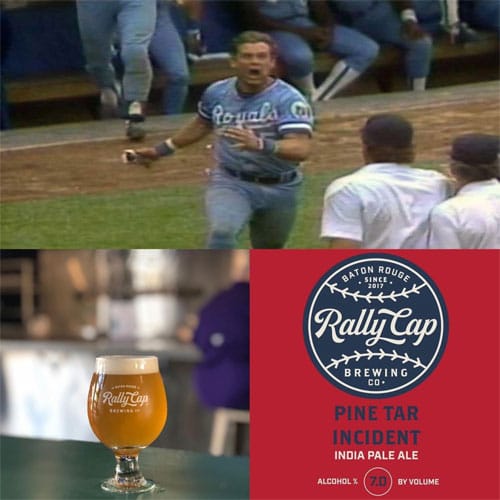 ---
The George Brett Pine Tar Incident
In one of the most famous arguments in MLB history, Royals legend George Brett hit a potentially game-winning home run that is ruled an out due to an illegal bat with too much pine tar – causing a scene at Yankee Stadium.
---
Welcome to Rally Cap Brewing Co.
Take a peek inside Rally Cap Brewing.
See complete list of baseball beers:
See all from Rally Cap Brewing: