Unwritten Rules
Made by Rally Cap Brewing Co., Unwritten Rules is a Milkshake IPA brewed with El Dorado hops and conditioned on Watermelon Airheads. This unique baseball beer green in color with an unexpected flavor profile – it's candy in an IPA!
With this beer, they pay homage to swinging away on 3-0 counts with a big lead, bunting when getting no-hit, and running up the score. They believe that truisms like candy not belonging in an IPA, or that green beer should be reserved for March fall in line with these, and also should be ignored from time to time.
ABV – 6.6%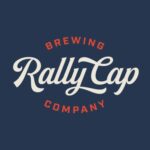 ---
Welcome to Rally Cap Brewing Co.
Take a peek inside Rally Cap Brewing.
See complete list of baseball beers:
See all from Rally Cap Brewing: